Class work has partially resumed in the National Institute of Technology, (NIT) Srinagar on Monday with a heavy deployment of police and CRPF personnel on the campus. This comes after clashes between two groups of students after India lost to West Indies in World Twenty20 semi-final on Thursday. 
Director of NIT Dr. Rajat Gupta told ScoopWhoop in a telephonic interview that "the situation is normal at the campus and all the scheduled events in the campus were held without any hassle."
"Security is our top priority. The classes have resumed and it's normal," he said. 
Police had resorted to tear-gas shelling and dispersed students with batons on Friday after a clash broke out between non-Kashmiri students and local students at the premier engineering institute. This resulted in the institute's authorities shutting down the campus for a few days. 
On Thursday night, local Kashmiri students, who are in a minority at the institute, celebrated India's loss against West Indies. In the Kashmir valley, where discontent against India often runs high, celebrating India's loss is a common occurrence. However, the local NIT students told ScoopWhoop celebrating a cricket win has been taking place for a long time on the campus without any problems.  

"This is not the first time. Non-local students at the campus have always been celebrating India's win without any confrontation from the Kashmiri students, but this time we think it was all pre-planned," a student from the state told ScoopWhoop on condition of anonymity. 
Of the 2,500 students at NIT Srinagar, nearly 30 per cent are local students, whereas the rest are from other states.  
On Friday morning a group of students from outside the state reportedly went to the institute's Director's office and filed a complaint against 15 local students for celebrating India's loss. But the situation turned violent when the group tried to hoist an Indian flag on the administrative building and allegedly beat up a local courier boy who had come to deliver packages on the campus.   
According to students from the state, they tried to hoist a Pakistani flag near one of the buildings in the campus in retaliation. 

"They couldn't tolerate it and nearly 200-250 non-local students pounced on us and started beating us with iron rods. They also pelted stones at us," a student told ScoopWhoop. 
In this violence, at least three persons, including a professor and delivery boy, were assaulted. 
Refuting the allegations, a student from the group of student from outside the state told ScoopWhoop on the condition of anonymity that they "want action taken against those who celebrated India's loss and raised Pro-Pakistani slogans on the campus." 
"We also want CRPF to stay on the campus as we do not feel secure. We have also been demanding the administration allow us to leave the campus," the student said.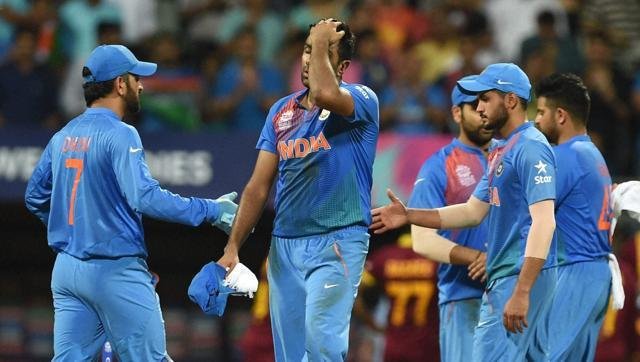 Students from the state have expressed concern for their safety. 
"They are in majority. We are afraid to stay inside our hostel rooms. They can do anything to us," a student from the state, who claims he also wants to leave the campus, said. 
Following the incident, Home Minister Rajnath Singh had assured full security to NIT students from outside the state saying they should not worry about their security. Film star Anupam Kher had expressed his appreciation for the students who had shown the "courage" to hoist the Indian flag in Kashmir. 
The situation got tense again on Wednesday when outstation students, who said they felt unsafe at the campus, came out in protest and tried to leave the premises before they were lathicharged by the police. They also claimed that police entered hostels and beat up students. 
CRPF was deployed as Home Minister Rajnath Singh and HRD Minister Smriti Irani tweeted saying that they had talked to J&K CM Mehbooba Mufti, who had assured safety of the students. An HRD ministry was also sent to NIT Srinagar, Hindustan Times reported. 
Arvind Kejriwal said that the BJP government beats up those shouting Bharat Mata ki Jai in Kashmir and those not doing so in the rest of India, and former J&K CM Omar Abdullah said that replacing local police with CRPF showed the BJP's lack of confidence in newly appointed CM Mehbooba Mufti.
A group of Kashmiri Pandits also voiced their concern over the situation, as students are demanding shifting campus from Srinagar to Jammu and one leader also told the team that they wanted their national flag back from the police, NDTV reported.
Feature image source: Twitter