L&T Infotech has not just taken a cue from Flipkart, they have in fact, gone a step further.
The IT company is now facing the wrath of at least 1,500 students based in Tamil Nadu whose offer letters have been withdrawn citing "poor performance" of the students. Company sources have confirmed this move to Business Standard. 
The students are enraged at this development and are sitting on a hunger strike since Monday morning as a mark of protest against this "injustice".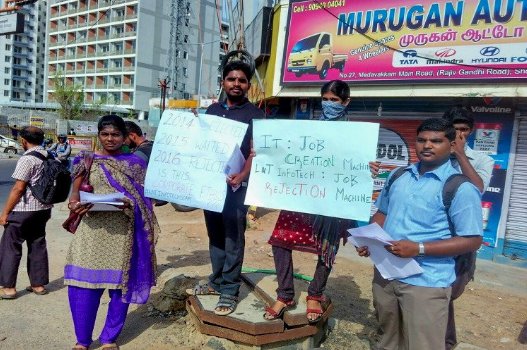 "If you take the rules and regulations of all the colleges in and around Tamil Nadu into consideration, once you have got a placement in one company, you cannot apply or sit for another placement. So we got only one chance. The mail we have got now says your performance is not up to the mark, so your offer will be cancelled," a student claimed, speaking to News18. 
Lots of students claimed that they were relying on the job to repay their education loans and are now reportedly being burdened by banks who are repeatedly sending them reminder letters. 
L&T Infotech was reportedly planning to launch its IPO in the near future and this move could indicate that the company isn't doing as well as it hoped. 
Earlier this month, Flipkart decided to defer the joining dates of its most recent batch of campus recruits by seven months. The Indian Institute of Management – Ahmedabad and the IITs announced that they are likely to strip the e-commerce giant of its Day One slot in their campus placement programs.
(Feature image source: Twitter | @timesofindia)