In a viral video doing rounds on the internet, a clash broke out outside the Saket court in New Delhi between a police officer and six lawyers. Seen in the video, a police officer on a bike was assaulted by a group of lawyers when he was passing through. The lawyers outside the court were striking against the incident that took place at the Tis Hazari Court complex on Saturday. 
#WATCH – Shocking visuals of a police officer being assaulted by protesting lawyers outside Saket District Court in New Delhi.

The protest was called by the lawyers to show their resentment over Tis Hazari Court incident on Saturday. pic.twitter.com/yHSZhfliXv

— News18 (@CNNnews18) November 4, 2019
According to the police, the violence at the Tis Hazari complex broke out when on-duty officers objected to a lawyer parking his car in front of the lockup. Jai Biswal an office-bearer of the Tis Hazari Bar Association shared his side of the story, about how it all began when a police vehicle hit a lawyer's vehicle when he was coming to the court, leading to shots being fired. 
When the lawyer confronted them (police officers), he was ridiculed and six police personnel carried him inside and thrashed him. People saw this and called the police. We informed the high court, a team was sent there along with six judges, but even they were not allowed to go in. When they started to leave, the cops fired bullets.
A 
police statement
 said that after this, a large number of advocates responded angrily to their request (over the parking) and that CCTV footage clearly shows lawyers forcefully entered the lockup and began manhandling the police officers.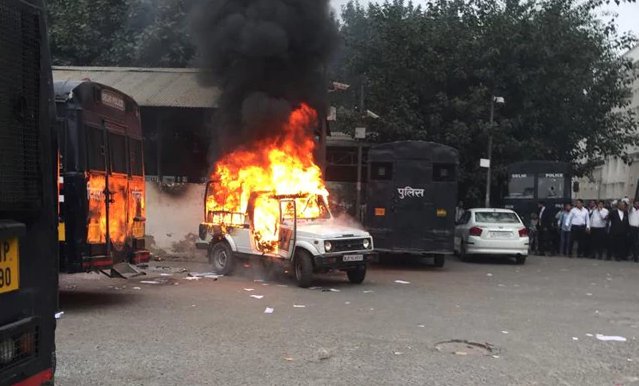 This incident left 20 police personnel and eight advocates injured, reports said. A police vehicle was also set on fire and eight jail vans were vandalised during the fight.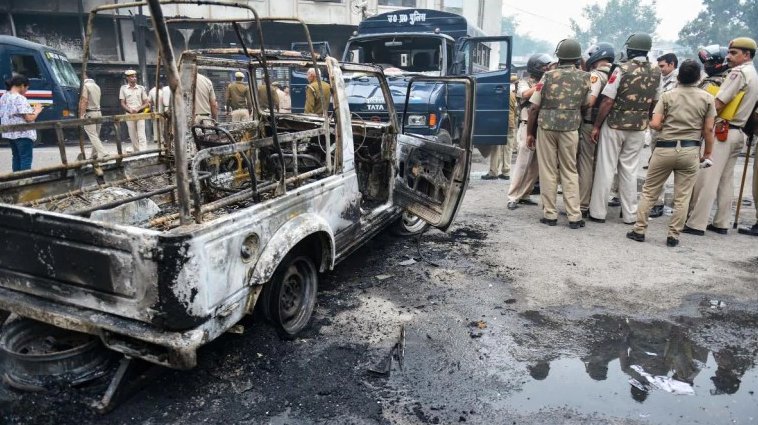 After the incident at the Tis Hazari complex, a group of lawyers protesting at the Karkardooma District Court in the Delhi's Anand Vihar area also harassed police officers.