In order to monitor the quality of air on real-time basis across major urban centers of country, Prime Minister Narendra Modi on Monday launched India's first ever Air Quality Index (AQI) that will provide latest information of air pollution levels up to the last hour at the time of checking.
In the initial stage, the facility is active in 10 cities across eight states, which is expected to be extended to more than 60 cities, a BBC report says. For now, Delhi, Agra, Kanpur, Lucknow, Varanasi, Faridabad, Ahmedabad, Chennai, Bangalore and Hyderabad can measure the air quality.
The index can be accessed through the website of Central Pollution Control Board which takes a user to the homepage of index portal.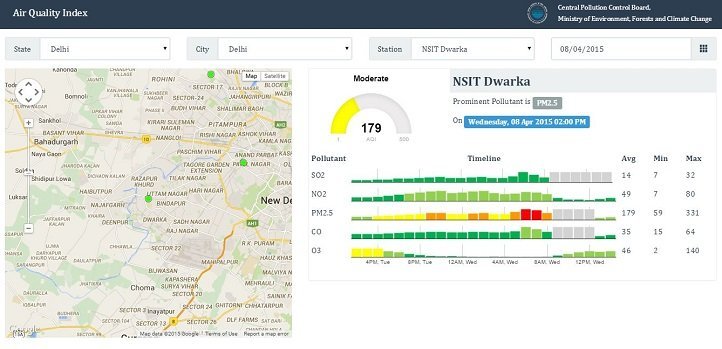 The launch of index is seen as one of the much needed moves by the government to address the concerns of air pollution in the country. In 2014, India ranked at 174th out of 178 countries for air quality, according to the Environmental Preference Index.
How does Air Quality Index work?
Air Quality Index is a scale for measuring the quality and levels of pollutants in air that have adverse impact on human health and environment. Usually, the scale ranges between zero-500 with six different color levels against a number slab (0-50, 50-100…) representing the respective quality of air. Higher the number on scale, worse the quality of air.
The index measures air quality from the different stations of a city. At present, there are five stations for Delhi from which the pollution level can be measured. A coloured indicator, after taking in consideration all the comprising pollutants at a particular time of day, indicates the overall quality of air. It also enlists the major pollutants of the time as well.
With a map of your city on left, a more detailed composition of pollutants like Nitrogen dioxide, Carbon monoxide, particle pollution, Sulfur dioxide etc. with their respective levels and averages gives a comprehensive picture of the what we are breathing.
While it has been few days since the facility has been launched, there have been a series of complaints about insufficient data for some cities shown by the index page.