Festering antagonism in Samajwadi Party's first family was on public display again on Saturday as the warring party satraps Akhilesh Yadav and Shivpal shot barbs at each other at an event called to celebrate SP's silver jubilee, barely two days after putting up a united show.
Uttar Pradesh's ruling party has been witnessing a fierce fight between Chief Minister Akhilesh Yadav and his uncle Shivpal, state SP chief, despite repeated attempts by party patriarch Mulayam Singh Yadav to broker peace.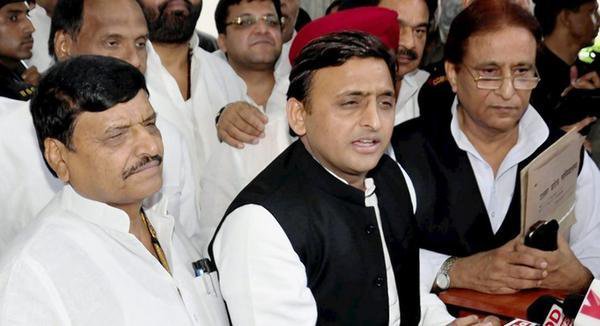 With top leaders of socialist-leaning parties present at the event, a move seen as an attempt by Samajwadi Party supremo Mulayam Singh Yadav to forge an alliance ahead of the assembly polls hardly a few months away, the two exchanged cutting remarks that exposed the deep divisions within.
Shivpal fired the first salvo when he, in not so subtle manner, hinted at Akhilesh having got the chief minister's chair as he was Mulayam's son.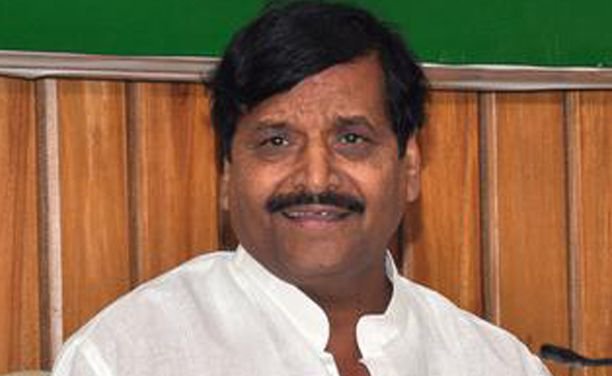 "Some people get things because of fate, some through hard work and some as part of inheritance. But some keep doing hard work through their lives and don't get anything," he said.
Asserting that he had done good work and cooperated with Akhilesh in the last four years, an emotional Shivpal said," I want to tell popular CM Akhilesh that whatever sacrifice you want from me, I will make. I never want to become Chief Minister. You can insult me, sack me as many time (as minister) as you want, but I am prepared to give even my blood for the party."
With swords out at the event literally, Akhilesh hit back when his turn came.
Pointing towards Gayatri Prasad Prajapati, a minister in his government who he had sacked over graft allegations but later reinducted on Mulayam's insistence, Akhilesh said," Prajapati has presented me the sword. You give me sword and don't want me to use it." The Chief Minister was apparently hinting at opposition from Shivpal's camp over sacking of ministers facing corruption charges.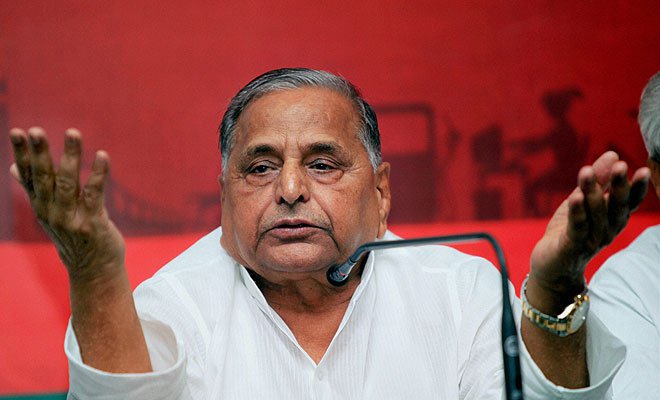 Apparently rejecting criticism over his lack of political and administrative experience, Akhilesh said,"If you want to put me to test I am ready for that. Our target is to defeat BJP and BSP in 2017 elections. This UP election will decide future of the country".
With the party he founded facing tough times ahead of the crucial assembly polls a few months from now, Mulayam, who had brought son Akhilesh and brother Shivpal together for the flagging off the Chief Minister's ' Vikas Se Vijay Ki Ore ' rath yatra on Thursday, chose to keep silent on the internecine strife.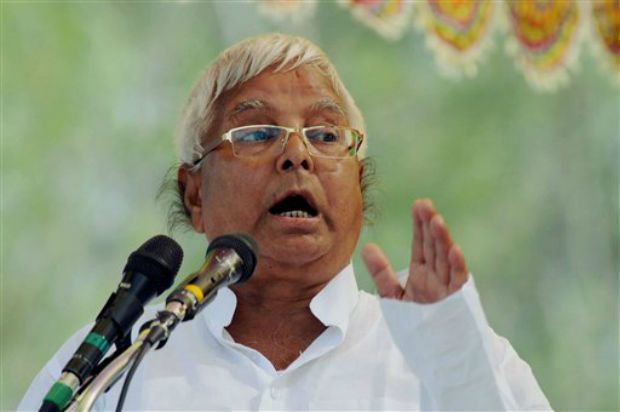 However, RJD supremo Lalu Prasad , whose youngest daughter is married to Mulayam's grand nephew, made an attempt to paper over the divide in the SP's first family when he declared everything was all right within the party.
"They stand together…there is no rift or fighting. I ask Akhilesh babu to respect his seniors and hoist the flag of victory in Uttar Pradesh once again," he said before making the feuding uncle-nephew duo stand beside him, holding aloft their hands that held the swords.
The sharp exchanges between the two came barely two days after Shivpal extended his "best wishes" to Akhilesh at the event to flag off his rath.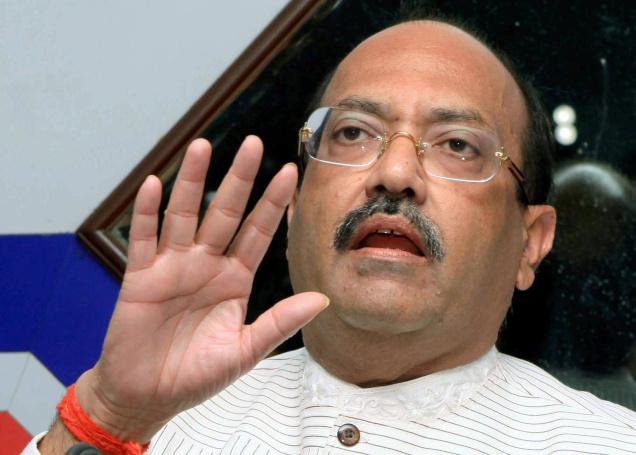 Mulayam, who till a few days ago, was seen siding with Shivpal and friend Amar Singh, had surprised many when he flagged off the rath, in a bid to show all was well within the party. Amar Singh, who has been accused by Akhilesh of conspiring against him and the party, was conspicuous by his absence at today's event despite it being a Mulayam's show, an so was SP's Muslim face and minister Azam Khan. Singh and Khan have been at daggers drawn for years now.
The deep set acrimony between the rival camps was on display once again when Javed Abidi, an Akhilesh loyalist, started addressing the gathering, reportedly despite his name not figuring on the list of speakers. As Abidi began praising the Chief Minister's works, calling him the "future of the party", Shivpal was seen pushing him away from the lectern. "Everyone should maintain discipline. Indiscipline will not be tolerated," Shivpal said.
Shivpal had snatched away the microphone from Akhilesh's hands at a party event recently and called him a "liar" when the Chief Minister accused Amar Singh of hatching conspiracy against him.
With his party a divided house, Mulayam sought to address the large Muslim constituency in the state, saying they suffered most injustice. "Muslims have suffered most injustice in the country and they still stand with Samajwadi Party," he said.