A Twitter user recently kicked up a row by alleging that in Uttar Pradesh's Aligarh Muslim University, hostel mess do not serve food from sunrise to sunset during the Muslim holy month of Ramzan.
The tweet prompted many on social media to question why the Central university administration is allowing the changes in its hostel mess to cater to a specific religion and how this practice is "not secular".
No breakfast/lunch for Hindu students in AMU in Ramzan. Canteen opens at 3 am & Hindu students/faculty forced to observe compulsory fast.

— Seshadri Chari (@seshadrichari) May 30, 2017
Is there no Fundamental rights of non Muslim students in AMU to have breakfast no lunch on time ? Why no discussion in media ?

— Prof Rakesh Sinha (@RakeshSinha01) May 30, 2017
Therefore the minority Hindu students studying at AMU shouldn't have a problem with them not being offered food. Secularism on steroids pic.twitter.com/QcoIo5AqRP

— The Masakadzas (@Nesenag) May 30, 2017
That something like this may indeed be happening at the University shouldn't come as a surprise as AMU's official website carries an announcement that the office timings of all academic and non-academic departments of the university stand changed during Ramzan, on the approval of the Vice-Chancellor. The announcement also mentions that no refreshment will be served at any meeting or function in the premises in order to "maintain the sanctity of the Ramadan."

Students confirm that hostel mess indeed do not provide food during Ramzan in the fasting hours
Nadeem Ansari, vice-president of the AMU students' union, confirmed to ScoopWhoop News that this indeed is the tradition for "more than 50 years". Asked how do non-fasting students manage during this time, Ansari said that they "arrange for their food" and it has never been an issue.
Ansari claimed that the union has raised the issue with the Dean Students' Welfare in the past, though never in writing. Ansari said that the sudden outrage on social media about the issue is new for the union and they will be making a formal request now.
Ansari, in fact, rubbished the outrage as a fabricated one and alleged that "it is only because of the BJP government in power in state that this "non-issue" is being turned into an unnecessary controversy". 
ScoopWhoop News talked in detail to a non-fasting student at the university – a Hindu and a hosteller – who explained how the arrangement is. Speaking on the condition of anonymity, the student said that the University has around 16 hostel mess operated in different "halls" of residential hostels. During Ramzan, the food is served at dawn for Sehri (around 2.30 am) and is followed by another meal after 7 for Iftar. 
"Today, I ate my first meal around 2.30 am. All I had in the day was a packet of Maggi and some lime water. I'll next eat at Iftar," he said. "It's almost like I am forced to observe the fast too. It's forced starvation."
In yet another confirmation of the changed hostel mess rules, Hindi daily Hindustan has quoted AMU's Dean Dean Students' Welfare member Prof Jamshed Siddiqui as saying that the tradition of not serving breakfast and lunch in hostel mess has been in place for years and that there are "standing orders" that no food will be served in any function in the campus.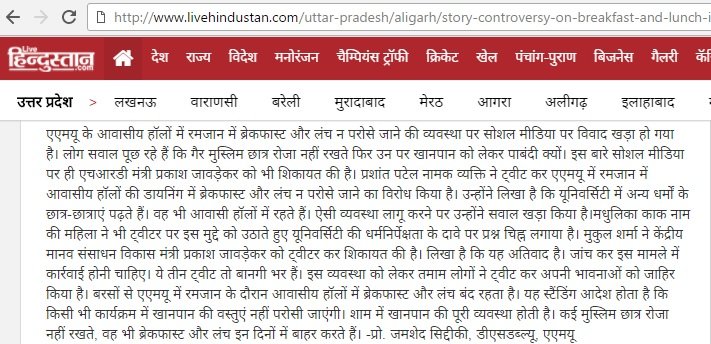 A report by ABP news further confirms the change in meal timings. The report quotes incharge of one Sir Syed Hall, Shamshuddin, disclosing that on other days, breakfast is served from 7.30 am and 9 am and lunch between 12 pm and 2.30 pm but during Ramzan, only Sehri and dinner is served. The report further quotes the university's public relations officer, Omar S Peerzada, defending the "tradition", saying that this practice started years ago by non-Muslims as a sign of "mutual respect". 
What seems to be an exercise in damage control, Peerzada said the university will now provide food "as per demand".
Both Ansari and the non-fasting student ScoopWhoop News talked to, dismissed social media posts by some students, especially women, who deny the change in meal timings.
"The girls' hostels are usually managed by private mess that do serve food but the same can't be said for other residential hostel mess," the student who spoke on anonymity said.
This student further talked about the problems in Ramzan: "Most non-fasting students are forced to starve at this time because even if they go out, no food is available as it's a largely Muslim residential area. The nearest dhaba is some four kilometres away. But not everyone has a vehicle to go there. So we end up feeling hungry all day."
The student added that some non-fasting students, especially those close to the students' union, do "make arrangements" with the mess and manage to get the staff to prepare something, "like a parantha", in the day.
But why is this issue suddenly being raised when the practice has been in place for years now?
Even as the student union is slamming "BJP propaganda" for the controversy, Prashant Patel Umrao, a Delhi-based lawyer who was one of the first to raise it on social media, told ScoopWhoop News, "Just because something has been going on for years now is no justification of it."
"Our problem is, that when a ban on illegal slaughter houses stops the supply of meat in a campus, they cry 'food fascism'. When a place stops selling 'tunday kababs' for a week, a section of Indians beat their chests and cry end of democracy. We want them to react similarly to the issue now."
"And we want this unfair tradition to end," he said.