Rohith Vermula, 26, a second year PhD scholar, committed suicide on Sunday night at a hostel of Hyderabad Central University. He was among the five research scholars at the university who were suspended in December over allegations of disputes with students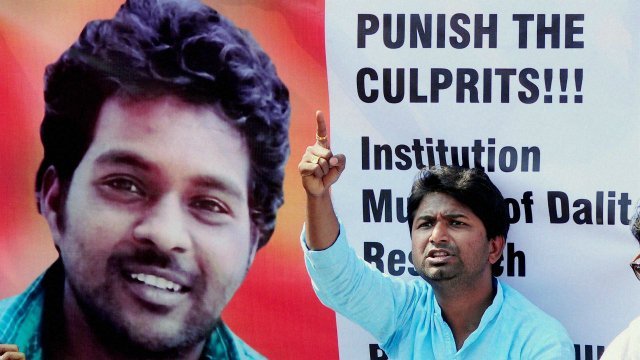 Why was he suspended?
The university students – belonging to various students groups like right-wing Akhil Bharatiya Vidyarthi Parishad (ABVP), Ambedkar Students' Association (ASA) (of which Vermula was a member) and Telangana SFI – had been fighting over several issues such as beef festival, memorial for Yakub Menon and Kiss of Love campaign. Apparently, ABVP had been opposing these.
The latest trigger was in August when ASA tried to screen Nakul Shawney's documentary titled Muzaffarnagar Abhi Baki Hai at the campus, which was opposed by ABVP, who disrupted the screening and called it "anti-Hindu". The Ambedkar Reading Group, University of Delhi, Ambedkar Periyar Study Circle, IIT Madras, ASA (TISS) in Mumbai and concerned students from IIT Bombay even issued a joint statement condemning the act.
But it became violent when ABVP president Sushil Kumar put up a Facebook post calling ASA members 'goons'. Kumar later alleged that he was beaten up by ASA members including Vermula.
After the incident, the Hyderabad University administration stopped paying Rohith his monthly stipend of Rs 25,000.
On August 5, two days after Rohith and four other ASA members allegedly assaulted Sushil Kumar, the university set up an inquiry against the five.
On August 17, BJP MP and Union minister Bandaru Dattatreya wrote to HRD Minister Smriti Irani urging action saying the university had become "a den of casteist, extremist and anti-national politics".
"This could be visualised from the fact that when Yakub Memon was hanged, a dominant students union, that is Ambedkar Students Union had held protests against the execution. When Shushil Kumar, president, ABVP, protested against this, he was manhandled and as a result he was admitted in hospital. What is more tragic is that the university administration has become a mute spectator to such events," Bandaru wrote.
In December, after the then VC's retirement, new chancellor – Appa Rao – was appointed. He suspended the students after receiving a letter from the HRD ministry, which was in response to Bandaru's letter.
On January 3, the five students vacated the hostel and set up a tent in the campus and began a "relay hunger strike" 
The five students were apparently very depressed about the suspension.
After the suicide
The suicide led to a protest in the university, with the students demanding that Vermula, a Dalit, was driven to suicide and demanded resignations of Union ministers Smriti Irani and Bandaru Dattatreya on Tuesday
Following the protest, the police filed an FIR against Bandaru Dattatreya, under the SC/ST Act and on charges that he abetted the suicide
The university students' Joint Action Committee termed the suicide as "institutional murder" while opposition parties criticised the BJP-led NDA government for having an "anti-Dalit agenda and mindset".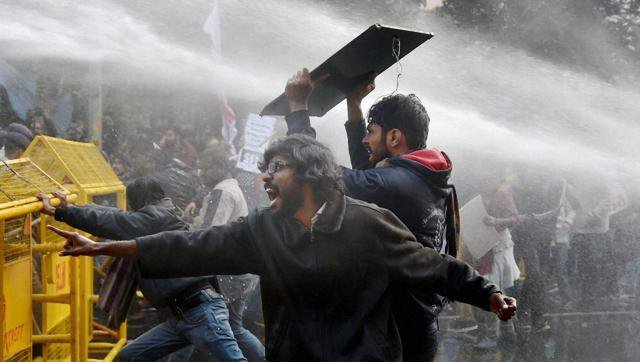 An umbrella organisation of the Hyderabad University launched an indefinite strike and sought the resignation of vice chancellor Appa Rao
Protests erupted even in Delhi, where students demonstrated in front of HRD ministry office in Shastri Bhawan on Tuesday. The police used water cannons to disperse the students. Similar protests took place at Pune's Film and Television Institute of India and Mumbai University
Noted writer Ashok Vajpeyi announced he was returning the D Lit, awarded to him by the Hyderabad Central University in protest.
The police also recovered a suicide note from Rohith that said, "I feel a growing gap between my soul and my body. And I have become a monster."
Feature image: PTI