The US government designated Hizbul Mujahideen Chief Syed Salahuddin as a global terrorist on Monday. This came hours before Prime Minister Narendra Modi and US President Donald Trump met in person for the first time. 
The US state department said, "Under Salahuddin's tenure as senior HM (Hizbul Mujahideen) leader, HM has claimed responsibility for several attacks, including the April 2014 explosives attack in Indian-administered Jammu and Kashmir, which injured 17 people."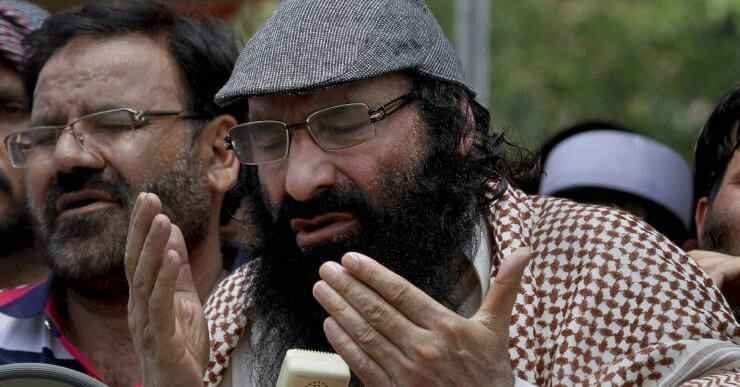 Syed Salahuddin, 71, is the head of the Kashmiri militant group, Hizbul Mujahideen. He moved to Pakistan-occupied Kashmir in around 1989.
His background:
Salahuddin is a native of central Kashmir's Budgam district and is the seventh child of his financially middle-class parents. His father worked in the Postal Department of the Indian government. 
Salahuddin graduated from SP College in Srinagar and received his master's degree in political science from Kashmir University in 1971.
Salahuddin's wife, his five sons and two daughters live in Kashmir.
His oldest son, Syed Shakeel Ahmed, works as a medical assistant at Srinagar's Sher-i-Kashmir Institute of Medical Sciences. Second son Javed Yusuf works as a computer operator at Soibugh's zonal education office. Shahid Yousuf is a Research Fellow at the Sher-i-Kashmir University of Agricultural Science and Technology. Wahid Yusuf is a doctor at Srinagar's Sher-i- Kashmir Institute of Medical Sciences. Mueedd Yusuf is a BE in computers from Srinagar.
His youngest son, Mueed Yusuf, was rescued by the Indian Army in October last year when he was holed up inside the Entrepreneurship Development Institute (EDI) building in Srinagar, which had been attacked by militants, reported The Tribune.
His daughter Naseema, married to Nazir Ahmad Khan, is a government teacher at Dharmuna in district Budgam. His other daughter Akhtara is an arts teacher at Soibugh.
His journey to becoming a 'global terrorist':
During his studies, Salahuddin started to convene small congregations which spoke the separatist language of 'Al-Fateh', a terror group that had surfaced in the early 1970s. 
He was also an established Islamic scholar and preacher attached to Jamaat-e-Islami, a religious socio-political organisation.
Since early 80s he has been arming and  fuelling anti-India militancy among youth in Kashmir.
He contested  1987 Jammu and Kashmir assembly election on Muslim United Front (MUF)'s ticket, from the Amirakadal constituency in Srinagar but lost.
His election agent, then an unknown young man called Yasin Malik, was thrashed by political workers, leaving members of the opposition — the Muslim United Front — angry and resentful.
After taking over as head of the militant outfit in the late eighties, he changed his name from Mohammed Yusuf Shah to Syed Salahuddin.
In 1989 he was arrested for violent protests but later released. Soon After release, he joined Hijbul Mujahiddin.
Finally in 1991, he took over as the chief of Hizbul Mujahideen. He was also made the chairman of United Jehad Council, a conglomerate of 13 terror groups. 
Cases he is an accused in:
In 2012 The National Investigation Agency (NIA) had put him in its wanted list.
He was accused of transferring money to the families of terrorists killed in Jammu and Kashmir (J&K).
Further investigation had also revealed that Salahuddin used JKART to fund terror activities in Pulwama, Kupwara, Sopore, Budgam, Doda, Baramula and Srinagar, reported India Today.
The NIA has also accused Hizbul Mujahideen for the blast at the Delhi High Court on September 7, 2011, that killed 15 people.
In June 2012 in an interview, Hizb-ul-Mujahideen Salahuddin accepted that Pakistan had been backing Hizb-ul-Mujahideen for fight in Kashmir, reported The Times of India.
Under his leadership, Hizbul Mujahiddin had claimed responsibility for the 2014 explosion which took 17 lives in Kashmir.
In 2014 , the Enforcement Directorate registered a money laundering case against him for alleged cross-border funding of terror activities in the country.
.