Sankranti celebrations in Bihar came to a grim end last eveningwhen a boat carrying around 40 people capsized in the river Ganga near Patna, Bihar. Around 25 have died in the incident, the toll may rise. 
The passengers were returning to Ranighat in Patna from Sabalpur diara across the river after watching a kite festival on occasion of 'Makar Sankranti'.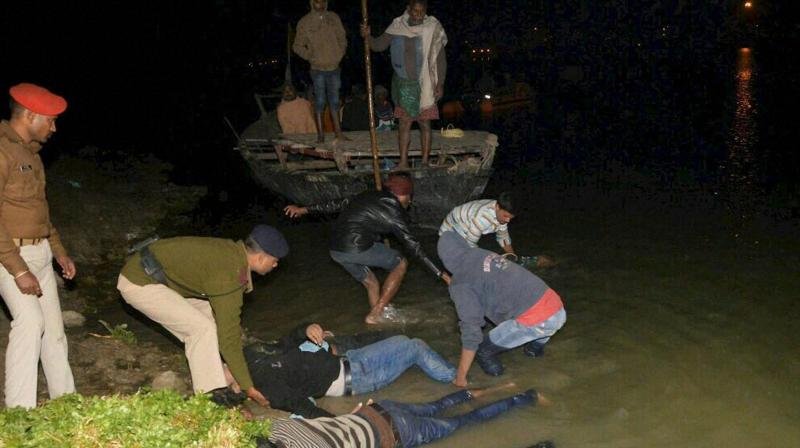 The incident occurred when people were returning from Makar Sankranti celebrations from Sabbalpur diara (islets) in the river at around 5:30 pm. A kite-flying celebration was organised on diara by the Bihar State Tourism Development Corporation. However, more than 10,000 people reached the venue which was more than what the event organisers had expected. 
Chaos and Overcrowding 
According to this report, government boats stopped ferrying people after 4 pm. It led to a chaotic situation on the islets, as people tried to force their way on private boats. Designed to carry 25-30 passengers at most, private boats are believed to have ferried 60-70 people because of the rush. Meanwhile, the security personnel did nothing to control the people, according to witnesses. 
How the boat sank
The Disney Mela Factor
According to the Tourism Department, NDTV reported, there was added crowd of a Disney Mela that created more chaos. Officials said the kite festival was over but the crowd had remained for a Disney Mela, which was being held a km away. It is not known who gave permission for the mela.
Delay in Rescue Operations 
According to PTI reports, the rescue operations had been delayed for over an hour due to confusion over the jurisdiction. The kite festival was on under the jurisdiction of the Patna District Magistrate, but the area where the boat capsized was under the Chapra District Magistrate.
Where are the survivors being treated? 
The survivors are being treated at the Patna Medial College & Hospital.
What kind of compensation will the victims and their families get ?
Prime Minister Narendra Modi today sanctioned Rs 2 lakh each to the next of kin of those killed in Patna boat tragedy from the PM National Relief Fund.
Those seriously injured will be given Rs 50,000 each, the PMO said.
State Disaster Management department Secretary Pratyaya Amrit said Rs 4 lakh compensation would be given to the next of kin of each deceased.
Political mud-slinging 
In Patna, Opposition BJP blamed the lack of preparation by the tourism department and local administration for the accident.
"Arrangements should have been more robust, inquiry will expose loopholes and defaulters will be caught," Union Minister Ravi Shankar Prasad told news agency ANI.