What Happened
Gunmen and bombers attacked busy restaurants, bars and a concert hall at locations around Paris on Friday evening, killing dozens of people in what a shaken President Francois Hollande described as an unprecedented terrorist attack.
Some of the suspects are still at large. The police have said that they believe all the attackers are dead but their accomplices may still be on the run. According to some reports, Islamic State have claimed responsibility for the attacks.
The attack sites as reported:
Bataclan concert venue, 50 boulevard Voltaire, 11th district – gun attack, hostages held
Le Carillon and Le Petit Cambodge, 18 and 20 rue Alibert, 10th district – gun attack
La Belle Equipe, 92 rue de Charonne, 11th district – gun attack
Near Stade de France, St Denis, just north of Paris – reported suicide attack near venue as France v Germany football match played
More details are awaited.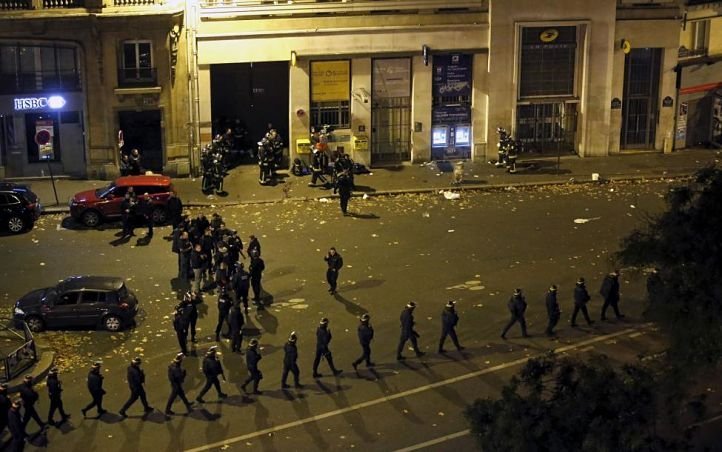 Toll so far
Le Parisien has a list of the deaths and injuries at the various attack sites around Paris, which it sources to the French authorities. The number is expected to rise.
Bataclan: at least 100 dead, seven people in a critical condition, four others injured
Rue Charonne: 19 dead, 13 people in a critical condition, 10 others injured
Rue Bichat: 14 dead, 10 in a critical condition, 10 others injured
Avenue de la Republique: Four dead, 11 in a critical condition, 10 others injured
Stade de France where Germany and France were playing a friendly: four dead, 11 in a critical condition, 39 others injured
Rue Beaumarchais: three people in a critical condition, four others injuries
How the World Reacted
The United Nations Security Council issued a statement condemning "barbaric and cowardly terrorist attacks" involving assailants using guns and bombs on several venues, including the national sports stadium and a major music venue.
Divided on many issues, including on the war in Syria that has fueled Islamist violence, the United States and Russia both voiced their support in messages to French President Francois Hollande.
"Once again we've seen an outrageous attempt to terrorize innocent civilians," said U.S. President Barack Obama. "We stand prepared and ready to provide whatever assistance that the government and the people of France need."
"Those who think that they can terrorize the people of France or the values that they stand for are wrong," Obama said.
Russian President Vladimir Putin sent his deep condolences to Hollande and all the people of France following the "horrible terrorist attacks in Paris", the Kremlin said in a statement.
"Russia strongly condemns this inhumane killing and is ready to provide any and all assistance to investigate these terrorist crimes."
In January, an attack on the offices of French satirical newspaper Charlie Hebdo left 12 people dead. A second siege ended with the deaths of four hostages.
The Western defense alliance NATO said it stood with France, a founder member. Secretary-General Jens Stoltenberg said, "I am deeply shocked by the horrific terrorist attacks across Paris tonight. My thoughts are with the families of the victims, with all those affected, and with the people of France.
"We stand strong and united in the fight against terrorism. Terrorism will never defeat democracy."
In Europe, German Chancellor Angela Merkel, whose foreign minister was attending a France-Germany soccer match with Hollande when the stadium was attacked, said, "I am deeply shaken by the news and pictures that are reaching us from Paris.
"The German government is in contact with the French government and has passed on a message of sympathy and solidarity from the German people."
British Prime Minister David Cameron said, "I am shocked by events in Paris tonight. Our thoughts and prayers are with the French people. We will do whatever we can to help."
In Brussels the leaders of European Union institutions, which have been trying to coordinate security responses since the Islamist attacks in Paris in January, joined the chorus.
"I am confident the authorities and the French people will overcome this new trial," European Commission President Jean-Claude Juncker said.
European Council President Donald Tusk said he was following events "with horror".
India PM Narendra Modi tweeted: " News from Paris is anguishing & dreadful. Prayers with families of the deceased. We are united with people of France in this tragic hour."