K P Ramanunni, a renowned Malayali author, has lodged a police complaint in Kozhikhode regarding a letter he received threatening him that his right arm and left leg would be chopped off if he did not convert to Islam within six months.
The threat was in response to one of his articles titled "To dear Hindus and Muslims, from a believer..." in Malayalam in which he reportedly urged for religious peace between Hindus and Muslims and also favoured their unity, reported Deccan Herald.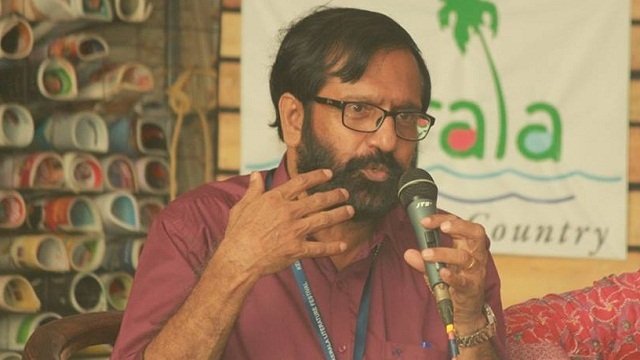 Who is K P Ramanunni ??
A 62-year-old novelist and short story writer, Ramanunni has received Kerala Sahitya Academy Award, Vayalar Award and many other literary acclaims. 
A film was also made on his novel, 'Sufi Paranja Katha', which was about the love story of a Muslim man and a Hindu woman.
Why is he receiving death threats
In one of his articles written in Malayalam and English daily 'Madhyamam' run by the Jamaat-e-Islami, a Muslim religious organisation in Kerala, he had favoured Hindu-Muslim unity. The article was part of a six-part series in the edit page of the daily.
The article, as per reports, said that Muslims should not view Hindus as their enemies and also stated that religious extremism was an outcome of colonial powers. 
Following this he received a threat letter stating, "You have put Hinduism and Islam at the same platform in the garb of being impartial. These kinds of writings will misguide innocent Muslims. Kafirs, non-believers should be given six months to convert. Those who do not convert should be assassinated," reported NDTV
In a Facebook post, Kerala Chief minister Pinarayi Vijayan assured strict action against threats given to those who express progressive thoughts.
Was this the first time ??
The letter also alerted Ramanunni that he would meet the same outcome as that of TJ Joseph, a professor at Newman College whose right arm was chopped off in 2010 for hurting religious feelings through a question paper he had set that allegedly insulted Prophet Mohammed.
Ironically, at the same time, a woman college professor Deepa Nisanth, who had put her views in favour of SFI banner that carried an allegedly derogatory Saraswati painting of MF Husain, has allegedly received threat of an acid attack on social media.
..