The Centre has mobilised around 24,700 paramilitary personnel in various parts of Haryana, Delhi and Uttar Pradesh in view of the Jat protests.
Officials supervising forces deployment said a total of 247 companies of these forces have been tasked to secure various locations in and around the national capital region and parts of Haryana and Uttar Pradesh.
A paramilitary company has an average strength of 100 personnel.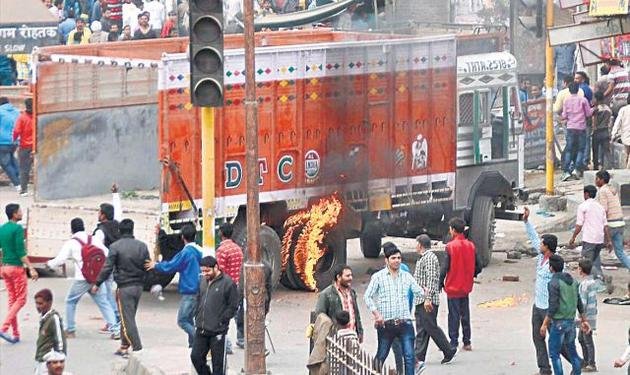 They have been pulled out from paramilitary bases located in North India and heavy trucks and vehicles were scrambled to deploy these personnel over night, they said.
The contingents, they said, are drawn from the CRPF, its blue dungaree donning counter-riots force Rapid Action Force, ITBP and SSB.
The CRPF had deployed the highest number of 130 companies out of the total 247 and all the units have now been positioned at the locations.
Giving a breakdown of the deployment, they said a total of 124 companies have been mobilised in Haryana, 114 in Delhi and adjoining areas and nine in Uttar Pradesh.
The Centre had yesterday asked police forces of Delhi and its neighbouring states to stop the agitators well before they reach the borders of the capital.
In an advisory, the Union Home Ministry had told the Delhi Police and governments of Haryana, Uttar Pradesh and Rajasthan to invoke CrPC 144 to stop Jat protesters, who threatened to stage protests in Delhi demanding reservations in jobs and education, from reaching the national capital.
Arrest or detain the protesters much before they enter Delhi, disallow movement of buses carrying the protesters on highways and ban tractor trolley movement, the advisory had said.
The Akhil Bhartiya Jat Arakashan Sangharsh Samiti has threatened to gherao Parliament beginning March 20, to press for their demands.
Feature Image Source: PTI (Representational Image)