He is the Indian Prime Minister
He is a prominent leader
He is widely followed on social media
And… he is also a hugger (a bear hugger).
It is a truth universally acknowledged that Modi likes to hug other world leaders on their encounters (Modi has been written about in foreign media as "an unabashed hugger".)
And he did exactly this when he met US President Donald Trump for the first time today. Not once, but thrice.
Hug 1
Donning a black bandh gala, Modi greeted Trump with a nodding handshake and a warm bear hug on his arrival and then went on to meet First Lady Melania Trump.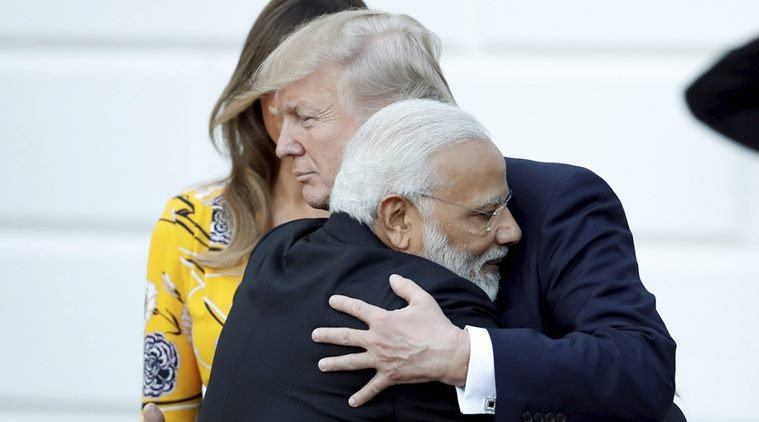 Hug 2
Moving on to their joint statement in the Rose Garden, Modi wrapped his arms around Trump in an embrace, while placing his head slightly on his chest. A minute after the warm hug was the lingering handshake. Modi with both his hands shook Trump's hand and went on to stretch it until their hands hanged in between like a movie poster showing dying love between two lovers.
Hug 3
After the bear hugs and a brief joint statement, came another embrace. This was the final hug where Modi rested his head on Trump's chest while the latter patted him on the back and there, social media had got its stock of meme-eligible photos and videos. 
The camaraderie between Modi and Trump was on full display as the two leaders heaped praises on each other, voiced appreciation for each other's leadership topped with frequent handshakes and hugs. And it wasn't lost on Americans and the American media.
The hugs got prominent mention in the US press. 
Nydailynews.com described the hugs like this:
Trump appeared stiff and uncomfortable with the first hug, smiling thinly and patting Modi on the back a couple of times. But it was the same folksy, effusive greeting Modi has used with Trump's predecessor, Barack Obama, and a host of foreign dignitaries and celebrities, from former French President Francois Hollande, Russian President Vladimir Putin and Japanese Prime Minister Shinzo Abe to Facebook CEO Mark Zuckerberg and Hollywood's Hugh Jackman.
Back home, Indians who were waiting for the moment had much to say when the hugs finally happened:
(Feature image source: Reuters)