Lashing out at opposition Congress for having no ideology, BJP President Amit Shah on Friday kicked a row after he called Mahatma Gandhi a "bahut chatur baniya ( a very clever baniya) for not joining the party after independence, a report in The Indian Express says. 
"The Congress is not a party based on one ideology or one principle, it is a special purpose vehicle to gain independence…this is why Mahatma Gandhi with foresight, he was a very clever baniya, he knew what was going to happen, he said immediately after independence that the Congress should be dissolved. He didn't do it, but some people are now completing the job of dissolving it. He had said this because the Congress had no ideology, was not formed based on a principle, and did not have any principle to run the country or government," Shah said.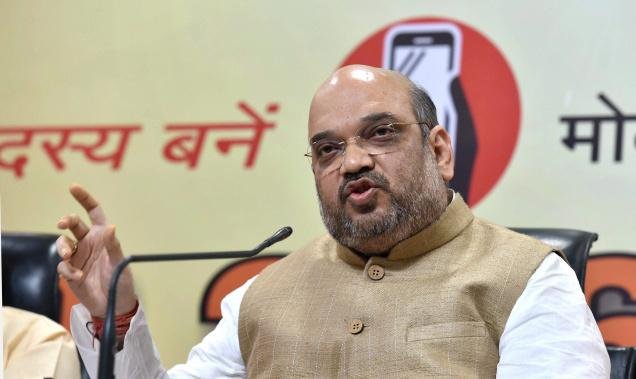 Shah made these comments at a gathering of "eminent persons" of Chhattisgarh where he's on a three-day trip to strengthen the party.  
According to Shah, in contrary to Congress, the BJP's stand on issues comes due to the "clarity of thought." He also hit out at Congress for it dynastic politics in choosing its President, which Shah said, is not the case with BJP.  
However, Twitter was scathing in its critique of Shah for his comment on Mahatma Gandhi. He also received flak from senior political leaders of the country.  
Modi reduced Mahatma Gandhi to his glasses in Swachh Bharat, his party President now reduces him to a Baniya. Every day is 30th Jan now

— Nagendar Sharma (@sharmanagendar) June 10, 2017
It only reflects RSS/BJP's utter contempt of Mahatma Gandhi. Shame on you Mr Amit Shah. Apologise to the Nation.

— digvijaya singh (@digvijaya_28) June 10, 2017
So the father of the nation reduced to a "Bahut Chatur Baniya"! Congrats New India! Bapu must be smiling!

— arunoday (@arunodayprakash) June 10, 2017
By calling Father of the nation 'Chatur Baniya' @AmitShah has proved, Money & Power doesn't guarantee 'class'. A Cheap person remains cheap.

— Sadhavi Khosla (@sadhavi) June 10, 2017
in how many ways can an ideology of hate murder a man, a mahatma? amit shah: Gandhi bahut chatur baniya thahttps://t.co/a0Ui5pcWtq

— Hartosh Singh Bal (@HartoshSinghBal) June 10, 2017
"Bahut Chatur baniya tha". The exam in which you've mugged up essay about Adani but are asked to write about Gandhi https://t.co/nRtzdmhFgG

— Aditya Menon (@AdityaMenon22) June 10, 2017
Feature image source: