In a rather dramatic move to challenge the Election Commission , AAP MLA Saurabh Bhardwaj on Tuesday "live-demonstrated" how an EVM can be tampered with. 
Here's a look at what AAP did to demonstrate EVM tampering and how Election Commission shut them down:
AAP's move: Before beginning his demo, Bhardwaj notified that the machine being used by him is a prototype of the EVM and not the same EVM used by EC during polls.
EC's rebuttal: That, itself defeats the entire process as it raises deep concerns about the authenticity of the machine, as per EC. Taking this as the main case point, EC said that the machine hacked in the Delhi assembly was a "look-alike" gadget and not the actual equipment used by it. 
Slamming the so-called 'demonstration', EC said, "It should be understood that it is possible for anyone to make any electronic gadget which 'looks-like' ECI-EVM and demonstrate any magic or tampering."
AAP's 1st claim: The AAP MLA claimed that the lid covering the EVM carries the code for each party and that if a person wishes to tamper with the votes, they can use that code to favour their party/ candidate.
EC rubbished this claim too, that too a month back in its series of FAQs which it had released to avoid any misconception after allegations levelled by Mayawati.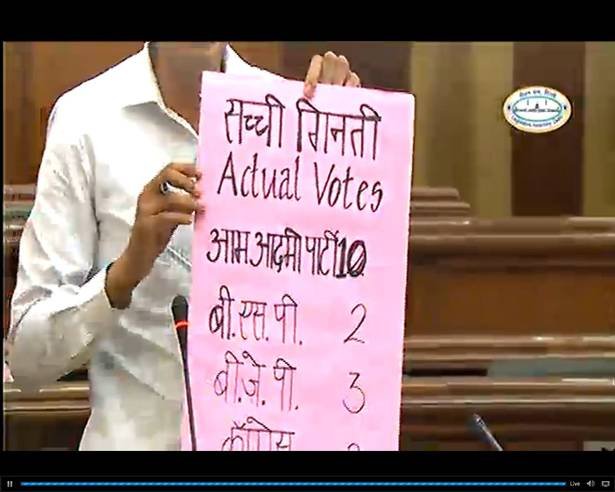 EC's explanation in this case: The Commission said that the ECI-EVMs do not have any frequency receiver or decoder for data for wireless or any external hardware port for connection to any other non-EVM accessory or device. 
Hence, no tampering is possible either through hardware port or through wireless, Wi-Fi or Bluetooth device because CU (Control unit) accepts only encrypted and dynamically coded data from BU (Ballot unit). No other kind of data can be accepted by CU.
AAP's 2nd claim: "All it takes to rig an EVM is changing the motherboard. For hacking and rigging in any machine, all you have to do is change the motherboard which can be done in a matter of 90 seconds, AAP said.
EC's rebuttal: EC in a previous statement has categorically stated that the tamper detection feature makes an EVM inoperative the moment anyone tries to open the machine.  The self-diagnostic feature checks the EVM fully every time it is switched on. Any change in its hardware or software will be detected. 
So, if any one tries to change the motherboard, the EVM will cease to operate.