It was about two in the afternoon when Sooraj R, a PHD scholar of aerospace engineering at IIT Madras, sat down for lunch with his friend at the college mess. Sooraj, who attended a beef festival organised at the campus a day before, was not aware of a "whisper campaign" against him. 
"Sooraj generally keeps to himself. He has the reputation of being very quiet and polite. There was no way he could have figured out that the ABVP people had zeroed in on him as a target," says Manoj Parmeshwaram, a student of IIT Madras who is also a close friend of Sooraj.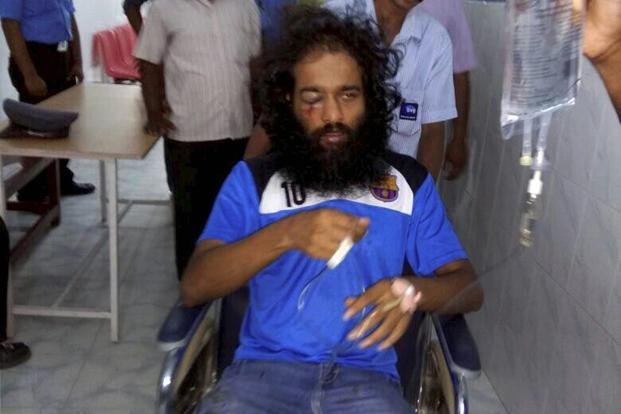 'Why did you attend the beef festival?'
Apparently, Sooraj was engrossed in his lunch when some eight alleged ABVP members surrounded him. "They started interrogating him. They wanted to know why he had attended the festival. Whether he had any political agenda," says Manoj. Sooraj is a member of Ambedkar Periyar Study Circle (APSC). 
Eventually, things got a little more heated up. "Then they started shaming him for eating beef. They wanted to know how could he contaminate the mess after eating such impure food," says Manoj.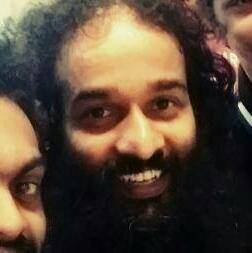 Before anyone could realise what was happening, Sooraj was allegedly pinned to a corner by some of the alleged ABVP members. "Then, one of the ABVP members, whose name is Manish Kumar Singh, rapped Sooraj at the back of his head. Soon they were raining blows. They were specifically targeting his eyes. they went on punching him for a few minutes at least and wouldn't be stopped. The mess was anyway empty then," says Manoj.
 Sooraj suffered injuries on his right eye and was shifted to Sankara Nethralaya after the hospital at the Institute said the swelling was too serious. "He is currently at Apollo Hospital. A surgery might be necessary," says Manoj. 
It's important to be noted that the Madras High Court has granted a four-week stay on the Centre's decision to ban the sale of cattle meant for slaughter in animal markets. The Madurai bench of the high court sought responses from the state government and Government of India on the issue.
The other story 
When ScoopWhoop News called up Prithvi Kumar, Chennai city secretary, ABVP, he narrated a totally different version of the the Tuesday afternoon incident. "Manish Kumar Singh, who is not a member of ABVP but just a sympathiser, was eating his lunch at the Jain mess when Sooraj R and his friends came and tried to shove beef down his throat. Manish protested and pushed Sooraj away. He hit a table and hurt his eye. Manish was then beaten up by Sooraj's friends. He broke his hand and is now admitted to the hospital," says Prithvi.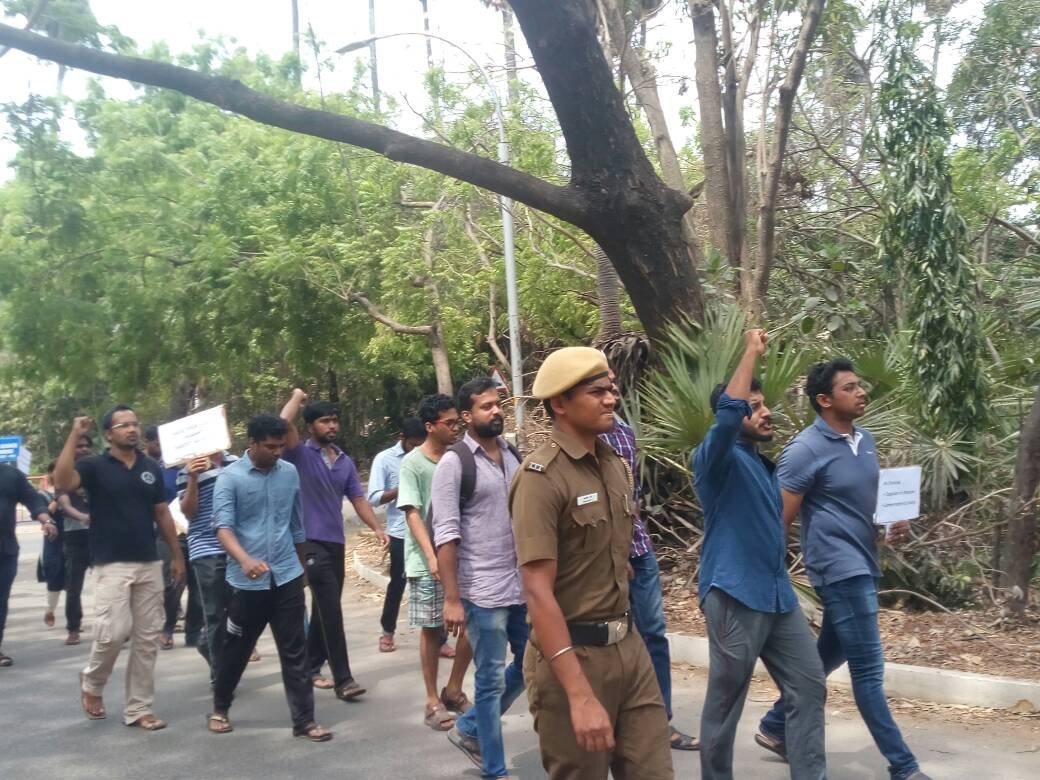 A history of violence
AVBP members had also allegedly issued death threats to all the 'beef eaters' on the campus. They had reportedly filed a complaint against the fest on Monday. "This is not the first time ABVP members have tried to intimidate people into submission. Whenever there is any event that seems to be remotely critical of the Modi government, they start vandalising the campus," says Manoj.  
Though IIT Madras has an apolitical student's body, ABVP has a "strong presence" in the campus. 
According to this Scroll report, Mohammad Azhar-ud-din, a doctoral student at the Indian Institute of Technology-Madras, was harassed by "right wingers" when he tried to raise money for the victims of September 2014  Jammu and Kashmir floods. "Some people with Sanghi mentality [sympathetic towards the Rashtriya Swayamsevak Sangh] heard about this and objected. One of them said this money would go to terrorist organisations and militants," Azhar-ud-din told Scroll. 
Apparently, a few months ago, when a documentary on Kashmir was screened at the campus, members of the ABVP created a ruckus at the screening. "They wanted to know why are we screening such a film. They stopped short of vandalising the campus," says Manoj.  
'We need justice!'
Some students brought out a rally at the campus on Wednesday to demanded action against those who allegedly assaulted Sooraj. "We are fed up of this sort of harassment. We need justice for Sooraj," says B Anoop, a student of IIT Madras, who was with Sooraj when he was attacked. According to latest reports, eight accused have been booked under IPC Sections 147 (Punishment for rioting), 341 (Punishment for wrongful restraint), 323 (Punishment for voluntarily causing hurt) and 506(1) (criminal intimidation).Sooraj R too has  been booked under IPC Section 324 (voluntarily causing hurt) and Section 341 (wrongful restraints).