Imagine getting up in the morning and immersing yourself neck-deep in sewage. Quite a loathsome sight, isn't it? Unfortunately, that's a 'career' for 1.8 lakh households in India. Their job profile—clean shit. 
What makes it worse and equally startling is that what they do is illegal in India. Manual scavenging was banned in 1993 but continues to be prevalent. 
What is it exactly? Manual scavenging is essentially cleaning sewers, descending into manholes and removing human faeces using various cleaning instruments. This despicable job is not only an insult to a human being's dignity, but also poses a tremendous risk to life as the workers don't even use any protective equipment. Only last month, four manual scavengers died in Chennai due to asphyxiation, as reported by The Hindu.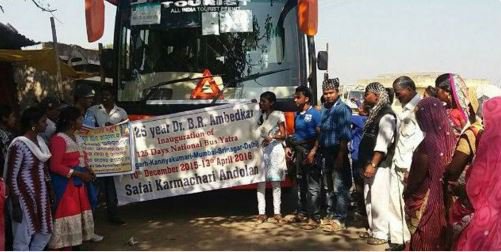 But an organisation—which calls itself an unregistered protest group—wants to put an end to it, and has undertaken a rather exhaustive mission to achieve this.
On December 11, 2015, members of Delhi-based Safai Karamchari Andolan (SKA) embarked on a 125-day journey in which they plan to cover 500 districts across 30 states—a whopping 32,000 km. To raise awareness, they stop at slum pockets and roadside shanties to tell the inhabitants that they need not take up such an undignified job, and instead must put pressure on the government to frame rules to end the practice.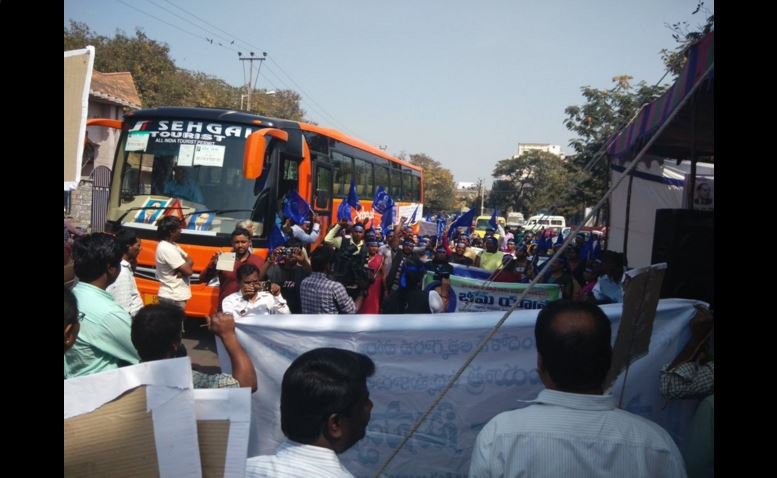 As of February 15, this 'Bhim Yatra' has covered 19 states. The NGO hopes to complete the nationwide tour by April 13 this year, on time to celebrate Babasaheb Ambedkar's 125th birth anniversary. 
Bezwada Wilson, National Convener of SKA, told ScoopWhoop, "Around 1,000 safai karamcharis die annually. Our aim is to tell the government to stop killing scavengers inside sewer lines."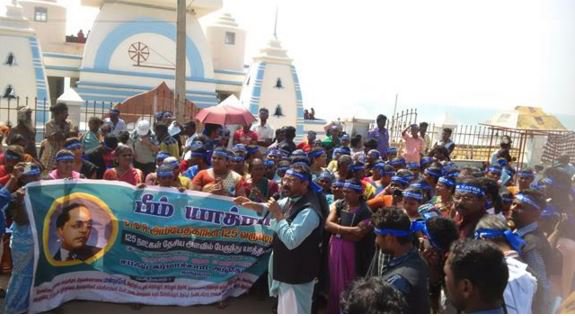 Adding that mechanisation of the process is the need of the hour, Wilson said, "Why even after 70 years since independence, India is the only country in modern times to use humans to manually clean sewer lines or septic tanks?"
But if they do effectively implement the ban, will manual scavengers be out of work? How will they provide for their family? "No scavenger will be retrenched, they are all municipality workers, they will be repositioned in non-scavenging occupations," assured Wilson.
He also accused political parties of displaying apathy towards Dalits and Adivasis—communities in which the practice is prevalent. "All political parties who've been at the centre and the bureaucracy are against Dalits," he said. 
Wilson also questioned the casual attitude of the incumbent government in tackling this situation saying, "Government at the centre is only asking us to submit a statistic of how many have died so that they can give compensation."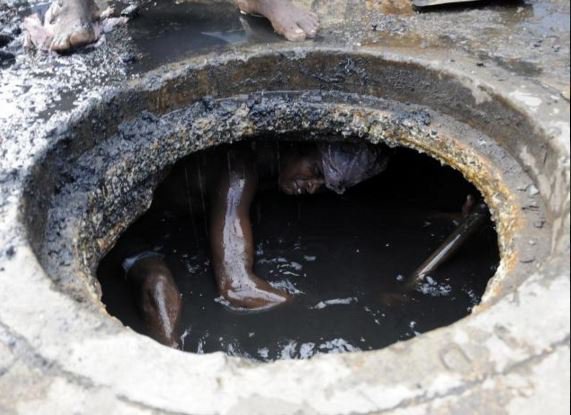 As per Supreme Court's verdict of March 28, 2014, the family of every victim since 1993 must receive Rs 10 lakh as compensation. 
"So far, only 23 or 24 have received compensation as opposed to the thousands who rightfully deserve. The Supreme Court has ordered for a Rs 10 lakh compensation, but the government is not giving every family the entire amount," Wilson said.
Wilson even dragged in Prime Minister Modi's flagship programme to highlight the government's lackadaisical attitude. "When Modi can allocate Rs 2 lakh crore to be spent for building toilets in 5 years, why can't he allocate even Rs 100 crore for manual scavengers' liberation?" he questioned. 
With the budget coming up in two weeks, we wonder if the government will allocate the required funds to abolish manual scavenging for good.
(Feature Image Source: Twitter | @pervinsanghv)