Former world champion Viswanathan Anand played out a draw with his Veselin Topalov of Bulgaria to remain joint 3rd after the end of the eighth round of Candidates chess tournament today.
Playing with black pieces, Anand was always under control yet again in this key encounter as Topalov looked threatening in the early part of the game and the drawn result yet again gave importance to Anand's choice of opening as black as he thwarted his opposition playing with white pieces for the third time in the tournament.
It's a special move order that Anand has prepared in the Queen's gambit declined and it might be known as Anand's variation in the times to come. For now, the five-time world champion has successfully held three black games under the system that sometimes does not have theoretical moves beyond black's 10th manoeuvre.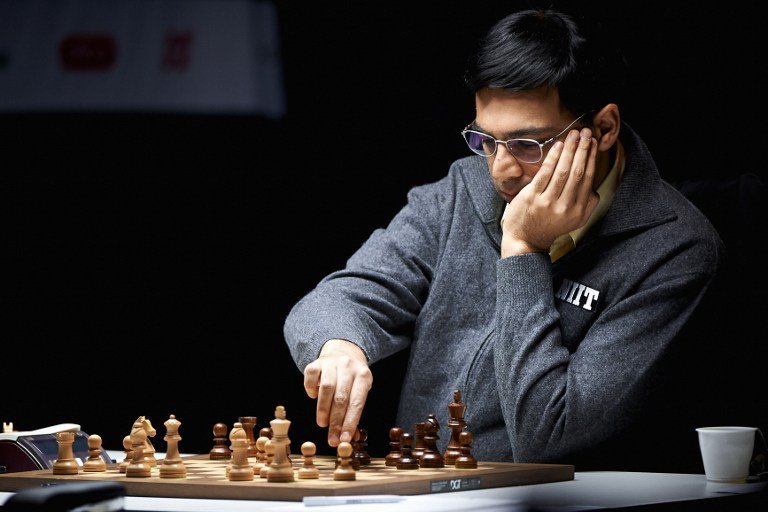 It was a similar case against Topalov who also could find little and Anand in fact enjoyed a slight advantage in the middle game when white suffered a minor deflation in pawn structure. Topalov however knew it was not serious and subsequent exchanges enabled the Bulgarian to reach a drawn end-game.
Fabiano Caruana put it across HIkaru Nakamura of United States to almost end latter's dreams of becoming the next challenger to Magnus Carlsen while Armenian Levon Aronian played out a draw with Anish Giri of Holland.
In the other game of the eight-player double round-robin tournament with a 420,000 Euros prize fund, the all-Russian duel between Peter Svidler and Sergey Karjakin also ended in a draw leaving the doors open for a nail biting finale.
Results round 8: Veselin Topalov (Bul, 2.5) drew with V Anand (Ind, 4.5); Levon Aronian (Arm, 5) drew with Anish Giri (Ned, 4.5); Fabiano Caruana (Usa, 4.5) beat Hikaru Nakamura (Usa, 3); Peter Svidler (Rus, 3.5) drew with Sergey Karjakin (Rus, 5).
Feature image source: AFP