A few weeks ago, we told you about how Anant Ambani had shed an incredible 108 kgs to become to the talk of the town again.
And now, The Times Of India has shared a photo to show just how much weight Anant has lost. And if nothing else, the photo is going to make you want to hit the gym right away!
Anant Ambani slaps all those who made fun of his weight. Quite an amazing transformation! pic.twitter.com/LyoiASwfxY

— Diptakirti Chaudhuri (@diptakirti) April 10, 2016
Very soon, Anant started trending on social media and the tweets started pouring in.
Anant suffered from asthma as a child and the medication is believed to be responsible for all the weight he put on. Nevertheless, he was determined to shed all the extra fat by the time he hit 21.
Currently, a student of Brown University in the USA, Anant walked for 21 km every day, along with yoga, weight training, functional training and high-intensity cardio exercises. He also stuck to a zero fat, low carb diet and it looks like the efforts have more than paid off. He's shed 108 kgs in 18 months which is more than half of what he used to way.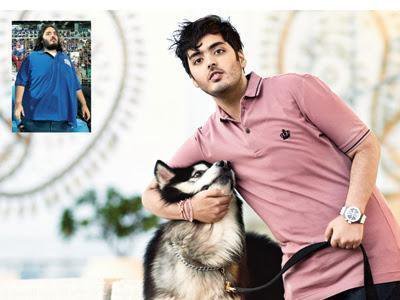 So are you motivated enough to work on your fitness or are you going to continue to sit around making an excuse? What's it going to be?