Aam Admi Party's sweeping victory in the Delhi Elections (2015) means a lot of things for different people. For the BJP it was a blow after their landslide victory that is hopefully going to keep them on their toes. For Congress, well, what could harm them now?
But for a certain Gagan Vidhu , it means turning into a murderer.
Okay, to be fair, not just any murderer. He wants to murder the two-faced, pro-Pakistan, Gandhian Anna Hazare and become the next Nathuram Godse.
Gagan is from Pathankot and is currently residing in Canada. He thinks of himself as a crusader against the 'dirty-politics' of AAP and Hazare.
He posted on 25th February – "

I am not kidding. I am coming to India soon. I shall arrange for a gun and shoot this modern Gandhi. I hate Kejriwal."
Ashok Gautam, an aide, lodged an FIR against Gagan Vidhu after coming across this post.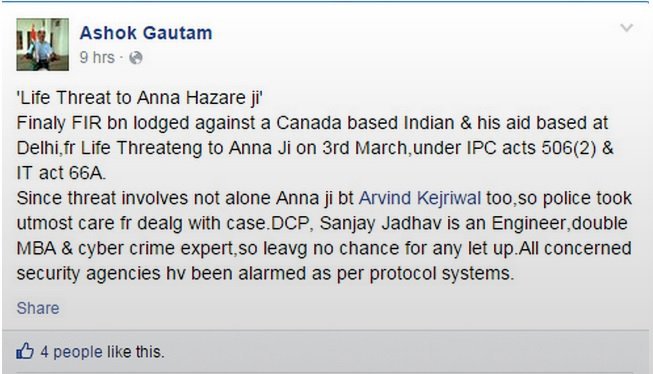 This FIR is being treated as an impetus to carry on with his 'good-work' by Gagan.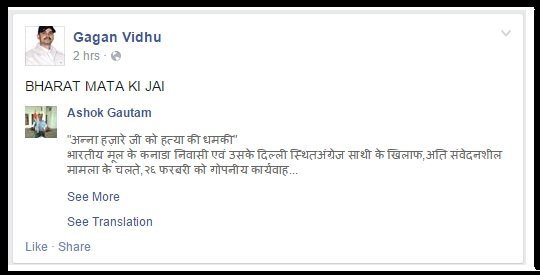 His hatred for AAP and Kejriwal is definitely apparent from his posts. So is his desire to do something, in fact anything for 'Bharat Mata'. The point is who, if anyone, will benefit from this?