After Bollywood selfies and a lot of namastes, Apple CEO Tim Cook got down to business on the third day of his India visit and met Prime Minister Narendra Modi. The PM hosted Cook at his residence, 7 Race Course Road, in Delhi on Saturday morning.
An elated Modi took to Twitter to announce that Cook had launched an updated version of the Narendra Modi App, which was the highlight of his visit.
Thank you @tim_cook! Friends, welcome & happy volunteering. Your views & efforts are always enriching. pic.twitter.com/aAu4isv6wM

— Narendra Modi (@narendramodi) May 21, 2016
Cook showed interest in making Apple products in India and discussed with the PM the possibilities of manufacturing and retailing in the country. 
He also shared Apple Inc's future plans for India, and spoke of the breadth of young talent in the country, adding that the youth have significant skills which Apple would like to tap. 
WATCH: Apple CEO Tim Cook calls on PM Narendra Modi in New Delhi.https://t.co/SGYqScbxIn

— ANI (@ANI_news) May 21, 2016
The Apple CEO seemed happy with the meeting too and wished success for the newly launched app with a tweet response.
He also narrated to PM Modi his experiences in India, which included a visit to Siddhivinayak temple in Mumbai and watching a cricket match in Kanpur. Modi replied that these experiences would definitely steer Cook's business decisions, while the latter appreciated the Prime Minister's initiatives on ease of doing business and renewable energy.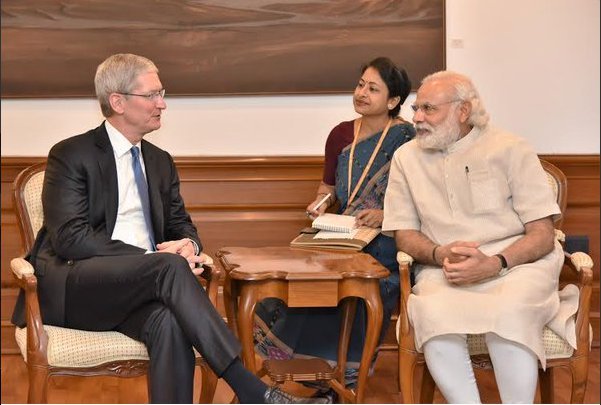 The Apple CEO's visit comes at a crucial time when the US-based firm is focusing on new growth markets like India after posting its first-ever decline in iPhone sales.The sales have fallen down for the first time in 13 years, everywhere else, except in India and the tech giant seems keen to cash in on the huge potential.
Cook's meeting with PM Modi is the third and final leg of his visit to India, after Mumbai, Hyderabad and Kanpur.
(With PTI inputs)