If it hadn't been for the hoardings of Rohith Vemula dotting the street at Jantar Mantar, one could never guess going by the speeches and discussions that the crowd had gathered to show solidarity with the late Hyderabad University Student. 
The country is on fire, allegedly by "forces" out there that are driving India towards "madness", the protesters said.
On Tuesday, hundreds of students and activists, holding banners of various Dalit organisations and student unions, descended on the Ambedkar Bhawan in the morning, before marching towards Jantar Mantar.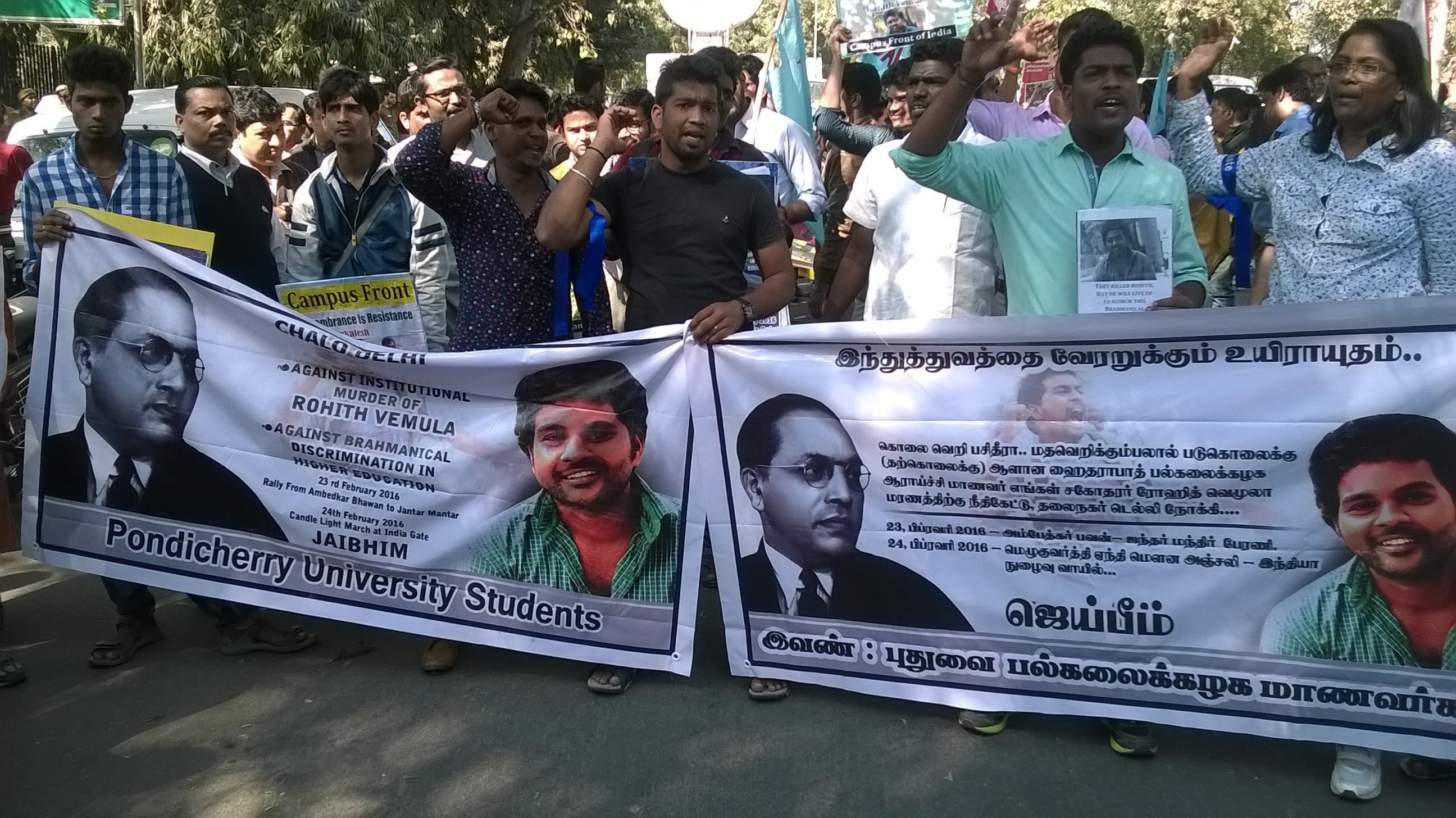 But the event went much beyond Rohith. The capital's protest street coalesced different and divergent voices into a collective gathering, who sought to resist the onslaught of alleged right-wing forces – which, many said, are driving India towards "madness and mob violence." 
From the brutal murder of Kannada writer M Kalburgi to the arrest of JNU students' union president Kanhaiya Kumar, the visitors and speakers spoke of a "trend and pattern" in events since May 2014. The discussions were punctuated by Akhlaq, beef and Rohith.
Primarily, this was an event to seek justice for Rohith Vemula, organised by the group 'Justice for Rohith Vemula – Joint Action Committee (JAC)'.
"But how can we think of Rohith's suicide in isolation?," questioned one. "He was labelled as anti-national by the same government who are now targeting JNU. Isn't this more than a coincidence?" 
While Rohith's mother Radhika Vemula and brother Raja Vemula, who had come to Delhi for the event, had brought back the memories of his tragic suicide afresh, many had been motivated by the ongoing JNU protests to attend the protest march. 
"I have come here to affirm and let others affirm that there's no single definition of nationalism," Priya, a student from Delhi University told ScoopWhoop.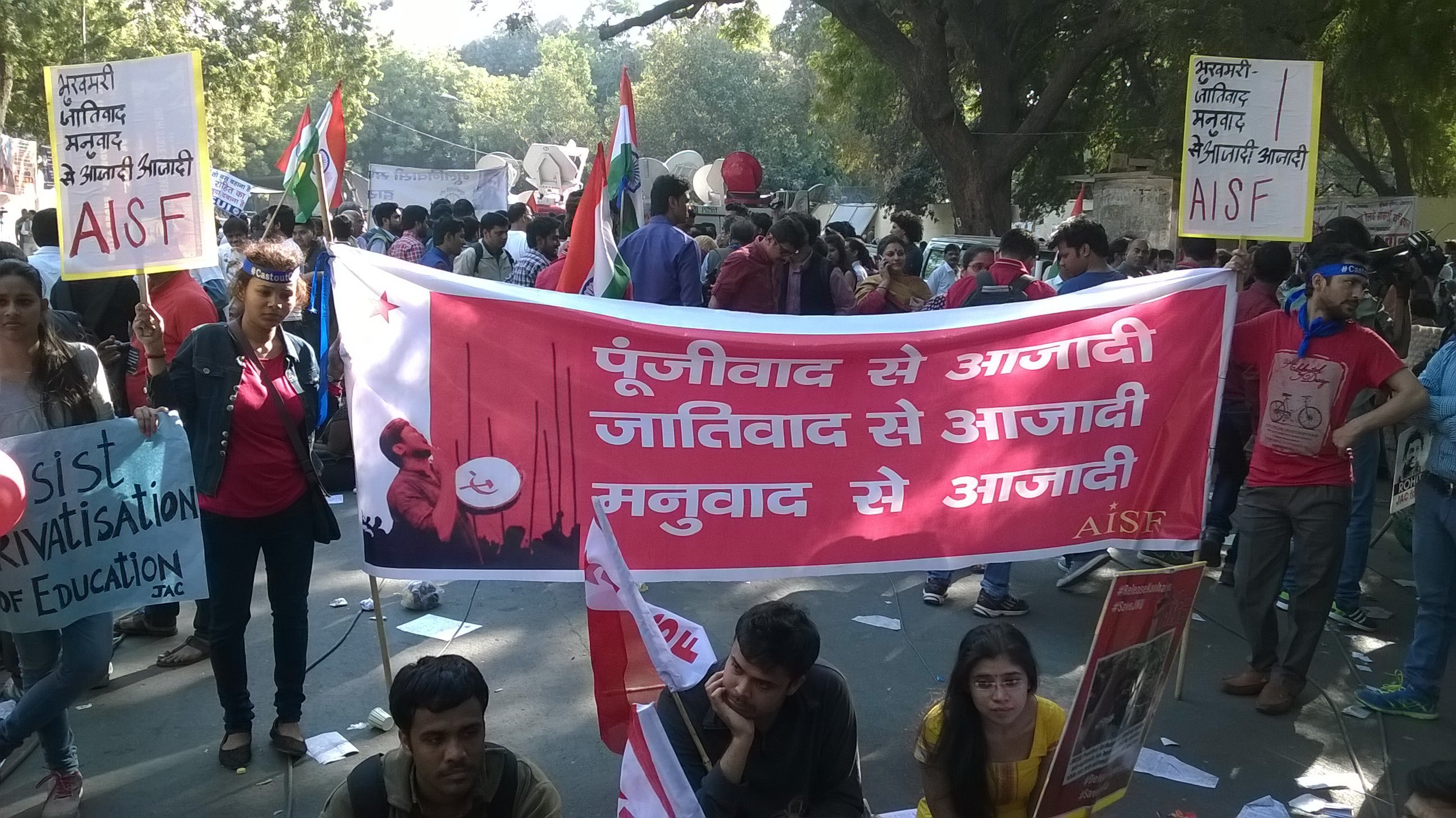 "I had heard about Rohith but the way JNU students have been treated and hounded made me realise the dangerous turn of events taking place in our country," she added. 
On Tuesday morning, eight buses full of JNU students left the university campus from Ganga Dhaba to reach Ambedkar Bhawan for the solidarity march. However, it was not only JNU. The protest was joined by students who had come all the way from various states of the country including Hyderabad Central University and Osmania University. 
"Yes, this is for Rohith, but that doesn't mean we are oblivious to way right-wing forces are unleashing their terror on rationalists and minorities," a student from HCU, wishing anonymity, told ScoopWhoop.  
For Satish Kumar, a regular at Jantar Mantar, the protest street had completely taken on a different colour.
"I have been coming here for years, but this is something new. At Jantar Mantar, you'll see people protesting their individual causes every day, but today's rally marks a unique resistance against a greater power," Satish told ScoopWhoop.
"Otherwise," he continued, "where'll you see Kejriwal, D Raja, Sitaram Yechury and Rahul Gandhi, having a similar opinion, on a single day?"  
But Ashutosh Singh, a banker, didn't agree with the assertion. 
"What we are currently seeing is the stagnation of a tragedy. The situation in the country is far worse than the kind of resistance the people of country are responding with," Ashutosh said. 
"A protest rally at Jantar Mantar has never bothered Race Course 7," he remarked. 
"We need to awake people."
Feature image source: ScoopWhoop/Safwat Zargar