Many were disappointed after the self-proclaimed "voice of the nation" — Times Now editor-in-chief Arnab Goswami –went "too soft" on Prime Minister Narendra Modi in the 85-minute long interview. 
Goswami, quite obviously so, received a lot of criticism from journalists and social media for not grilling the Prime Minister in his characteristic hard-hitting style. Some also alleged that the entire interview was scripted. 
Days after being mocked, slammed and trolled, Arnab has finally broken his silence and replied to his critics through an open letter on BusinessWorld.com.⁠⁠⁠⁠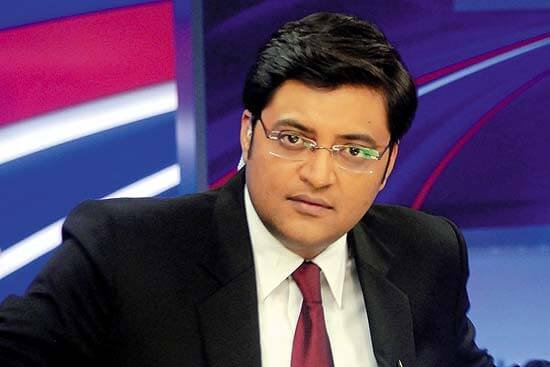 Many had pointed out that Arnab did not touch upon certain topics, to which he reiterated that all the key issues were covered during the interview

From NSG to China, Pakistan to Rajan, Swamy to inflation, 2019 to Uttar Pradesh and the politics of polarisation, rising unemployment to the parliament logjam, the possible passage of GST to the numbers in the Rajya Sabha, black money and the Rs 15 lakh in every bank ACCOUNT promise, the interview had covered it all.
On why he was soft and didn't raise his voice like on Newshour, this is what he has to say
First, I used the same tone with Rahul Gandhi. If this industry is disappointed with how he let them down, its not my problem. Second, Frankly Speaking is an interview and The Newshour is a debate, both are therefore different styles and formats. And finally, "Mr Prime Minister" is the most appropriate reference point when you are speaking to the Prime Minister.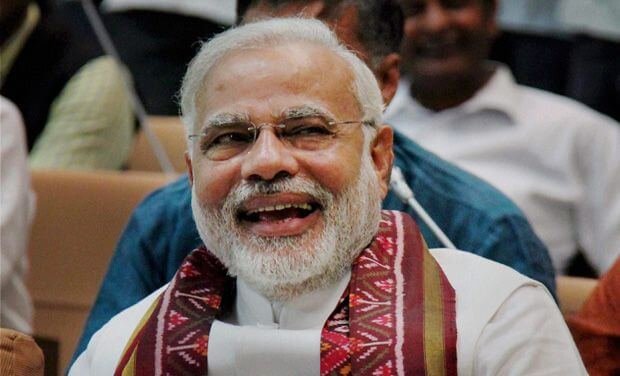 Leaving a message for all his critics. Arnab wrote,
"I don't really need to explain all this. But I have written this down because I want the industry that has nothing to do but write about me to calm down and get composure. Eventually, all of us will be judged by what we do. Not by how elegantly we troll on social media and its satellites.
Without taking names, Arnab also took a dig at journalist Sagarika Ghose by calling her a 'has-been anchor'
For me, working far away from the machinations and intrigue of Lutyens journalism, the collective outrage of Lutyens journalists at the fact that I got the interview is amusing. One of them, a has-been anchor who desperately lobbies for an opportunity to be invited on my Newshour debates, even put out a tweet asking why the prime minister chose to give an interview to me and not hold a press conference. Embarrassed by the angry reactions, she deleted the tweet later. 
Social media was quick to figure out Arnab is referring to Ghose here.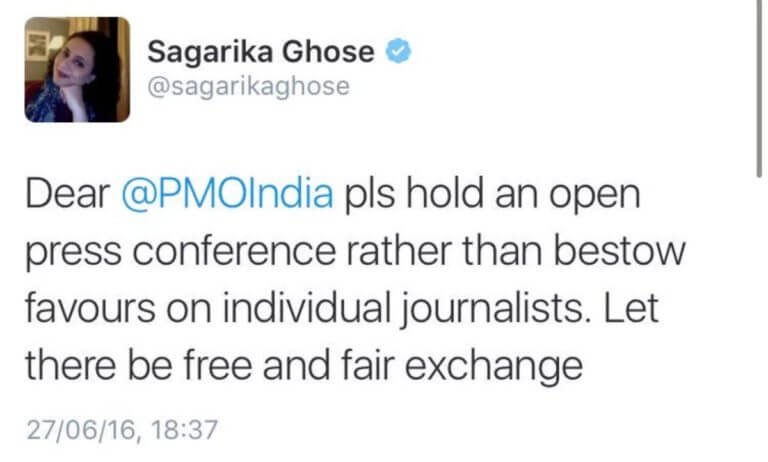 Calling her question intellectually disjointed, he wrote,
Across the world, the first exclusive interviews are given to anchors and channels who command viewership. Not to those who nobody watches. Period.
Well now, after his letter was out in the open, hashtag #ArnabSlapsSagarika started trending on Twitter. Think Ghose would be silent? Responding to Arnab's jibe against her, she tweeted,
Oh my! What a lot of tu tu main main on Twitter at the mo. Enjoy people, we "has-beens" better go back to our Horlicks & Agatha Christie.

— Sagarika Ghose (@sagarikaghose) July 2, 2016
Many users also tagged her husband Rajdeep Sardesai for a comment and he had a cool response amidst all the hate 
And he signed off in an epic maner with a couplet from famous Bollywood track
Nafrat karne Walon Ke seene mein pyar bhar doon, mein woh parwana hoon pathar ko mom kar doon.. Gnight, shubhratri

— Rajdeep Sardesai (@sardesairajdeep) July 2, 2016
You can read Arnab's open letter here.