Ex-Times Now Editor-in-chief Arnab Goswami delivered a talk in Jaipur on Wednesday. The event, 'A new revolution, A new India' was organised by media group Dainik Bhaskar for completion of 20 years and was held at a school.
It was a talk, followed by a question-answer session with the audience, where Arnab opened up like never before. Not surprising, given that he is about to launch his new venture called 'Republic' and a greater personal connect with the public won't harm.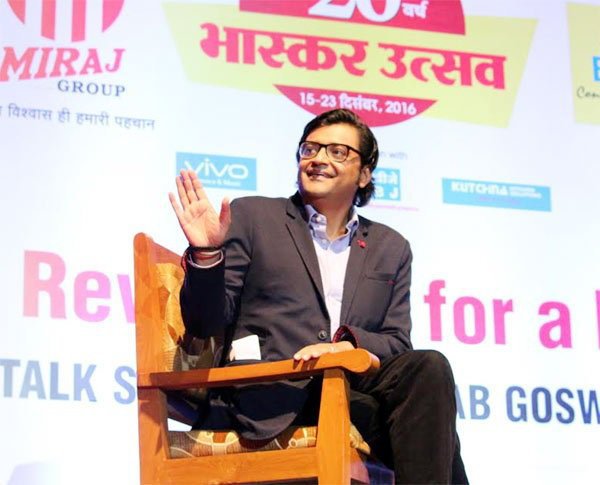 And well, a spirited Arnab happily fielded all questions, from why he shouts to whether he would ever hug Arvind Kejriwal (he said no) or was he a heartthrob in college. 
Here are the highlights of his talk: 
Arnab, the poor, harassed journalist fighting establishment?
Arnab Goswami doesn't exactly remind you of a harassed journalist or a stifled voice fighting against the establishment, but in the talk, Arnab sounded exactly like that. Asked what prompted him to launch 'Republic', he recalled an incident from his initial days as a journalist in 1996 when he apparently went to interview (late) CPM leader Jyoti Basu. "The CPM goons pushed me against a wall, snatched my camera and almost smashed my head into the wall."
Arnab said he demanded in his media circle that the party apologise to him but "I was told go fight your own battles." He went on to suggest that this is where his anger stems from.
He sounded like the 2011 version of Arvind Kejriwal when he talked of 'Republic'
Arnab may be have become bigger than the brand and enjoys a personality cult like no other journalist but he had the audience believe he is but a small fry pitted against the powerful. 
A visibly passionate Arnab said, "People ask me you what will you do. You are one person, they are big companies. You have little money, they have a lot of money. They tell me you are not a businessman. I am not a businessman."
Arnab went on to show why he is great at brand building
A lot of people may not agree with his brand of journalism, but Arnab surely known he is a successful brand in his own right. And he skillfully and emotionally sold his venture to the public like this: "I have placed my belief in the people of India. I believe in this republic. There is a reason why I have named it Republic – It's for the public, voice of the public, undiluted. And I promise you today that till my last day in this profession, I will not let down your faith in me. I am placing my belief in you."
He also thundered against his rivals in the media without naming them when he said that those who celebrated after his exit from Times Now, will repent.
And yes, while giving autographs to the students post the event, he said he'll be back in three months.
And that's not all. The best part came when he took questions from the young audience that asked him everything from whether he was asked to leave from the Times Group's channel to who his favorite actress is. 
If Arnab hadn't resigned from Times Now, he would probably be telling us why demonetisation has is causing no chaos.  When asked about his take, he said he stood in a queue to deposit Rs 12,000 and was quite happy doing so because he felt this move is going to change India for good.
Fun and easy, he had the audience is splits when he said that he enjoyed no female attention in (Delhi University's Hindu) college because with fellow students like Arjun Rampal and Imitiaz Ali, no girl had eyes for him.
We learnt that he shouts because "in this country, you have to shout to be heard." 
He was visibly stumped when asked if he was asked to quit the channel, but Arnab answered it like a boss. "So far, no one has taken a decision about my career."