Arnab Goswami, infamous for his high-decibel and cacophony infused debates, appeared to have completely lost the plot on Monday night, when he accused RBI governor Raghuram Rajan of "behaving like an intern" and not acting "honourably". 
For the first debate of his popular prime-time programme, The Newshour, Goswami debated Rajan's controversial exit and his refusal to take up a second term.
The fiery anchor preached, "You're an RBI governor. You do not behave like an intern in a private sector company that you want to resign and put pressure on your employer, so you leak the story of your resignation on a Saturday evening at 5 O'clock without having put in your resignation, hoping that your colleagues and the rest of the world will build pressure on your behalf over a Sunday and that your employer in turn will be forced to take back your resignation and give you an exalted position by a Monday.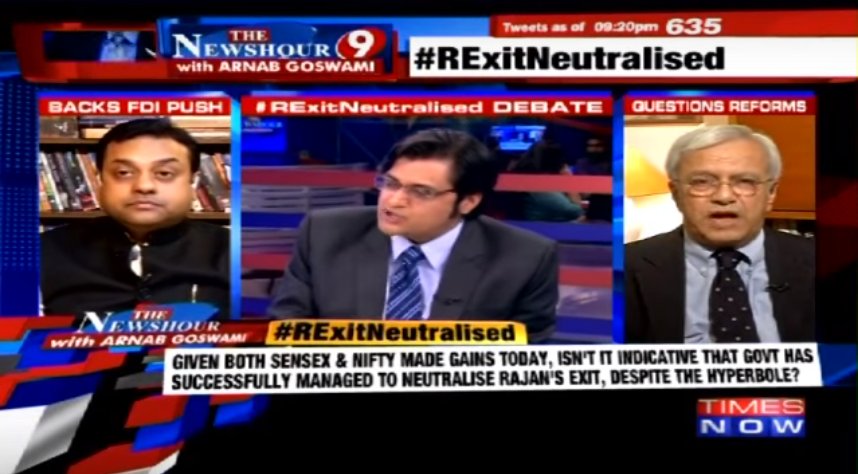 "Where in the world does this happen? Why did Raghuram Rajan try to do this amateurish, childish, questionable act on Saturday evening?" he fumed.
The anchor who claims to be "the voice of the nation" continued his tirade, making bizarre (to put it mildly) claims and even wanted Rajan to take up responsibility for "all that went wrong between 2007 and 2014". Why? Because, as per Goswami, "he (Rajan) is somebody who held various appointments during the UPA tenure".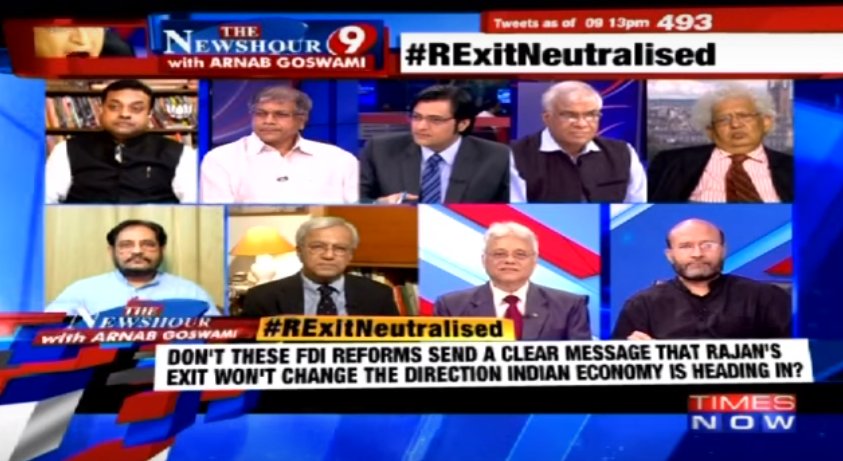 He even went one step further and managed to drag in Liquor baron, Vijay Mallya into the debate. "Could Raghuram Rajan have done something earlier to stop Mallya-gate from happening?" he asked. 
Just when you think it couldn't get more perplexing, Goswami imparted his knowledge of economics on the viewers and even fired-off a scathing insinuation against Rajan.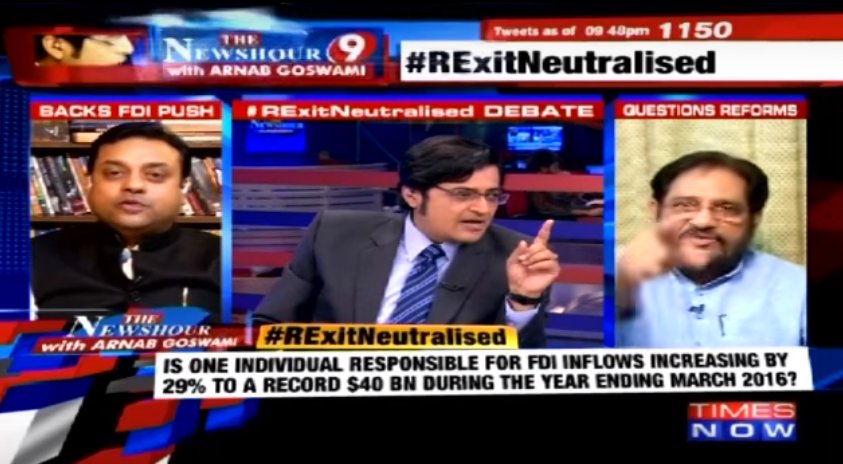 "Who in the world benefits from high interest rates? The only people who benefit from high interest rates is not the middle-class Indian wanting to take an EMI; it is the really rich FII (Foreign Institutional Investor) investing in India. 
"So was Raghuram Rajan serving the interests of the FIIs?" he asked.
Twitter was equally displeased with "India's most popular news anchor" and went after him for his conduct.
So Raghuram Rajan is apparently responsible for Mallya now. Arnab Goswami giving competition to Sub Swamy today. #NLprimetime

— Manisha Pande (@MnshaP) June 20, 2016
Arnab is asking Rajan why he didn't do anything about bad loans since 2008. Hmm. I wonder why Arnab doesn't do anything about Bombay Times.

— Shubhashish (@shubHASHISH) June 20, 2016
Arnab on @TimesNow "Experts say Govt has called Rajan's bluff" I only heard Arnab. He's accused Rajan of more that Swamy did #NLprimetime

— Abhinandan Sekhri (@AbhinandanSekhr) June 20, 2016
What's with Arnab taking on Raghuram Rajan SO strongly? He almost seems to be taking it personally! 😈 #RExitNeutralised

— Pallavi Kamat (@Pallavisms) June 20, 2016
Arnab Goswami abusing Raghuram Rajan on The Newshour. He is not even subtle anymore about being a BJP stooge.

— NoToSilence (@akdwaaz) June 20, 2016
Disgusting Arnab is out to defame a world renowned economist like Rajan. There is limit to MODIfying journalism.

#RExitNeutralised— Mohan Singh Saini (@mohanssaini) June 20, 2016
It's official: BJP top leadership not happy with Rajan resignation drama. Times Now Arnab attacked Rajan quite directly

— Deepak Singh (@smarket) June 21, 2016
Watch the full debate below:
(Feature image source: Twitter + Reuters)