Twitter world was taken by storm when the Twitterati got to know that Times Now editor-in-chief and news anchor Arnab Goswami joined the popular social media platform on Wednesday.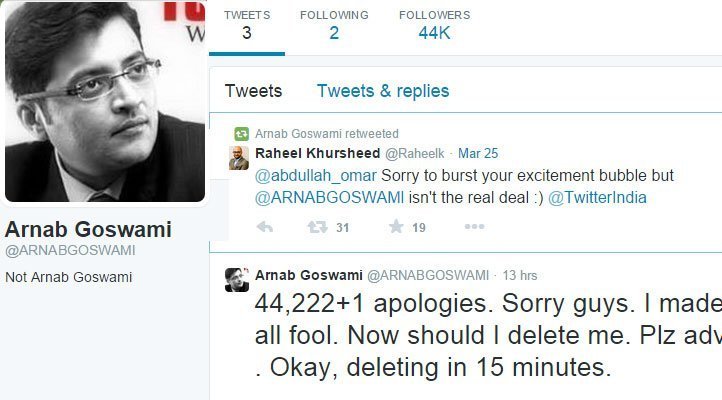 #TwitterMeetsArnab started trending at the top and in a very small span of time that account received a thumping number of followers, almost 44,000.
Only, the account does not belong to Arnab.
#TwitterMeetsArnab was a smart marketing move to promote Arnab Goswami's meeting with Twitter CEO Dick Costolo. Amid a flurry of online activity, a tweet declared that Arnab had in fact not joined Twitter and the account was a fake one.
Just spoke to Arnab. He did meet the twitter boss, but has no intentions of personally being on twitter. @ARNABGOSWAMl is a fake account.

— Akash Banerjee (@akashbanerjee) March 25, 2015
A minor difference in the name spelling was soon discovered. The name is spelled with an l instead of an I at the end of the name, cleverly written as ARNAB GOSWAM'l'.
Later the account holder updated his profile and wrote, "Not Arnab Goswami". A tweet was also sent out, "44,222+1 apologies. Sorry guys. I made you all fool. Now should I delete me. Plz advice . Okay, deleting in 15 minutes."
The account still exists.
So is Arnab joining Twitter or not? Hoping to be the first person ever to complete a full 140-character reply to him. #TwitterMeetsArnab

— Ramesh Srivats (@rameshsrivats) March 25, 2015
The nation indeed needs to know who is this fake Arnab?