The Union Cabinet on Sunday, January 24, recommended imposition of President's Rule in Arunachal Pradesh, which is facing a political turmoil. Chaired by Prime Minister Narendra Modi, the Cabinet recommended imposition of President's rule in the hill state, official sources said.
Arunachal Pradesh was rocked by a political crisis on December 16 last year as 21 rebel Congress MLAs joined hands with 11 of BJP and two independents to 'impeach' Assembly Speaker Nabam Rebia at a makeshift venue, in a move branded as "illegal and unconstitutional" by the Speaker.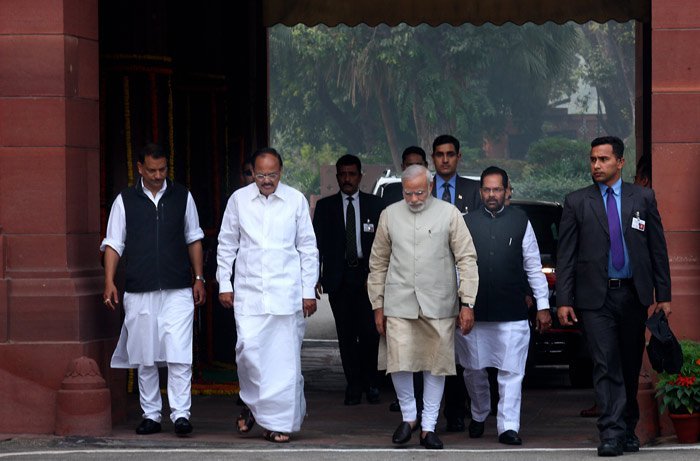 Up in arms against Congress Chief Minister Nabam Tuki, 21 rebel party MLAs, including 14 disqualified a day before, with the help of BJP and independent legislators, congregated at a community hall after the state Assembly complex was 'sealed' by the local administration, and 'impeached' Rebia in an impromptu session chaired by deputy speaker T Norbu Thongdok.
About 27 MLAs in 60-member Assembly, including the Chief Minister and his ministerial colleagues, boycotted the proceedings. A day later, in a bizarre turn of events, opposition BJP and rebel Congress MLAs congregated in a local hotel to "vote out" Chief Minister Nabam Tuki and to "elect" a rebel Congress MLA in his place but the Gauhati High Court intervened to keep in "abeyance" decisions taken at the rebel "session".
A "no confidence" motion moved by BJP MLAs and Independent MLAs was "adopted" with deputy speaker T Norbu Thongdok, who is also a rebel Congressman, in the Chair. A total of 33 members in the 60-member house, including 20 dissident Congress MLAs, later "elected" another dissident Congressman Kalikho Pul as the new "chief minister" of the state. Chief Minister Nabam Tuki and his 26 supporting MLAs boycotted the proceedings terming them as "illegal and unconstitutional".
The Chief Minister later wrote to President Pranab Mukherjee and Prime Minister Narendra Modi seeking their intervention to "uphold" the Constitution in the face of the "unprecedented murder" of democracy and "bypassing" of a democratically-elected government by Governor Jyoti Prashad Rajkhowa.
Angry over the Governor's action in calling a session of the Assembly bypassing the government, the Congress had paralyzed the Rajya Sabha for two days during the winter session.
In the High Court, Justice Hrishikesh Roy observed prima facie the Governor's decision to advance the Assembly session to December 16, 2015 for taking up the impeachment proceedings against the speaker was in "violation of Article 174 and 175 of the Constitution.
The Supreme Court has referred a batch of petitions on the Arunachal Pradesh crisis to a Constitution Bench.
(Feature image source: PTI)