The railways witnessed a major train tragedy in the wee hours of Sunday when 14 coaches of Indore-Patna Express train travelling with more than 500 passengers rolled off track a little after 3 am in Pukhrayan. At least 100 people have reportedly been killed, and the death toll is expected to rise.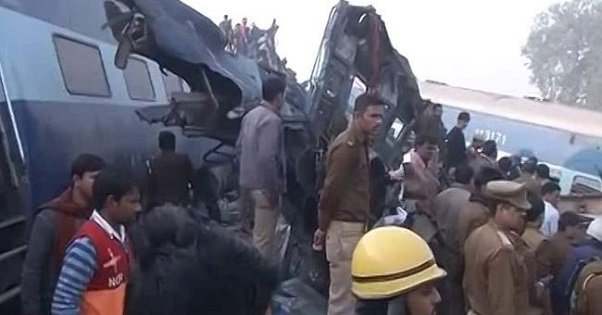 The horrific accident is the latest in a line of tragedies to have hit the Indian railways. Here's a look at the most major train mishaps:
1981, Bihar rail derailment
1981 is known to be a year when death stalked India's rail network. It saw 526 train derailments between January and September alone. But the worst happened on June 6, when a passenger train derailed on a bridge and plunged into the Baghmati River in Bihar. 
Seven of the nine bogies of the overcrowded 416 Down derailed, killing at least 400. Reason remains shrouded in mystery. Some say the train engineer sharply applied the brakes to avoid hitting a cow, others say torrential rains made the tracks slippery.
1988, Khanna rail disaster
At least 212 people died and 250 injured in a train accident between Kaudi and Daudpur villages near Khanna railway station in Punjab in November 1988. It happened because the Calcutta-bound Jammu Tawi-Sealdah Express rammed into six derailed coaches of the Amritsar-bound Golden Temple Express. The cause was a broken rail, and the trains were estimated to be carrying 2,500 passengers. 
1995, Firozabad rail disaster
One of the worst train tragedies of all times in India, about 300 people were killed and more than 400 were injured when a speeding passenger train (Purushottam Express from Puri) rammed into a stationery train (Delhi-bound Kalindi Express) that had come to a stop after hitting a cow in the town of Firozabad. Only four people emerged alive from the general department of Kalindi Express.
The cow's body had become entangled in the engine and damaged the train's brake system.
On Aug 1, 1999, two trains carrying 2,500 people collided at the station of Gaisal, located on the Bihar-Bengal border and about 500 km from Kolkata. At least 400 people were killed.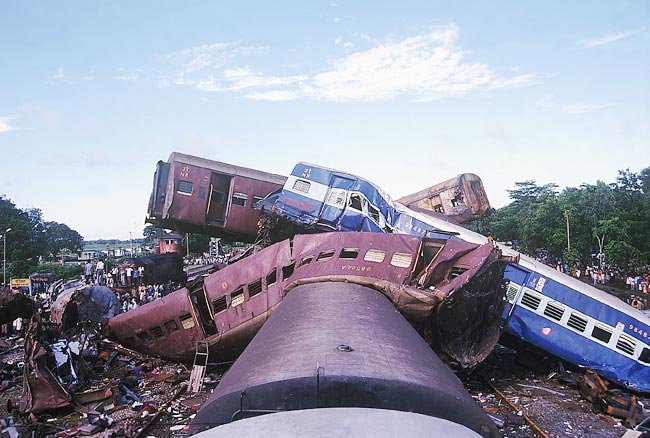 It all happened because of a signalling error when the Brahmaputra Mail from Dibrugarh in Assam -packed with soldiers and security men – was transferred onto the same track as the Awadh Assam Express from New Delhi. The crash, which occurred at about 1.30 am, was so strong that the trains actually exploded on collision. The engine of the stationary Awadh-Assam Express flung into the air.
2002, Rafiganj train wreck
At least 130 of the 525 passengers on board Howrah-Delhi Rajdhani Express plunged into Dhawa river in Rafiganj near Gaya on September 9, 2002. The accident happened when the bridge on the river gave way. Sabotage by some extremist outfits active in the region was suspected. It was the same year when 59 people, mostly kar sevaks returning from Ayodhya, were burnt alive in a coach of the Sabarmati Express at Godhra on February 27, an incident that triggered widespread communal riots across Gujarat.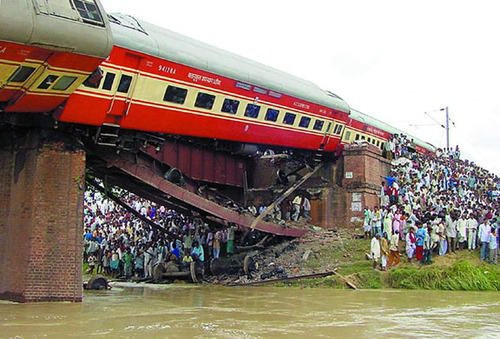 At least 100 people were killed and 500 injured after the first five coaches and locomotive of the Mandovi express crushed in a tunnel near Ratnagiri, Maharashtra because of a rockfall. The same year, another tragedy had taken place just a month before in October when, minutes after a passenger train left the Ramannapet station in Nalgonda district of Andhra Pradesh, it derailed due to heavy floods – killing at least 102 people.
At least 47 people were killed in a freak accident in Bihar's Bhagalpur in December 2006 when a 150-year-old bridge – called 'Ulta Pul' – fell on a sleeper class coach of Jamalpur-Howrah Superfast Express. It was the same year when a series of bomb attacks had struck commuter trains in Mumbai in July, killing at least 200.
2010, Gyaneshwari Express derailment
Another bad year for the railways. It began in January when due to fog in northern India, three accidents involving five trains took place in Uttar Pradesh – Lichchavi Express rammed into the Magadh Express train, killing 10, including a driver. In the second accident, the Gorakhdham Express and Prayagraj Express crashed into each other in Kanpur. In Pratapgarh, the Sarayu Express hit a tractor trolley at an unmanned railway crossing. 
A video of Gyaneshwari Express derailment
But the worst tragedy of the year came about in May, when a Maharashtra-bound express train was derailed by Maoists in West Bengal, killing at least 148 people.
The injured from the train, the Howrah-Kurla Lokmanya Tilak Gyaneshwari Super Deluxe Express, were taken out with the help of gas cutters.
2013, Dhamara Ghat train accident
At least 37 pilgrims including women and children standing on rail tracks were killed when a speeding express train crashed into them at the Dhamara Ghat in Bihar's Khagaria district. The pilgrims called 'kanwarias' had alighted from the Samastipur-Saharsa passenger train and were run over by the Saharsa-Patna Rajyarani Express travelling at 80 kmph. The accident triggered angry protests by locals who attacked train driver, set ablaze a coach and vandalised the station.
A video of Dhamara Ghat train accident
2015, Rae Bareli accident
At least 38 people were killed and about 150 others injured in March last year when the engine and two adjoining coaches of the Dehradun-Varanasi Janata Express derailed near Bachrawan Railway Station in Rae Bareli district. The spot was some 50 km from Uttar Pradesh capital Lucknow. It was said that the train overshot a signal.