It's Peepli Live coming to life. Aam Aadmi Party (AAP) leader and spokesperson Ashutosh broke down on camera during a live show over Gajendra Singh, the farmer who publicly committed suicide at Jantar Mantar while an AAP rally was going on.
Gajendra's daughter was also live on the show that was aired by Aaj Tak and Headlines Today, and Ashutosh broke down after listening to the farmer's daughter Megha Singh.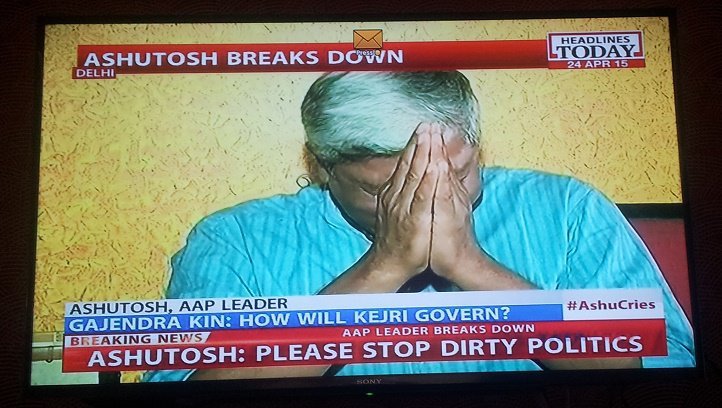 Ashutosh apologised for a statement he had made following Gajendra's death that had drawn flak all over social media.
"If something like this happened in the future I would ask Arvind to climb the trees and save the person," he had said.
Delhi Chief Minister Arvind Kejriwal apologised as well and said "I made a mistake. I shouldn't have continued speaking even after knowing that the farmer had hanged himself," he said in an interview to ANI.
"I continued my speech after this… I apologise if someone's sentiments have been hurt," he said.
The family has rejected the apologies saying that won't bring Gajendra back. The dead farmer's daughter said while speaking to Headlines Today, "My father was not someone who would have killed himself. The suicide note was written after he died."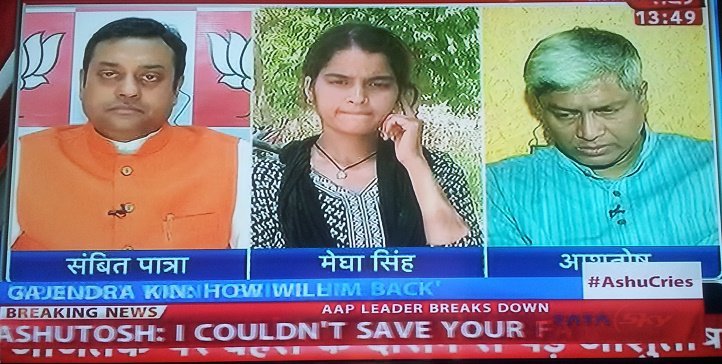 Source: TV grab
It is yet another case of bad reportage as the anchor asked the daughter, Megha Singh these questions: "What should have been done when your father climbed the tree?", "Do you think his death is being politicised?"
Not only is it insensitive to have her on camera two days after her father's death, it is also ridiculous to ask a child questions that she probably has little or no understanding of. That aside, it is a moment of loss and grief for the family.
Ashutosh's breaking down and crying on camera may be a genuine feeling of guilt towards the girl's loss and their party's callous statements that followed. And the fact that no one did anything to save the man.
It is a day to look carefully at ourselves, at the mirror this event is holding up for journalism in India. How sensitised are we to handle an incident like this? Apart from turning it into a drama to be played out over and over again on television screens and then move on to the next 'story'.
Jai ho.
Feature image source: TV screen grab