An Indian elephant, which had been trapped in swamps after being swept away over 1,700 km into Bangladesh by raging flood waters, died on Tuesday despite valiant efforts by villagers and officials to save him. 
The elephant, named 'Bangabahadur' (hero of Bengal), died around 7 AM at Sarishabarhi's Koyra village under Sharisabari upazilla of Jamalpur district, about 200 km from Dhaka, rescue team's chief Ashim Mallik was quoted as saying by bdnews24.com. 
The distressed animal was tranquillised three times in sometimes dramatic bids to try to transport him to a safari park in Bangladesh, after he washed across the border in late June.
He was eventually given huge amounts of saline and chained in a paddy field in a northern village to help him recover, but he was "too weak and tired" from his ordeal, officials said.
"It breathed its last at around 7am (0100 GMT)," the government's chief wildlife conservator Ashit Ranjan Paul told news agency AFP.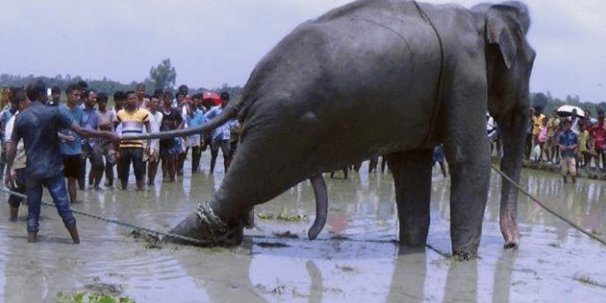 The elephant, weighing about four tonnes, was rescued on August 11 by a Bangladeshi forest department team after more than six weeks of frantic efforts since the jumbo was swept away to Bangladesh from Assam. 
It initially appeared agitated after receiving a tranquiliser and moved indiscriminately for nearly an hour before it fell unconscious in a ditch. 
Forest officials and enthusiast villagers dragged her off the ditch. An expert team from India led by a retired chief forest conservator on July 4 joined the Bangladeshi team in rescuing the elephant but left the scene three days later. 
According to officials, the elephant was stranded in waters which disrupted the joint rescue mission as it could not be driven to a dry piece of land to be tranquilised for treatment and transportation. 
Forest officials earlier said the elephant remained calm despite being tired though it showed some signs of abnormal behaviour as it was forced to live in swamps for weeks despite being habituated in hilly forest environment. 
Local media blamed excessive tranquillising for the animal's death, saying he became too weak to stand.
But Mr Paul said the long journey was responsible, adding that rescue efforts had been hampered by the thousands of curious villagers following him.
(With inputs from PTI & AFP)
(Feature image source: Twitter | @ndtv)