Greater Noida: On Monday evening, the Amalawa brothers from Nigeria were enjoying their dinner at a KFC restaurant in Greater Noida's Ansal Plaza mall, when their phone beeped. 
It was an alert from one of their friends on a students' WhatsApp group, asking everyone from an African nation to return to their homes. 
Unaware of the candle light march being held by local residents outside the mall at Pari Chowk, Precious Amalawa and his younger brother Endurance Amalawa left the restaurant to rush home. 
They had no way of knowing that the march, held to protest the sudden death of a local boy due to an alleged drug overdose, had turned violent. Locals were chasing and assaulting any dark-skinned person they could find on the road.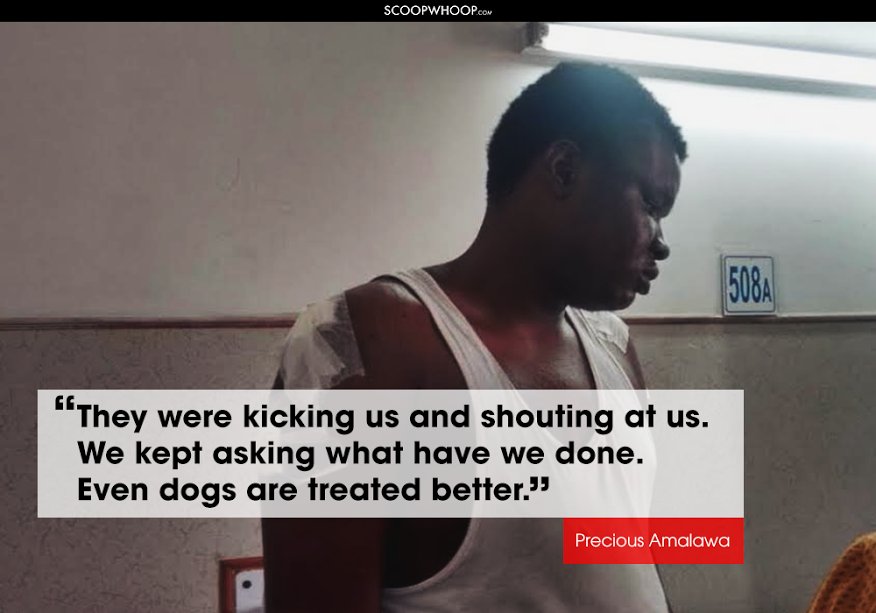 Precious suffered multiple blunt injuries all over his body. 
An undergraduate student in the political science course in Noida International University, Precious alleges nobody came to their aid even when they managed to get to a hospital in the area. 
"When we arrived at the first hospital, I had to lift my injured brother to the emergency room. People were laughing at us. No once came to help," he says. 
The man in the video
On Monday evening, a horrific video did the rounds on social media showing a mob pursuing and brutally beating a man with steel dustbins, sticks, chairs and tools. 
The man they were beating was Precious's younger brother Endurance Amalawa, a 21-year-old Economics student at Noida International University. 
"I have been here less than six months, I want to go back home now," Endurance says. 
Endurance has sustained injuries on his head and face.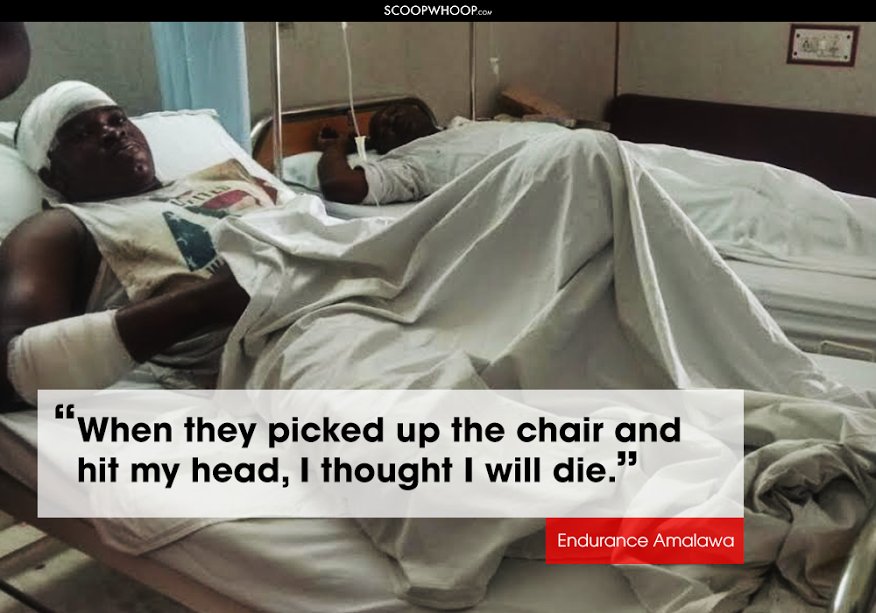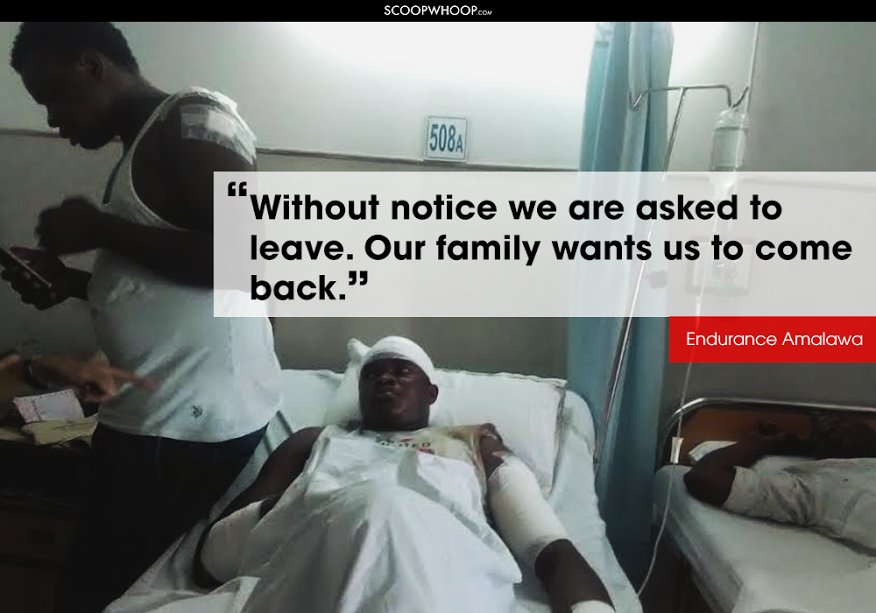 The angry mob also attacked a 42-year-old Nigerian exporter Chkwoma Igbomala.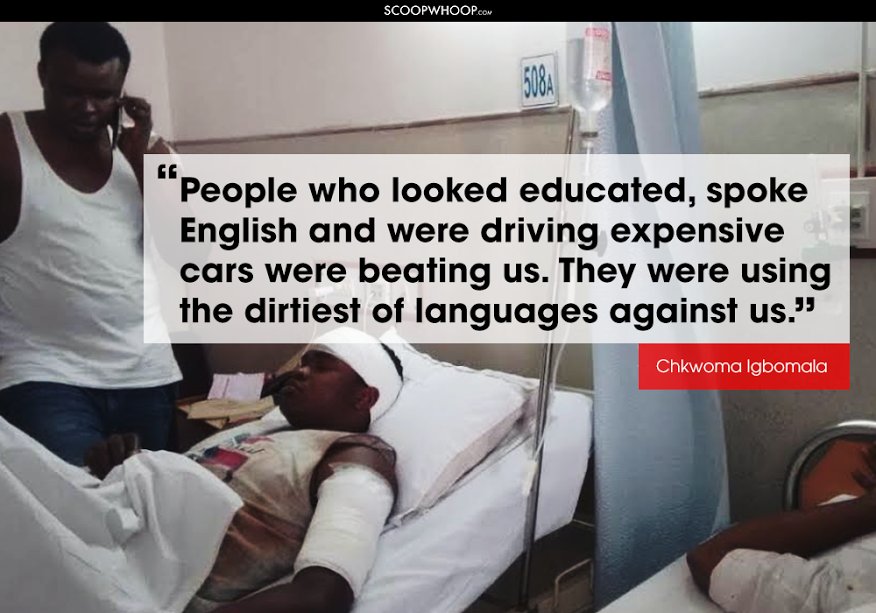 "I would like Indians to know we Nigerians don't eat people," Igbomala, who's recovering alongside Amalawa brothers in the hospital, told ScoopWhoop News. 
Ibgomala has sustained minor fractures and blunt injuries to his head. 
While the doctors have declared the trio out of danger, the three Nigerian nationals continue to remain hospitalized.
The police has said that it is taking action against those guilty of inciting the violence. 
"Police had to use force to dissuade people from attacking and arrested 5 people from the spot. Many of them who were there trying to play mischief have been identified as the entire event had been videographed. An FIR has been registered and action will be taken accordingly," Daljit Chaudhary, Additional Director of General with the Uttar Pradesh Police said on Tuesday. (Also read: Sushma Swaraj Asks UP CM Yogi Adityanath To Submit Report On Racial Attacks In Noida)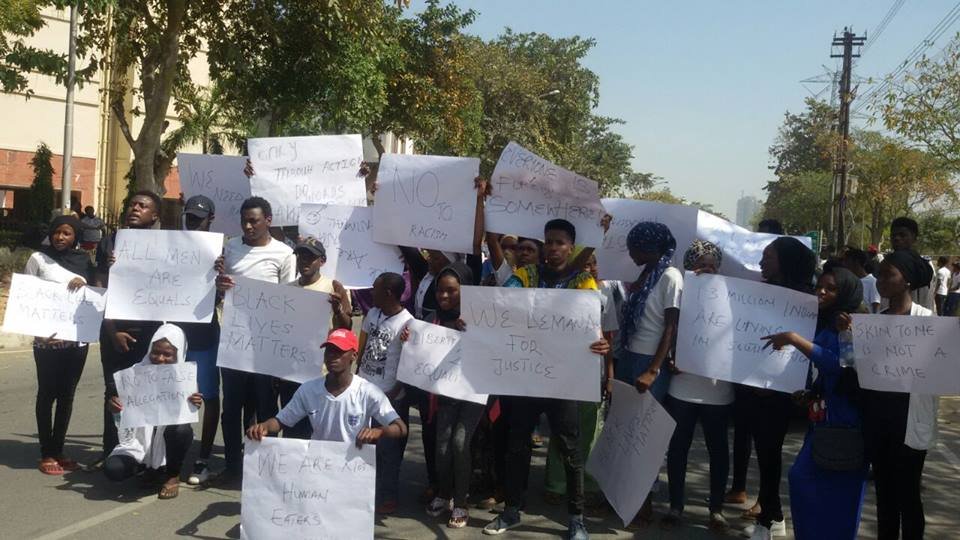 But that has done nothing to deal with the fears of students from African nations who are part of the community in the Greater Noida area. 
Hours after the Ansal Plaza mall incident, the Association of African Students in India issued a warning telling students not to leave their homes and to stay indoors until effective security measures are put in place.
On Tuesday, Greater Noida Police has increased the deployment of security personnel in the areas where students from African nations are living. 
Adam Mohammad, a Nigerian resident of a posh housing estate of Greater Noida, has been advised to stay indoors by his neighbours. "I have been helped by my Indian friends but we are now afraid to venture out," Mohammad told ScoopWhoop News. 
Feature image source: Premankur Biswas/ScoopWhoop