Four Dallas police officers were killed by snipers on Thursday as protests were being held in the downtown area over the fatal police shootings of black men in Minnesota and Louisiana this week, the police chief said.
Dallas Police Chief David Brown said in a statement two snipers shot 10 officers, three of whom were killed. Two officers were in surgery, one in critical condition. No suspects in custody.
"An intensive search for suspects is currently underway," Brown said. Officials also said four Dallas transit officers were shot but their condition was unknown.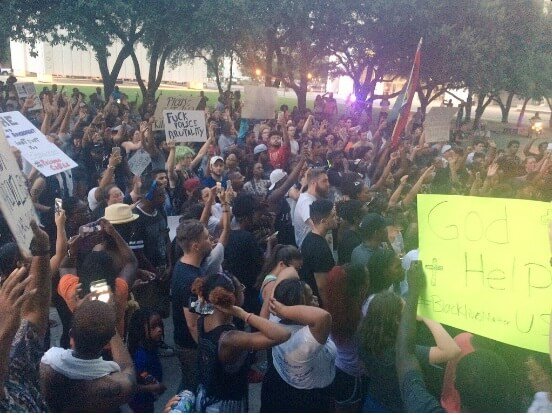 Broadcaster KABC reported that shots were fired during demonstrations at Belo Garden Park in Dallas. Footage showed a heavy police presence with officers taking cover behind vehicles on the street.
Photos posted on Twitter by the Dallas Police Department showed what appeared to be several hundred people assembled on the steps of a downtown museum, many holding signs as they listened to speakers address the crowd.
The Dallas Police has released a photo of a suspect: 
In other photos and footage posted on Twitter, a crowd could be seen marching through downtown streets. 
Police said the crowd, at one point, chanted "Black Lives Matter."
The protests in Dallas came as demonstrations were being held in several US cities over the most recent fatal police shootings of black men in Minnesota and Louisiana.
The police department also tweeted a statement in which they said that a suspicious package had been found near a suspect and had been defused by the city's police department: