With clouds of rustication from JNU hovering over five students for their alleged role in the February 9 event, hundreds of JNU students, activists, civil society members and teachers tried to march towards Parliament from Mandi House on Tuesday. They were protesting against the arrest of two JNU students, Umar Khalid and Anirban Bhattacharya, and Delhi University Professor SAR Geelani.  
The rally, which was also attended by recently released JNU Students' Union President Kanhaiya Kumar, witnessed several disruptions during his speech after three men, in three separate attempts, tried to attack Kumar. While the attackers were stopped by the students before they could reach him, all the three men were arrested by Delhi police. 
"Those who are teaching us nationalism and respect of tricolour these days, burned down the same flag in 1947 and supported Britishers during the freedom struggle," Kumar told a gathering of several hundred students near the Parliament Street police station where the police had created a blockade and kept water-cannon trucks ready. 
In his trademark style, Kumar took a dig at PM Narendra Modi for "deceiving" and "lying" to people. He also stated that Modi is forwarding the agenda of the RSS and not of the people.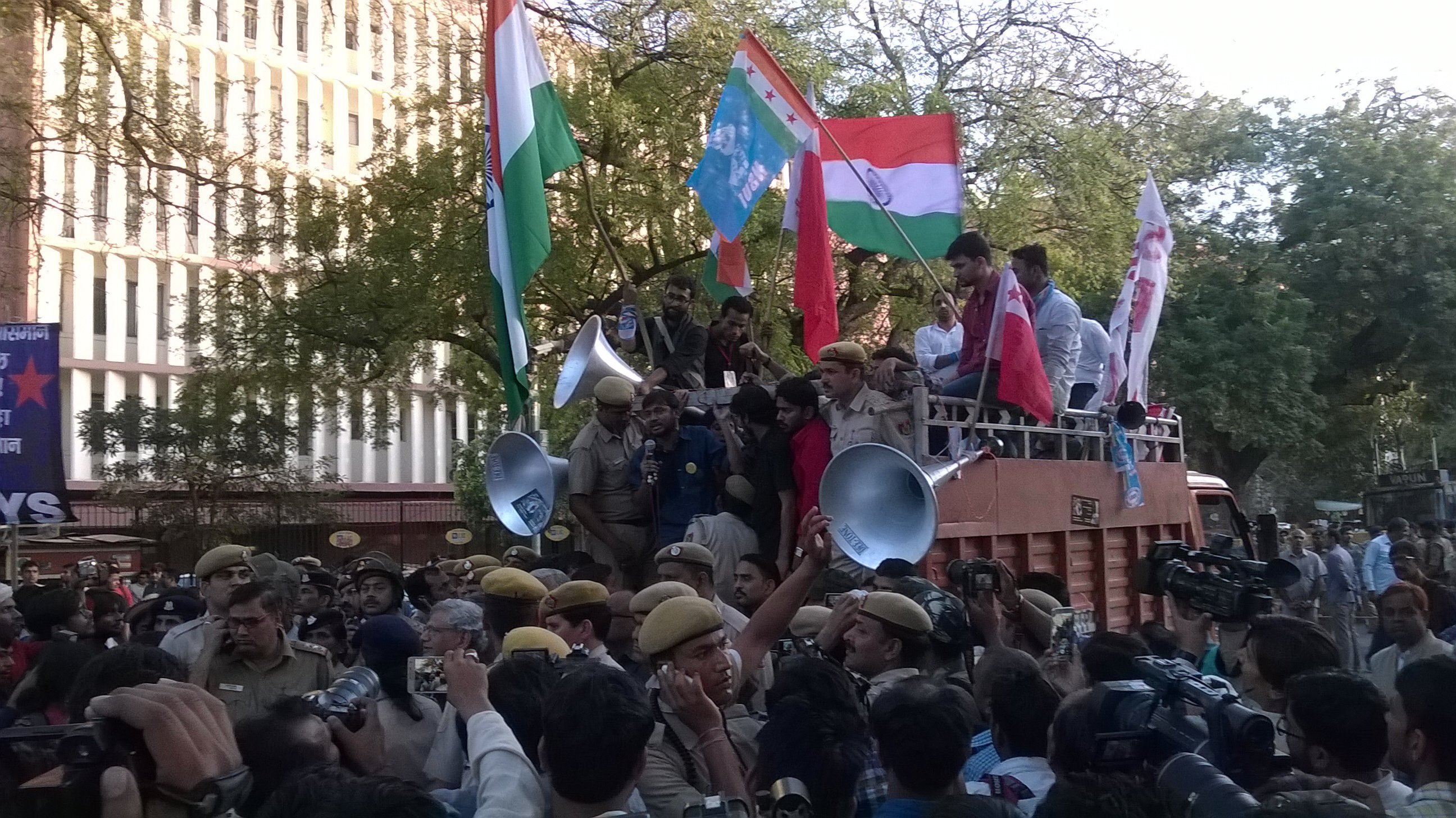 "These people are trying to divide the nation. Britishers have left but they have given their mantra of 'divide and rule' to the RSS. Do you know who gave the first call for creation of two states—Hindu state and Muslim state—during the freedom struggle? It was Hindu Mahasabha," said Kumar. 
While Kumar, in his nearly hour-long speech devoted a lot of time on various issues, from Dalits and inequality to saffronisation, he hardly spent any time talking about Umar Khalid and Anirban Bhattacharya. 
Even though the crowd was raising slogans in favour of Khalid and Bhattacharya, Kumar's speech centered mainly on the BJP and the RSS.   
This apparently didn't go down well with many listeners. One of them was the father of Khalid, who is currently in judicial custody. 
"I don't think Kanhaiya mentioned Umar and Anirban in his speech the way he should have," father of Umar Khalid, Syed Qasim Rasool Ilyas told ScoopWhoop. He added that the ongoing JNU protests have shown that all the students belong to one family and one community—JNU.
"I have met Kanhaiya in the university and he told me Umar and Anirban are more than his friends and assured me that they will carry on the fight for their freedom, but in today's speech he made some passing references like 'drop sedition charges and those in jail should be released,'"said Ilyas.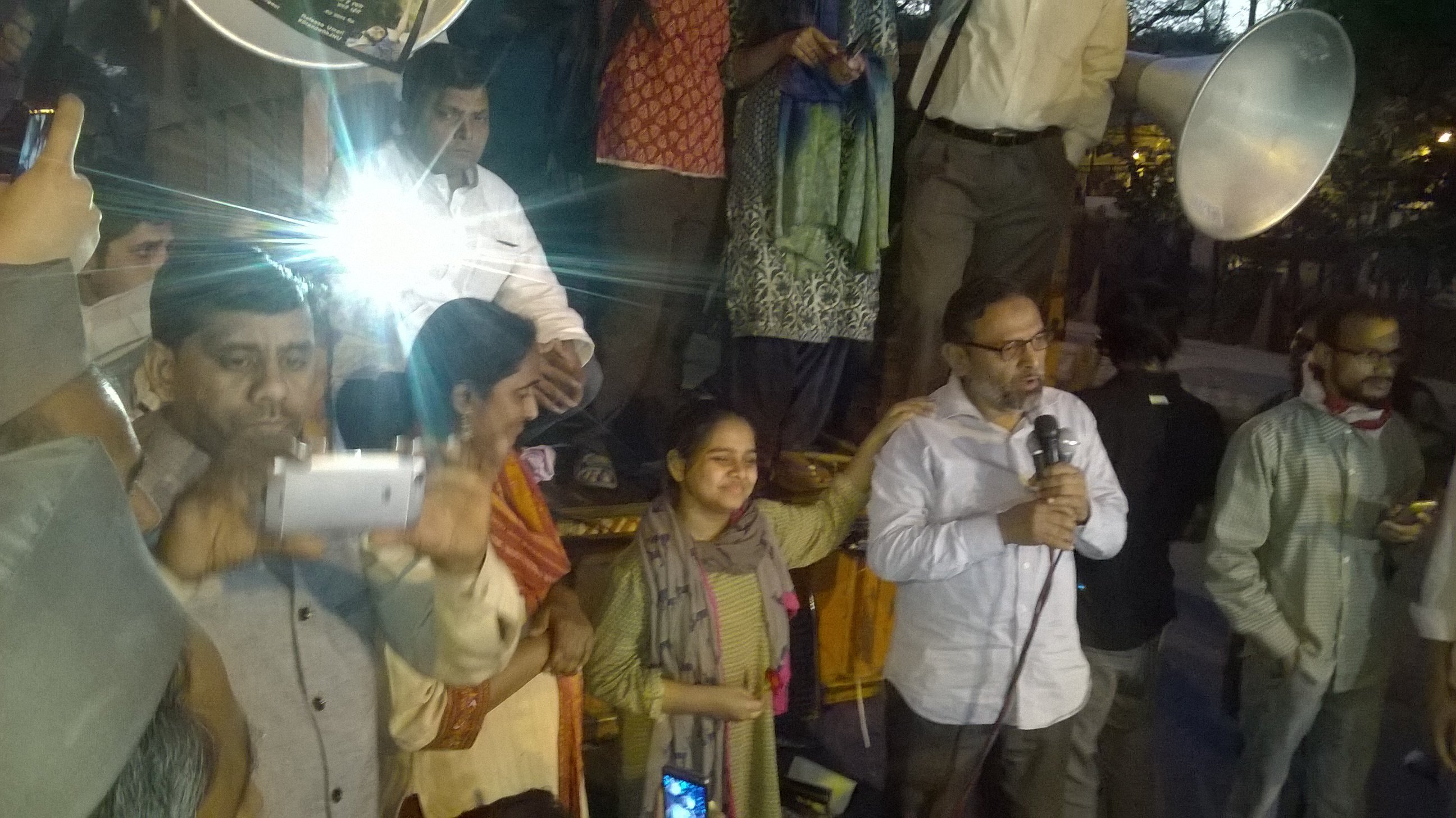 After witnessing several attempts to attack Kumar during his speech, Khalid's sister Kulsum, who had also come for the march told ScoopWhoop that her family is "extremely worried" about the safety of Umar in the backdrop of a "malicious" campaign launched by some media outlets against him.
"We are worried for everybody's safety. Even we, as members of his family, are not feeling safe because of the way his image has been maligned and presented to the people," she said. 
Meanwhile, Tuesday's march also saw prominent author and intellectual Arundhati Roy throwing her support behind the ongoing protests by students. 
Roy, who joined the protest march, said the most frightening slogan for Sangh Parivar from Hyderabad Central University and Jawaharlal Nehru University, is of the "red star in the blue sky."
"We are looking at a new and revolutionary politics. We are at the beginning of a battle between those who know how to hate and those who know how to think," she said while addressing the students.  
On Tuesday, a Delhi court extended the judicial custody of Umar Khalid and Anirban Bhattacharya by 14 more days. Both the JNU students, who are facing sedition charges, filed their applications before the Patiala House Courts registry. 
The pleas of the duo are likely to come up for hearing before a sessions court on Wednesday. 
Feature image source: ScoopWhoop/Safwat Zargar