Senior Samajwadi Party leader Azam Khan has been booked for sedition for his alleged derogatory comments against the Army, even as right-wing bodies offered monetary rewards for his head and tongue.
FIRs were registered against Khan at Chandpur and Civil Lines police stations. While in Meerut, local Bajrang Dal leaders on Saturday filed a complaint against the controversial former Uttar Pradesh minister.
An FIR was registered against Khan under IPC sections 124 A (sedition), 131 (abetting mutiny) and 505 (public mischief) at Chandpur police station on Friday, Station Officer Ajay Kumar Singh told PTI.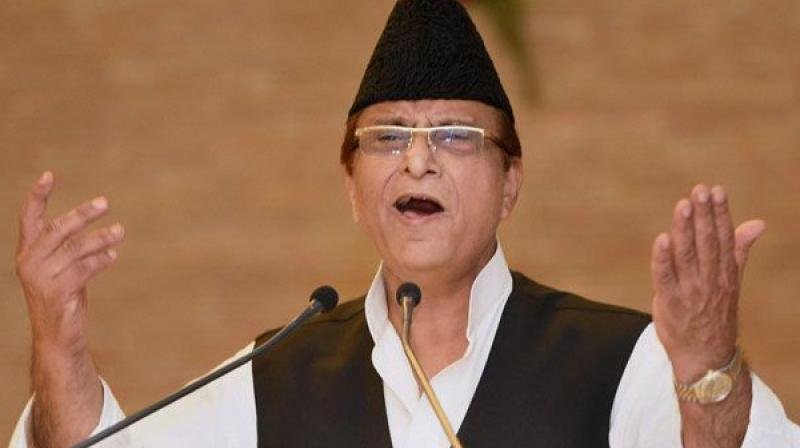 The case was registered following a complaint by VHP leader Anil Pandey.
"The second FIR was registered at Civil Lines police station in Rampur on a complaint filed by Akash Saxena, president of District Industries Association and son of former BJP minister Shiv Bahadur Saxena," Rampur station incharge Rajesh Kumar Solanki said.
The SP leader had kicked up a row recently with his comments that "excesses by security forces had led women in some places chopping off the private parts of Army men."
Meanwhile, VHPs district secretary in Shahajahanpur, Rajesh Kumar Awasthi offered a cash reward of Rs 50 lakh to one who would severe the tongue of the SP leader and present it to him.
Goraksha chief Mukesh Patel termed Khan a "terrorist" and offered Rs 51 lakh to the person who will bring "Khan's head".
Even as the SP leader was cornered, his supporters lodged a complaint against saffronites in Ganj police station in Rampur for issuing such threatening rewards against their leader, which they termed as "rude and uncivilised."
UP minister Buldev Singh Aulakh said the state government has taken cognizance of Khans remarks and action will be taken soon.
"Azam has lost his mind. His remarks amount to lowering the morale of army personnel which is an insult to the entire country as well," he said in Rampur.
Feature image source: PTI/File Photo