Baltimore erupted in violence on Monday, April 27 as hundreds of rioters looted stores, burned buildings and injured at least 15 police officers following the funeral of a 25-year-old black man who died after he was injured in police custody.
The riots broke out just a few blocks from the funeral of Freddie Gray and then spread through much of West Baltimore in the most violent US demonstrations since arson and gunfire in Ferguson, Missouri, last year.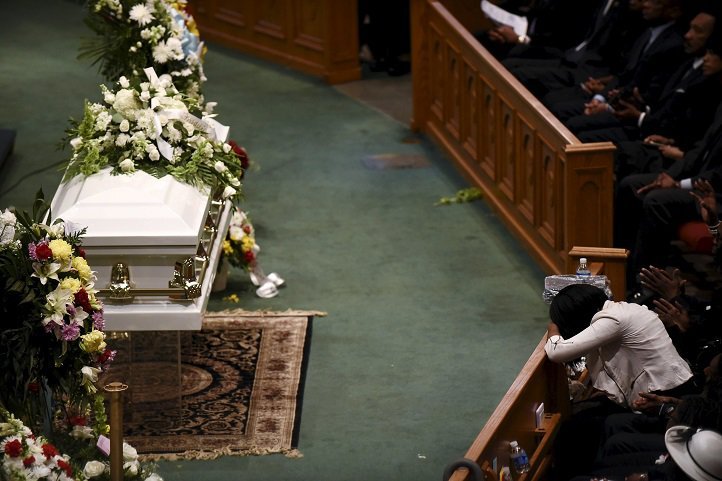 Firefighters battled several blazes on Monday evening, including a fire under investigation that consumed a church's senior center under construction in East Baltimore. Police said looting and assaults against officers continued into the night.
Maryland Governor Larry Hogan, a Republican, declared a state of emergency and sent in the National Guard. Police made at least 27 arrests and Baltimore schools will be shut Tuesday, April 28.
Democratic Mayor Stephanie Rawlings-Blake imposed a citywide curfew beginning Tuesday night, with exceptions for work and medical emergencies.
Gray's death on April 19 reignited a public outcry over police treatment of African Americans that flared last year after the killings of unarmed black men in Ferguson, New York City and elsewhere.
But after several days of peaceful protests over Gray's death, things turned violent on Monday. Mayor Rawlings-Blake called the looters "thugs" and said they had nothing to do with protests over police brutality.
Looters sacked liquor stores, pharmacies, a shopping mall and a check-cashing store. Rioters smashed car windows outside a major hotel and twice slashed a fire hose while firefighters fought a blaze at a CVS pharmacy that had been looted before it was set on fire.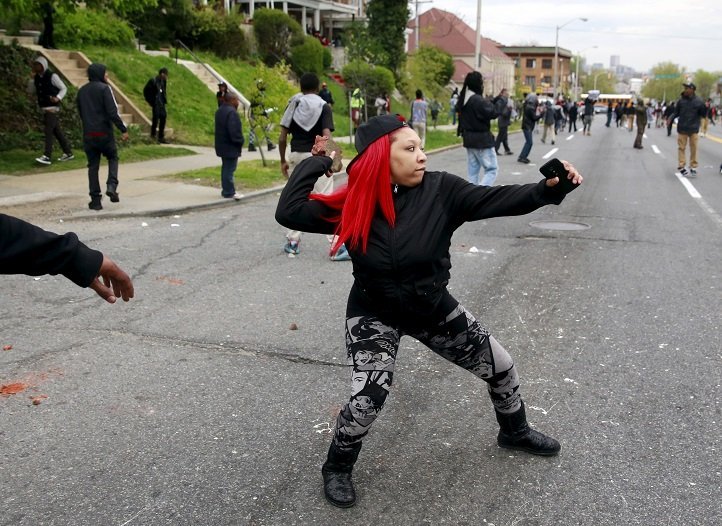 An Orioles baseball game was canceled and businesses and train stations shut down in the city of 620,000 people 40 miles (64 km) from the nation's capital.
"All this had to happen, people getting tired of the police killing the young black guys for no reason. … It is a sad day but it had to happen," said Tony Luster, 40, who is on disability and was out on the street watching the police line.
A string of deadly confrontations between mostly white police and black men, and the violence it has prompted, will be among the challenges facing US Attorney General Loretta Lynch, who was sworn in on Monday.
Lynch condemned the "senseless acts of violence" and signaled that improving relations between the police and the communities they protect will be high on her agenda.
Riots over race issues and police brutality have gripped US cities in the past.
In the 1992 Los Angeles riots, more than 50 people were killed in violence set off by the acquittal of four police officers who beat black motorist Rodney King. In 1968, dozens died in riots, including several in Baltimore, after the assassination of civil rights leader Martin Luther King Jr.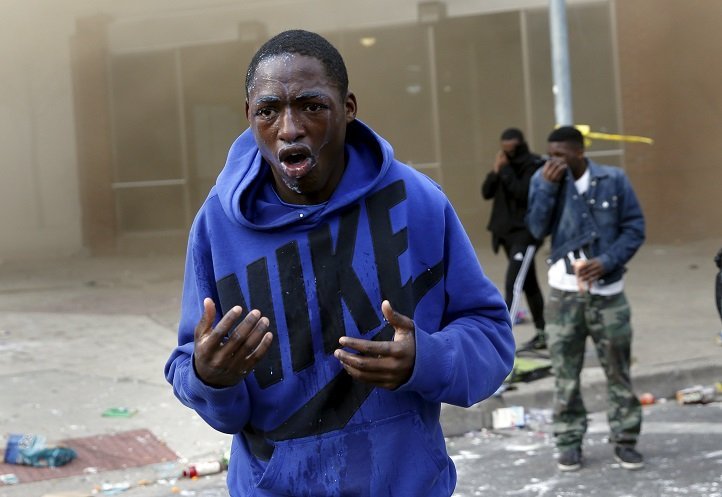 Baltimore a troubled city
Much of the rioting occurred in a neighborhood where more than a third of families live in poverty. The violence appeared to catch Baltimore officials somewhat off-guard after a week of peaceful protests.
After Missouri was criticized for a heavy-handed response to protests over the police killing of unarmed black teenager Michael Brown in August, cities from Madison, Wisconsin, to New York have tread a careful line between allowing peaceful demonstrations over police brutality and preventing violence.
Gray's family had pleaded for peaceful demonstrations and after the looting started, pastors and community leaders took to the streets to try to prevent violent clashes between black youth and police.
Looters were nonchalant and showed their faces.
"We went in there and tore it up," said a 16-year-old who said he was one of the looters inside the CVS.
Just down the street from the smoldering CVS, business owner Daisy Bush, 61, said: "The sad part about it is that a lot of people from the community were up there in the CVS, stealing stuff out of it. It's a disgrace."
Earlier in the day youths threw rocks and bricks at police. Several officers had broken bones, the police department said.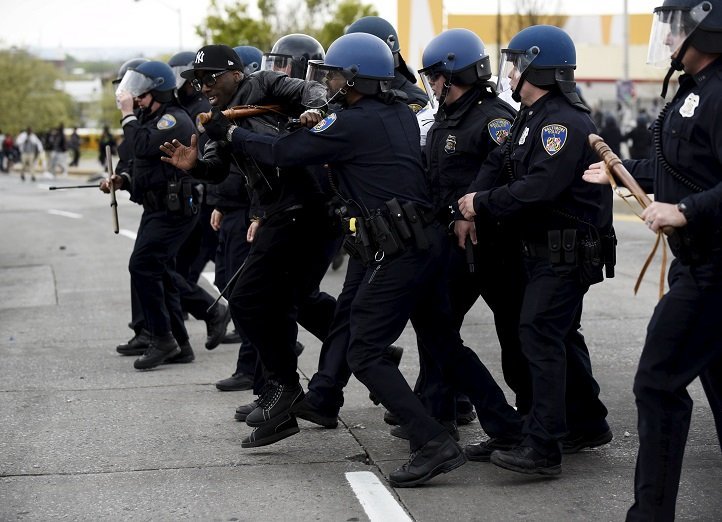 The largely black city has long struggled with high crime and gangs, a reputation that has made it the setting for gritty television police dramas such as The Wire.
At Gray's funeral, speaker after speaker before the crowd packing the 2,500-seat New Shiloh Baptist Church said the world was watching to see if justice would be done for Gray.
Gray was arrested on April 12 when he fled from police in a high-crime area. He was transported to the police station in a van, with no seat restraint.
At some point, Gray suffered the spinal injury that led to his death a week later.
Six officers have been suspended, and the US Justice Department is investigating the incident for possible civil rights violations.