Police hunting those responsible for Thailand's deadliest bombing arrested a second foreign suspect on Tuesday, September 1, Prime Minister Prayuth Chan-ocha said.The August 17 attack on a Bangkok Hindu shrine killed 20 people and injured more than 100. Fourteen foreigners were among those killed in a blast, the government said was aimed at dealing a blow to an already ailing economy.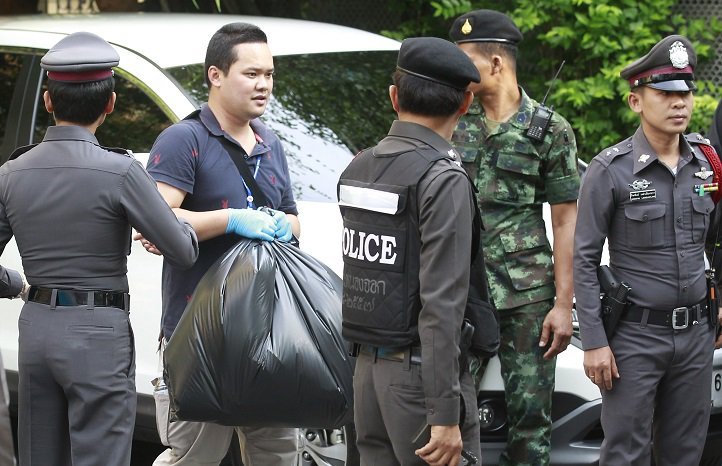 Thai Royal Police officials remove evidence from the site where a suspect of the recent Bangkok blast was arrested in Bangkok on August 29, 2015
The man was arrested in Sa Kaeo province, on the border with Cambodia east of Bangkok. The suspect was being transferred to Bangkok for questioning. "We have arrested one more, he is not a Thai," Prayuth told reporters after a weekly cabinet meeting. He did not elaborate. Television footage of the suspect showed a thin man in a baseball cap, sunglasses and with a short moustache.
The arrested suspect played a key role in the deadly bombing, but it is yet to be confirmed if he was the chief suspect seen on CCTV footage leaving a bag at the site as per Thai police spokesman Prawut Thawornsiri. He said he was also involved in a second smaller explosion on August 18 in Bangkok. Thai police have issued arrest warrants for three more foreign male suspects, he added.
The arrest came after security forces detained a first foreign suspect in weekend raids on the outskirts of Bangkok, in which they also found explosives.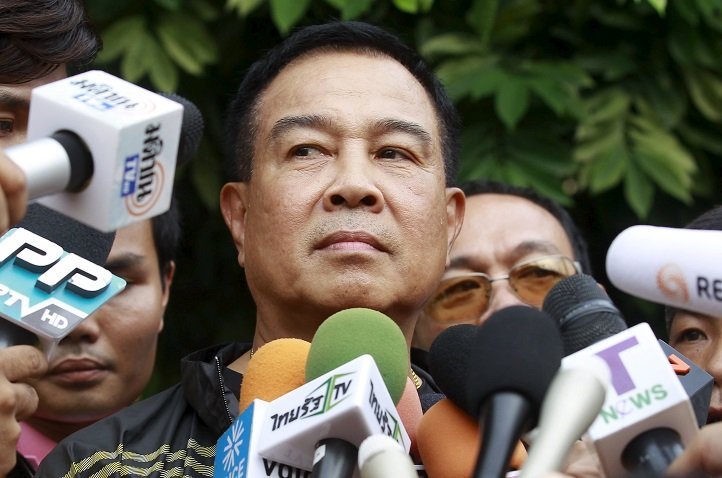 A file photo of Thai national police chief Somyot Pumpanmuang speaking to the media
Police said they had transferred 22 officers from their posts for negligence. The transfers came just a day after the police chief promised a reward to investigators for making the first arrest. Six of the 22 were immigration officers from Sa Kaeo, while the others worked in the Bangkok districts where the security forces conducted the weekend raids.
Thai police chief Somyot Pumpanmuang said he transferred the immigration officers because foreigners had been able to enter Thailand illegally in Sa Kaeo. "That was my decision," he said. "I think that when a foreigner is able to illegally enter Thailand without proper scrutiny… I think those officers should be transferred."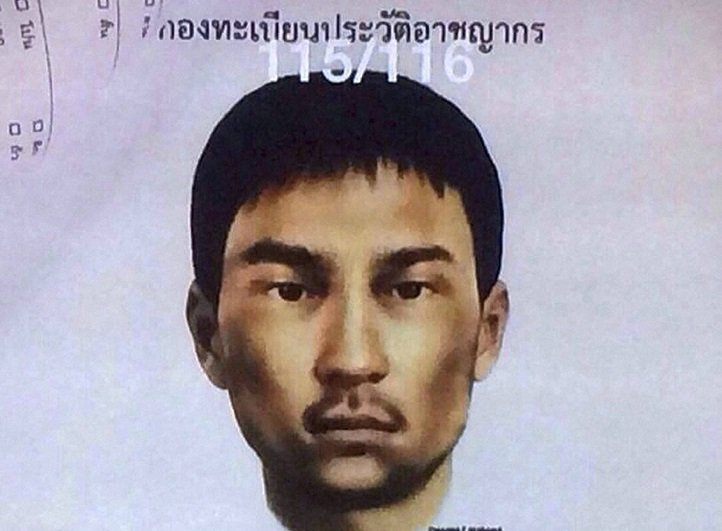 This image released Monday, Aug. 31, 2015, by the National Council for Peace and Order (NCPO) shows a sketch of an unidentified man who police say was living in the second apartment which was raided by authorities in Min Buri, in Bangkok's outskirts, and where police found fertilizer, gun powder, digital clocks and remote-controlled cars whose parts can be used for detonation.
Police have been criticised for an erratic investigation, which had made little progress until the weekend. Police issued arrest warrants for a Thai woman and a foreign man on Monday. The woman, Wanna Suansuant, has contacted authorities and would meet police, Somyot said on Tuesday. He gave no details. Her family told police on Monday, August 31, she travelled to Turkey to work with her partner and child two to three months ago.
Police have been looking into a possible Turkish connection. Fake Turkish passports were seized and police requested a Turkish translator to assist in questioning the 28-year-old man they arrested on Saturday.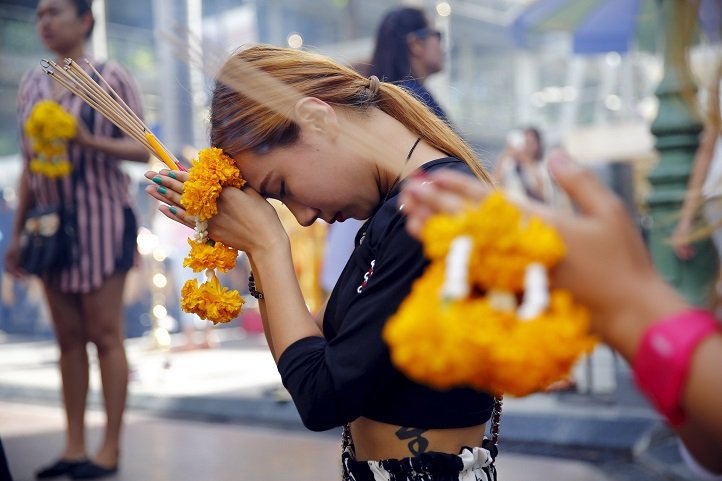 People pray at Erawan Shrine, the site of the bomb blast
The authorities have not confirmed his identity or nationality. He is charged with possessing illegal explosives. Speculation has centered on sympathisers of Uighur Muslims, opponents of the government, southern ethnic Malay rebels and foreign extremists, among other groups. Thailand drew international outrage in July when it forcibly repatriated more than 100 Uighurs to China.
Read more: