Bangladesh Tuesday executed the chief of its main Islamist party for atrocities committed during the country's 1971 independence war with Pakistan.
Motiur Rahman Nizami was hanged at a Dhaka prison after he refused to appeal for clemency against the death sentence handed down following his conviction for war crimes.
The 73-year-old's death will exacerbate tensions in the Muslim-majority country after a string of killings of secular and liberal activists and religious minorities by suspected Islamist militants.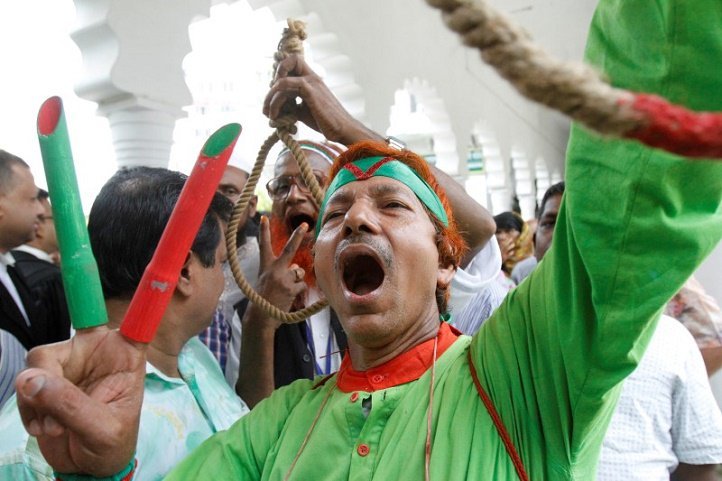 Who was Nizami? 
Nizami was chief of Jamaat-e-Islami which counts hundreds of thousands of Muslims as members.
After years of serving as the party's second in command, he took the helm in 2000 and made Jamaat a close partner of the centre-right Bangladesh Nationalist Party. The alliance secured a landslide victory in elections the following year, and Jamaat was given a role in governing the nation.
Nizami served both as industry and agriculture minister from 2001-06, before the alliance lost office to bitter rival Sheikh Hasina's secular party.
In 2010, he was arrested and charged for his bloody role in opposing Bangladesh's independence from Pakistan in 1971 — almost four decades earlier.
During his subsequent trial for war crimes, he was accused of spending his student days running a killing machine which murdered anyone who agitated for independence.
Why was he executed now?
After coming to power in 2009, Prime Minister Sheikh Hasina set up the International Crimes Tribunal to try Jamaat and other opposition leaders for their roles during the nine-month war.
Rights groups say the tribunal's trials fall short of global standards and lack international oversight, while Hasina's secular government says they are needed to heal the wounds of the conflict.
Nizami faced 16 charges of murder, rape and other crimes and was convicted in 2014.
After a failed appeal against his death sentence, Nizami filed a last-ditch plea with the Supreme Court which last week upheld his execution order.
Nizami refused to seek the president's clemency — his only chance to escape the gallows but which would require him to admit his guilt — paving the way for his hanging.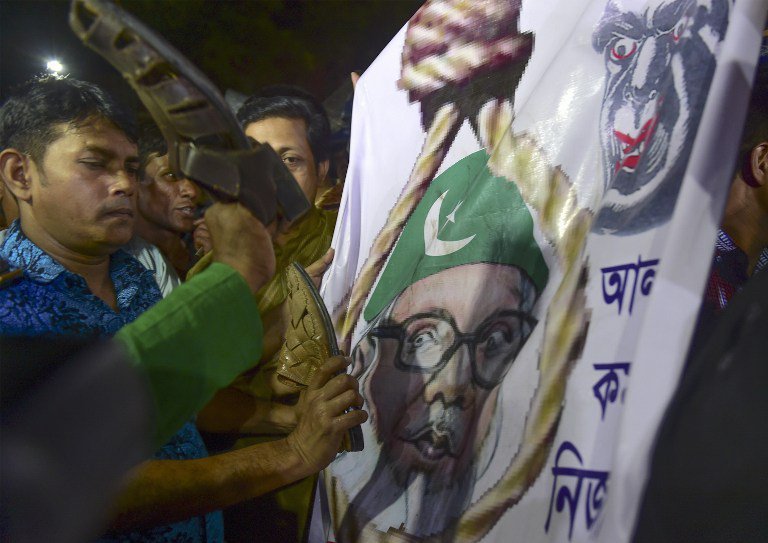 What was Nizami convicted of?
Nizami insisted that his opposition to Bangladesh's breakaway from Pakistan was only ideological, during his role as head of Jamaat's now defunct student wing.
But during his trial, prosecutors accused Nizami of being a bloodthirsty zealot who turned the youth wing into a de-facto death squad which assassinated professors, writers and journalists in one of the most gruesome chapters of the war.
Victims' bodies were found blindfolded with their hands tied and dumped in a marsh on the outskirts of the capital.
The tribunal has convicted Nizami and about a dozen other opposition leaders of war crimes.
What's the likely reaction? 
Jamaat says the tribunal's trials are politically motivated, part of a government conspiracy to eliminate the party's leadership.
Convictions of other Jamaat leaders in 2013 triggered clashes between protesting Islamists and police that left at least 500 people dead, in the worst political violence since the country's independence.
But a fresh wave of bloodshed after Nizami's execution is unlikely.
A major government crackdown after the 2013 violence saw tens of thousands of Jamaat supporters arrested. Dozens were allegedly abducted by security officers and later found dead, according to the opposition.
The crackdown severely weakened Jamaat, whose entire current leadership are in hiding or have fled abroad.
When Jamaat's second in command was hanged last November following his conviction for war crimes, few party cadres took to the streets.
Jamaat called a day of prayer and a nationwide strike following the Supreme Court's rejection last week of Nizami's appeal. But the strike passed off peacefully.
Experts warn, however, that the crackdown has also radicalised some of Hasina's most hardline opponents, resulting in the string of recent murders of secular bloggers and liberal activists.
Who's next on the list?
Nizami is the fourth Jamaat leader and the fifth opposition leader hanged since the tribunal was set up.
At least four other Jamaat leaders have been tried and convicted of war crimes. Among them is Jamaat's key financier Mir Quashem Ali who has already lost an appeal against his death sentence.
He could be hanged within months if he loses his final appeal, while the Supreme Court is still hearing the other leaders' pleas.
Featured image source: Reuters