Flash floods triggered by incessant rainfall has left at least 18 people dead and thousands of others marooned in nearly a dozen districts across Bangladesh, officials said on Monday. 
The unrelenting onrush of water from upstream, even though rain has stopped, has flooded as many as 10 districts in northern Bangladesh, and the flooding is spreading to the central region of the country.
The situation has become quite dangerous as two more districts – northwestern Lalmonirhat and northern Kurigram – have rivers flowing above the danger level, IANS reported.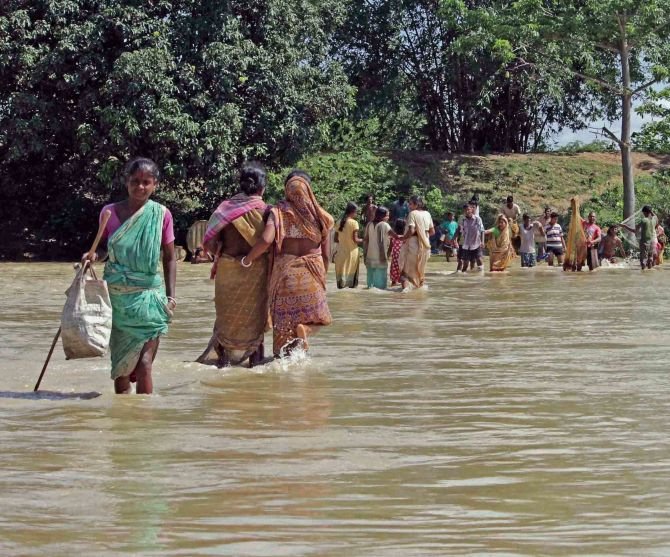 The Flood Forecasting and Warning Centre forecast that if there are more rains at the end of August, at least 25 districts will be affected by floods by September. "We are taking all precautionary measures keeping the forecast in mind," Department of Disaster Management Director General Reaz Ahmed was quoted as saying by bdnews24.com. At least seven people have drowned in floodwaters in Dinajpur and six others died in Kurhigram.
Around 60,000 families in Kurigram and at least 400 families in Nilphamari have been marooned, the report said. In mid-July, nearly 600,000 people were marooned in nearly a dozen districts which were flood-affected. However, the floodwaters receded very quickly at that time, Ahmed said. After a brief pause, 10 districts became submerged again in August due to incessant rains and water from the upstream.
Some 400,000 people are stranded in Kurhigram. The vast areas of Gaibandha and Naogaon have been hit by floods now. "If we are affected again, it may prolong," Ahmed said. The Water Development Board said the level of water rose at 77 of its 90 observation points. There are forecasts for more rains this month, and it will deteriorate the situation. "All the affected districts will get relief materials gradually," he said.
Bangladesh experienced the worst floods in decades in 1998 when 68 per cent areas of it went underwater. To combat the situation this year, the government has cancelled regular holidays of all the officials as well as field workers involved with disaster management and relief activities.
Feature image source: Representational image/PTI