When will people learn? First Andrew Flintoff, then Mitchell Johnson, and now Mushfiqur Rahim — all these cricketers trolled India on Twitter and learnt the hard way that it's simply not a good idea.
Mushfiqur had scored a boundary in the last over of the match against India earlier in the World T20 and celebrated as if he'd won the World Cup, only for India to win it by a run on the last ball. Clearly, he wanted India to lose their semifinal against West Indies on 31 March, and when that did happen, he celebrated again, this time on Twitter.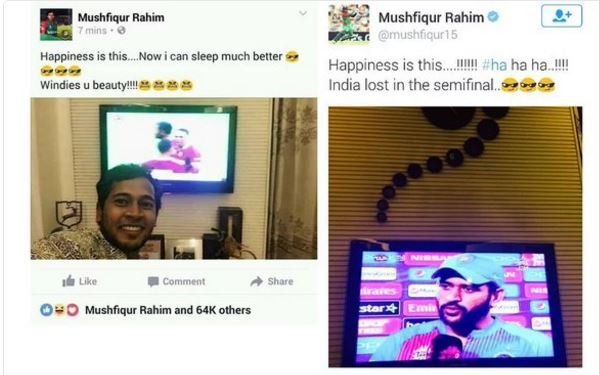 And then, just like in the match against India, he made himself look stupid as Indian fans pummeled him with responses which were so bad that he had to apologise and delete the tweets.
Sorry to all of you guys…as i am a big West Indies supporter but anyway sorry again for some harsh words…!!!!

— Mushfiqur Rahim (@mushfiqur15) March 31, 2016
He still got slammed, even after apologising.
@mushfiqur15 those weren't harsh words but utter disrespect for game of cricket's spirit,Sportsman would never have evil spirit like u

— Ravi (@rajinder_ravi) March 31, 2016
@mushfiqur15 Happiness is watching Mushfiqur Rahim celebrating win after hitting boundary and thn … rest all knows

— Varen Bandooni (@Varen_Bandooni) April 1, 2016
Feature image source: Twitter