A traffic cop's basic duty is to check that no one violates the rules and that there is a smooth flow of traffic. You would rarely find one actually clearing up the road with his bare hands just to ensure that there is no traffic congestion. It is not about who was watching or that he demanded any attention.
Traffic cop K Sathyanarayana just wanted to do his bit as a concerned government servant not for fame. Tweets like these however, has brought him to the limelight. Although he never asked for it, he deserves it:
In Bangalore, This conscientious cop who cleared the road Single handedly for smooth traffic. Lets make him famous.. pic.twitter.com/taNjWNthaQ

— Amit Panchal (@AmitHPanchal) July 10, 2015
Social media immediately shot him to fame for what he did and that also led to him being presented with a cash reward of Rs 2,000 by Additional Commissioner of Police (Traffic), MA Saleem.
"Today, I have come a long way and I hope to continue doing much more for the society"
This is not the first time he has been rewarded for his commitment by ACP (Traffic) MA Saleem. "In 2006, he had first noticed my dedication to duty and had given me a humble reward of Rs 100, then. He had praised me and asked me to keep up the good work. Today, I have come a long way and I hope to continue doing much more for the society," Sathyanarayana told the media.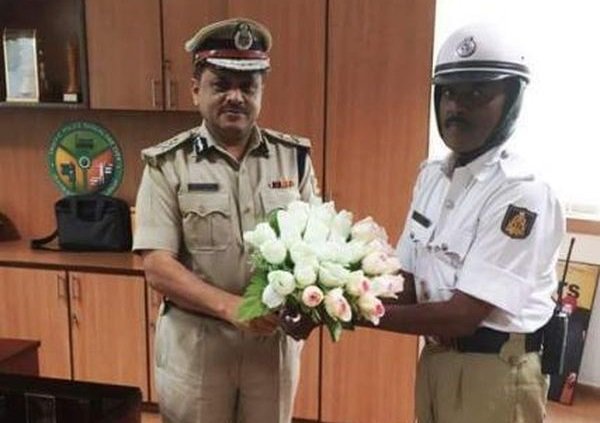 Source: iamin
Saleem in return said, "It takes a lot of dedication to do something without expecting any returns. He has proved that there are many selfless people out there, who readily take up responsibility to make their surrounding safer and cleaner. Our department is proud of Sathyanarayana and he stands as role model for many others in the field."
He 'dirtied' his hands so that the road could be kept 'clean'. A big salute to the man!