You miss paying a single EMI and the bank will make your life miserable, but it seems that the institutes can only be bothered to reel in only the small loans. Big sharks like UB Group's Vijay Mallya seem to escape unscathed from their nets. How else can one explain why 17 banks together can't recover an astronomical Rs 7,000 crore that Kingfisher Airlines owes them? 
And now to add to their woes, Kingfisher Airlines' brand value has declined drastically from a whopping Rs 4,111 crore in 2009 to a paltry Rs 6 crore now, according to a report in dna. 
This means that even if the banks try to sell any of the brands' trademarks, such as Fly Kingfisher, Fly The Good Times, Funliner & Kingfisher, they'll only get a pathetic 0.9% of the money that the airline owes them. 
Even in 2012, when the airline's licence was suspended by Director General of Civil Aviation, the airline valued itself at Rs 3,008 crore. Back then, banks were hopeful of a revival, but now it's proven too late for them. The banks haven't been able to find a single buyer for the 'Kingfisher' trademarks.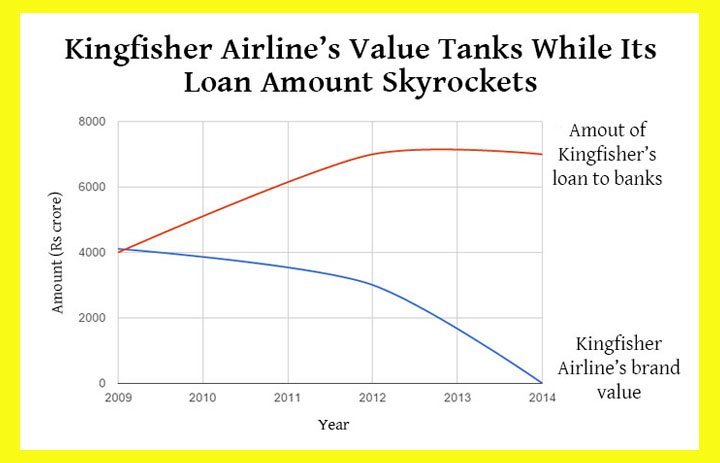 Of the 17-bank consortium that had lent money to Kingfisher Airlines, State Bank of India has managed to recover Rs 155 crore of the Rs 1,623 crore that it had loaned. That's barely 2.2% of the massive debt that Kingfisher Airlines still has to pay. 
But now every hope of recovery has vanished since the Vijay-Mallya owned company has already washed off its hands of all its responsibilities and told Indian courts that it cannot repay its debt. And now banks are waking up to the fact that almost 97% of their debt is going down the drain.
Last year, United Bank of India had informed the Bombay Stock Exchange that it had no hope of recovering the Rs 400 crore it had lent to Kingfisher Airlines. 
After the airline was grounded, banks began to formally recall their loans in February 2013, reported the Economic Times. But since then, it's been an uphill battle for them to recover money from the now-defunct airline. 
It took the bank consortium two years to take over Kingfisher House—a 17,000 sq ft property near the Mumbai airport—which will be up for auction on March 17 with a reserve price of Rs 150 crore. The only other tangible asset the banks have as collateral is the Kingfisher Villa in Goa, worth around Rs 90 crore.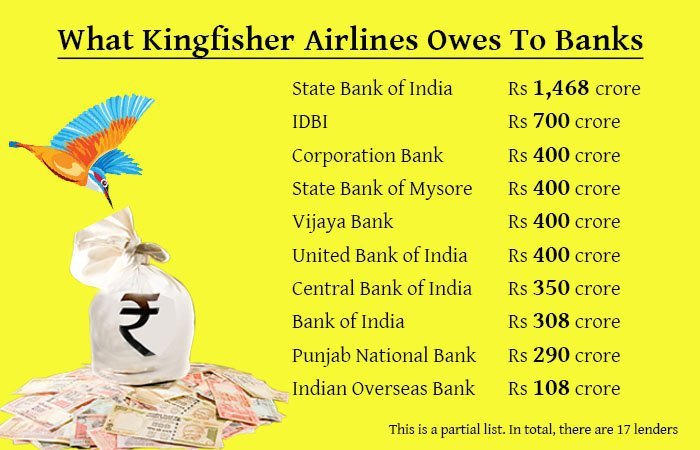 To recover their money, the banks have been trying to sell any of the airlines' assets that they can. It certainly shows how desperate banks are to recover even a minuscule amount when they're forced to mortgage air conditioners, boarding pass printers and folding chairs, the way Bank of India has been forced to.
Of course, the forensic analysis of the documents done by dna makes it quite clear that the banks are responsible for the quagmire in which they're currently in. 
For instance, Kingfisher Airlines had mortgaged two helicopter to Indian Overseas Bank for a loan of Rs 108 crore. The bank, which posted a loss of Rs 516 crore this quarter, is struggling to sell the choppers which aren't even in working condition!  
So, while the King of Good Times lives life emperor-sized, the banks that loaned him money now find themselves running around to recover their funds.