President Barack Obama said on Wednesday that he will be proud if his daughters decided to enlist in the U.S. military – but admitted he will worry about them, too.
Obama was asked by a retired U.S. Army colonel at a CNN town hall what he would say to his daughters Malia, 18, and Sasha, 15, if they wanted to serve in the military.
"I'd say, 'Go for it,'" Obama said, describing to the audience at the Fort Lee military base how inspired he has been by the discipline and patriotism in service members he has met during his time as Commander in Chief.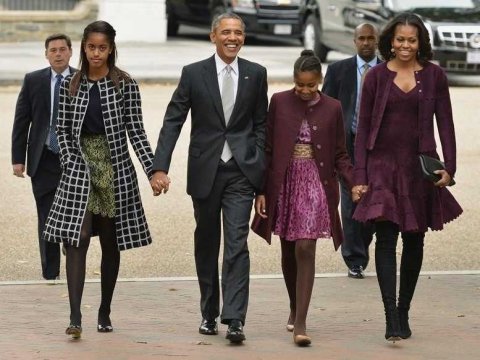 "Now, I'd be lying if I said I wouldn't sometimes get nervous about possible deployments," Obama said. "Your kids are your kids. You want to keep them tucked in their pajamas for the rest of their lives, if you had the chance."
Obama said he would like to see more Americans sign up for military service, particularly "folks who are from higher income brackets" who are "underrepresented" in the military, noting many people no longer have a personal connection to men and women in uniform.
"You start getting like a professional warrior class of one percent and then you get 99 percent who will salute and cheer at a ball game and will honor our veterans on Veterans Day, but beyond that, don't really have that much of a stake," Obama said