With the city civic body marking buildings, which had encroached on storm water drains, for being razed, a portion of martyred NSG commando Niranjan Kumar's house has also come under its demolition list.
"The BBMP (Bruhat Bengaluru Mahanagara Palike) officials have marked for demolition one of the three pillars on which my (late) son Lt Col Niranjan Kumar's house is standing," Kumar's father Shivarajan who stays in Palakkad, Kerala said.
A pillar has encroached on a storm water drain at Doddabommassandra near Vidyaranyapura and officials have marked the portion. Shivrajan said his wife Radha and another son (Shashank) have sought time from the BBMP to make their own arrangement "to remove the marked pillar." 
"My wife and son have sought time for removing one of the three pillars on which the house is standing. My family is bit worried about the BBMP officials using JCB (earth mover) to pull down the structure as it may cause considerable damage to the house itself," he said.
Shivarajan is in Palakkad making arrangements for organising a function on August 15 in memory of his martyred son, a bomb expert with NSG, who sacrificed his life during the terror attack on Pathankot airbase in January this year.
He was killed while sanitising a terrorist's booby-trapped body. Meanwhile, BBMP continued with its encroachment clearance drive for the fifth day today and marked many more buildings for demolition in Vidyaranyapura.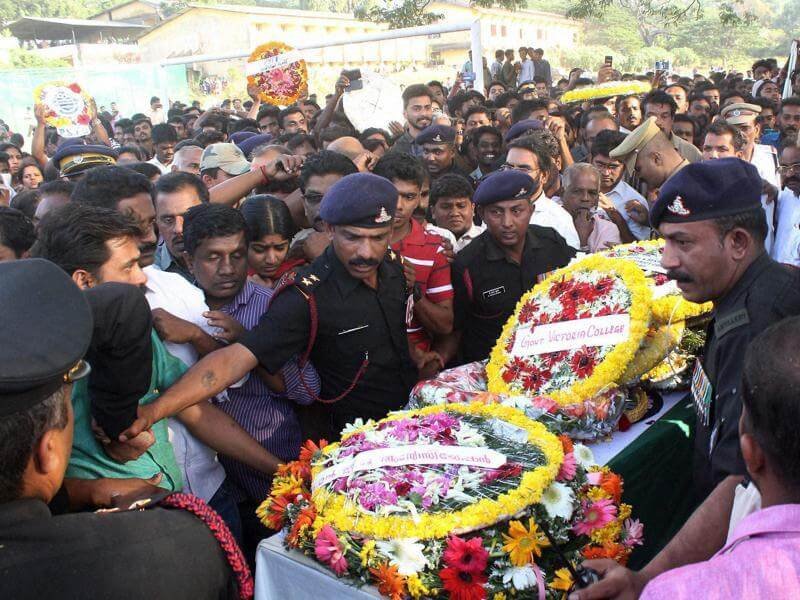 Meanwhile, his brother Shashank said, "It's not a common man's house,It's a national hero's house. They need to consult us first."reports ANI News.  He also added that they have requested for some more time so that they can find an alternative.
On Tuesday, BBMP had identified and marked properties at Yelahanka, Rajarajeshwari Nagar, Bommanahalli, Mahadevapura and Yeshwantpur. The residents of these areas have strongly criticised the BBMP officials for asking them to make alternative arrangements.
(With inputs from PTI)