A massive voter turnout of 55 per cent was recorded in the second phase of the Bihar Assembly elections on Friday, October 16 amid tight security cover spanning 32 constituencies spread over six Naxal-hit districts and threats of violence.
Keeping in line with the trend of women voters outnumbering menfolk as happened in the first phase on October 12, Friday's polling saw 57.5 per cent women voters casting ballot as compared to 52.5 figure of men voters.
A total of 86,13,870 electors were expected to decide the fate of 456 candidates including 32 women candidates in 9,119 polling stations. While voting began at 7 AM in all the seats, the voting time was reduced by one to two hours in as many as 23 constituencies due to security threat.
While saying that polling figure was three per cent higher than the 2010 assembly election in the state, Chief Electoral Officer Ajay V Nayak accompanied by Additional Chief Electoral Officer R Lakshmanan told reporters that polling was more or less peaceful and there was no major untoward incident reported from anywhere.
The officials said only in Maoist-hit Gaya district, two IEDs were recovered by security personnel and defused.
The major face of the battle in the second phase was being seen on a reserved SC seat of Imamganj where former chief minister Jitan Ram Manjhi of Hindustani Awam Morcha (HAM) and now part of BJP ally, was locked in a straight contest with the Speaker of the outgoing Assembly and five-term MLA Uday Narain Chaudhary of JD(U).
In last elections, Nitish Kumar's JD(U) had won 19 seats out of total 32 while as BJP and RJD had got 10 and 2 respectively.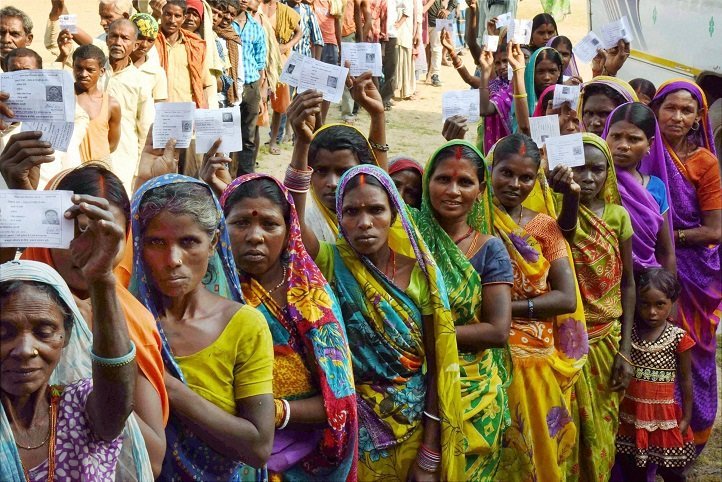 While as half of the seats in second phase were contested by BJP's allies in the NDA – LJP (Lok Janshakti Party), HAM and RLSP (Rashtriya Lok Samata Party) – JD(U) and RJD contested 13 seats each. Congress had fielded candidates for only six seats.
Seeking a third straight term, Bihar Chief Minister Nitish Kumar, is leading the "Grand Alliance" or Mahagathbandhan after partnering with Lalu Prasad's RJD and the Congress. His rival is NDA led by BJP which has entered in alliance with Manjhi's Hindustan Awam Morcha (HAM) and Lok Janshakti Party's (LJSP) Ram Vilas Paswan.
A record voter turnout of 57 per cent was recorded in the first phase of polling on Monday, October 12.
Read more: