Political parties criticising each other's regimes is nothing new to Indian politics. And the latest being attack on Indira Gandhi's terms as Prime Minister by the Bihar government's official website.     
The government website of Bihar took a dig at Indian National Congress and said that former Prime Minister Indira Gandhi's rule was worse than that of the British. After a furore, the offending write up has now been edited and the names of Indira Gandhi and Sanjay Gandhi have been deleted from it.
In the website's 'History of Bihar' section, a write-up stated that Indira Gandhi's rule was 'autocratic' which led to 'oppression' during the Emergency.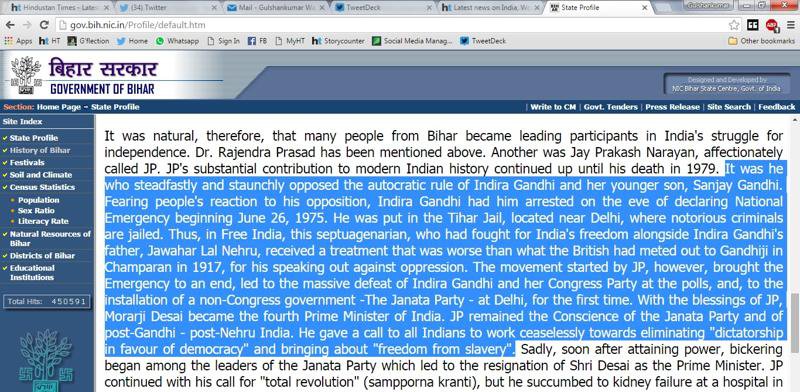 The write-up which mentions the contribution of Jay Prakash Narayan or JP to modern Indian history, criticises the Indira Gandhi regime and said: 
"It was he who steadfastly and staunchly opposed the autocratic rule of Indira Gandhi and her younger son, Sanjay Gandhi. Fearing people's reaction to his (JP's) opposition, Indira Gandhi had him arrested on the eve of declaring National Emergency beginning June 26, 1975."
It says: 
"He was put in the Tihar Jail, located near Delhi, where notorious criminals are jailed. Thus, in Free India, this septuagenarian (JP), who had fought for India's freedom alongside Indira Gandhi's father, Jawahar Lal Nehru, received a treatment that was worse than what the British had meted out to Gandhiji in Champaran in 1917, for his speaking out against oppression."

The Indian National Congress which was part of the Grand Alliance in Bihar was quick to express its resentment over the matter. 
State Congress leader Chandan Yadav said the references are 'totally unacceptable'. 
(Feature image source: PTI)