The Bharatiya Janata Party has filed multiple cases against a man for obscenity and other charges because he tweeted a cartoon featuring PM Modi.
Mitesh Patel, reportedly a member of Arvind Kejriwal-led Aam Aadmi Party, tweeted this on Thursday: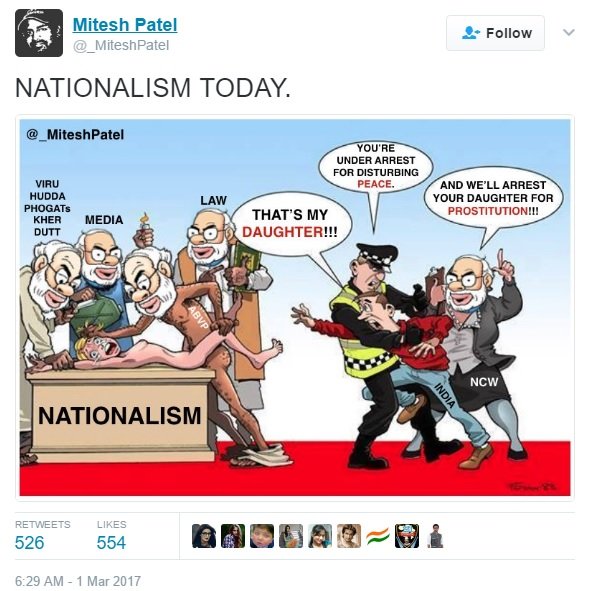 The cartoon seems to be a dig at the BJP. 
But, as users pointed out, is a photoshopped version of this:
Retweeted more than 500 times, the cartoon sparked massive outrage after which the BJP lodged multiple FIRs against Patel. Some users too filed independent complaints with the police.
The Times of India reports that senior BJP leader from Uttar Pradesh IP Singh filed an FIR at Lucknow's Vibhuti Khand police station for "showing the PM promoting enmity between different groups on grounds of religion/ race/ place of birth/ residence/ language and indulging in acts prejudicial to maintenance of harmony, promotion of obscene cartoon and statements conducting to public mischief". 
The police has also imposed section 125 of Representation of People Act and 67 A of IT act.
Singh tweeted this:
BJP's Karnataka IT cell too lodged a complaint with the Malleshwaram police.
K Amresh, convenor of the BJP IT cell, Karnataka, wrote in the complaint: "The BJP would like to lodge this complaint with a strong sense of righteous anger and anguish against Mr Patel, as he has caricatured the Prime Minister of India in a most demeaning, disrespectful and distasteful manner."
Patel hasn't taken down the cartoon from his Twitter timeline and, in fact, has kept it pinned.