Earlier in the day, journalists, students and many others were beaten up outside Patiala House in Delhi, while the police stood mute and watched. They didn't move, they didn't stop the perpetrators and they certainly never raised their voice. And these were journalists who were actually doing their jobs. OP Sharma, a BJP MLA, was one of the main perpetrators. When he was interviewed, he said that people who raise pro-Pakistani slogans will be beaten up and if necessary be killed too.
Whatever happened to Freedom of Speech!?
What happened next was even more shocking. A few hours ago, BJP spokesperson Sudhanshu Trivedi, along with Mani Shankar Aiyar, Aseem Trivedi and many others were on the panel of the live segment on CNN-IBN's India at 9, with Zakka Jacob. 
When Zakka Jacob asked Sudhanshu Trivedi, BJP spokesperson, if what OP Sharma said was the official BJP statement, he fervently went on to say "Yes of course, why not?".
We are pretty sure that the BJP will soon retract this statement and go on to say that the spokesperson did not mean to say that. But before they do that, you should question the government who's ruling you, question the things they say and the things they do. Because your basic right is under threat now.  
For whatever reason that statement by him was not followed up by CNN-IBN. The tweet was also deleted from their Twitter account, but not before some people took a screen shot of it-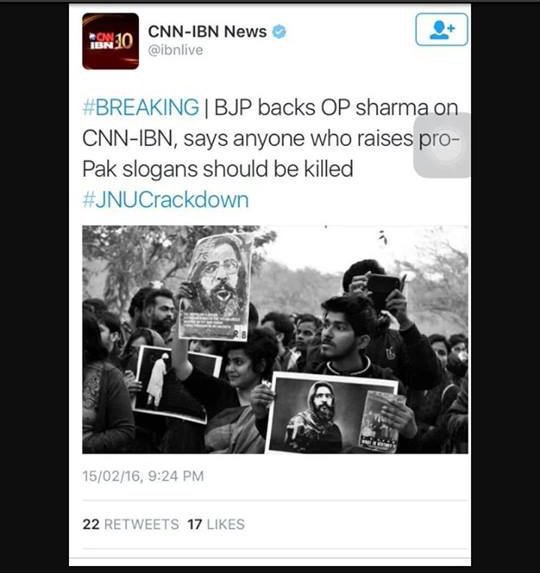 However, the whole episode was live and recorded, and like every day they did upload a video of it on their YouTube channel.
Watch it here:
Source: IBNLive
Shouldn't the leaders we voted for perpetuate peace and discussion instead of more violence?