After Delhi and Kolkata, protests against 'anti-nationalism' in Jawaharlal Nehru University spilled over into Gwalior on Sunday. Activists from the Bharatiya Janata Yuva Morcha (BJYM), the youth wing of the BJP, created chaos at a seminar organised by Amdedkar Vichar Manch (AVM). 
But the BJYM members had a clear target and attacked a guest at the seminar, JNU professor Vivek Kumar, reported the Hindustan Times. 
Kumar was the main speaker at the event and the activists were upset over the organisers hosting a professor from JNU.
The professor was speaking on 'Baba Saheb Ke Sapno Ka Bhartiya Samaj' (Indian Society as envisaged by Babasaheb Ambedkar) when BJYM activists barged into the venue and beat up the organisers with sticks and allegedly fired gunshots, as reported by Indian Express.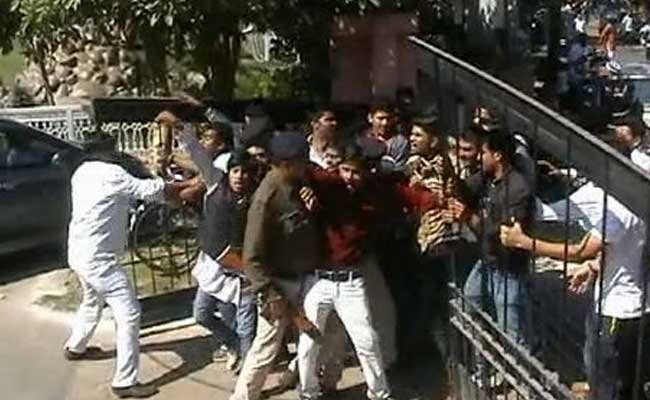 Immediately afterwards, a clash ensued between AVM and BJYM activists. The professor,  however, was safely evacuated from the venue, reports NDTV. 
The police initially refused to file an FIR against the BJYM activists, but after much outrage an FIR was eventually filed, reported the Indian Express.
Here's how twitter reacted to the incident.
@gauravcsawant BTW people from BJP, burnt Indian constitution & beat-up a JNU professor in Gwalior y'day. Any comment on their parents?

— Tathagat Khandelwal (@IAmTathagat) February 22, 2016
Strongly condemn attack on JNU Prof Vivek Kumar when he was addressing Ambedkar Vichar Manch in Gwalior by BJP Goons.

— digvijaya singh (@digvijaya_28) February 22, 2016
JNU Professor in gwalior was not just attacked but Shot by ABVP Nationalists.

Is this the Nationalism they are talking about?— Rajdeep Sardesai (@surdesairajdeep) February 21, 2016
(Feature Image Source: Twitter | @orbitcollection)