According to a Hindustan Times report, BJP president, Amit Shah, will visit Bengal next week as a part of the 'booth chalo' campaign. The drive is being seen as  "an exercise to focus on strengthening the party organisation at the grassroots level". 
This, comes weeks after  BJP's aggressive Ram Navami rallies that were taken out across the state. According to this report, there were 150 camps, with yatras and public meetings all over Bengal, including three major processions in Kolkata on Ram Navami. Other big processions and meetings were held in Islampur of Uttar Dinajpur, Ranigunj in Burdwan, Suri in Birbhum, Krishnagar in Nadia, Kharagpur of West Midnapore among others.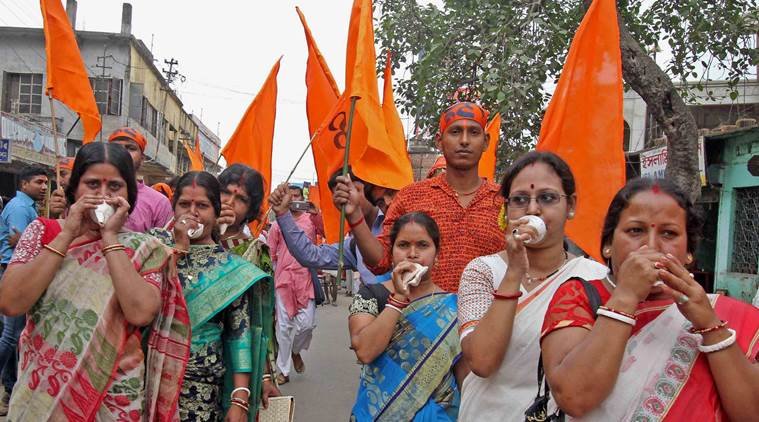 Though Bengal has proved to be a hard nut to crack for the BJP, it's eyeing the 2018 rural polls. 
This time, however, kid gloves have been worn. When Amit Shah visits Bengal next week, he will not address any public rallies. In three constituencies of the state,  Bhawanipore in Kolkata, Gauranganagar in Rajarhat, North 24 Parganas and Siliguri in north Bengal, Shah will visit households and share meals with members, in an effort to let them know about BJP's "plans for Bengal". "This is a more informal way of reaching out to people. Amit Shah will start this campaign and we will all follow his footsteps. All senior leaders will visit households in their constituencies in the next few month," says  Sayantan Basu, general secretary of Bengal BJP on a telephonic conversation with ScoopWhoop News. 
BJP's "soft" approach also includes wooing of the Bengali Buddhijibi (intellectuals). So far, Bengali buddhijibis  have only shown disdain for the party. According to this Hindustan Times report, Shah will meet party leaders and intellectuals and prominent citizens in a prominent city auditorium on April 27. "Yes, there will be a few important meetings that will take place then," informs Basu.  Biswanath Chakraborty, a prominent psephologist and political analyst, claims that this is a natural progression. "That is the obvious strategy for any political party. They will obviously try to win over the intellectuals eventually," he says.