A 16-year old boy was killed in police firing in Srinagar on Saturday during demonstrations against the killing of a youth by army last week in south Kashmir's Tral area and the arrest of pro-freedom leaders in the valley.
The firing incident occurred near Narbal area of Srinagar outskirts where groups of youth were engaged in stone-pelting clashes with the police and CRPF. Heavy contingents of police and CRPF deployed in the area fired on the protesters killing a class 9 student, Suhail Ahmad Sofi, and injuring two others.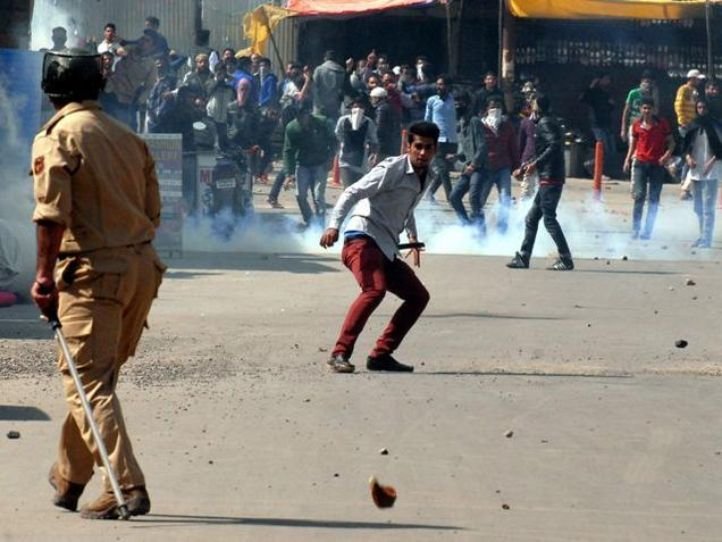 According to the Police, preliminary inquiry into the firing incident has indicated that the forces deployed in the area have acted in violation of the laid down Standard Operating Procedure Police (SOP).
"A case under FIR No 34/2015 under section 302,147,149,341,427 RPC has been registered in police station Magam and further action would follow," a Jammu and Kashmir police statement said.
Police said around 24 people were injured in the clashes, and one of the three people injured after they opened fire died in hospital.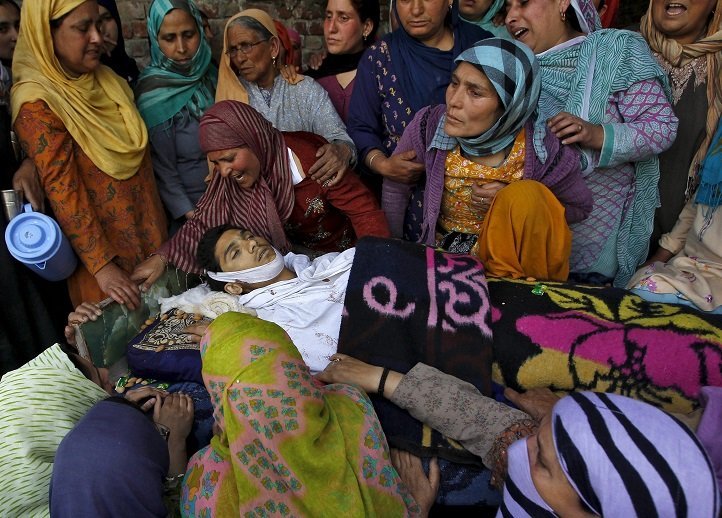 Relatives mourn next to the body of a Kashmiri youth, who died in a clash between Kashmiri protesters and police during a daylong protest strike in Narbal, north of Srinagar April 18, 2015. | REUTERS Photo
"Unfortunately, the injured later succumbed to his injuries in the hospital," a police spokesman said.
On Friday, Hurriyat chairman Syed Ali Shah Geelani had called for a general strike across Kashmir valley on Saturday against the Tral killing and what he called "unjustified and inhuman" arrests of pro-freedom leaders.
More than two dozen persons including twenty police personnel were injured in the stone-clashes between government forces and youth in Srinagar on Friday.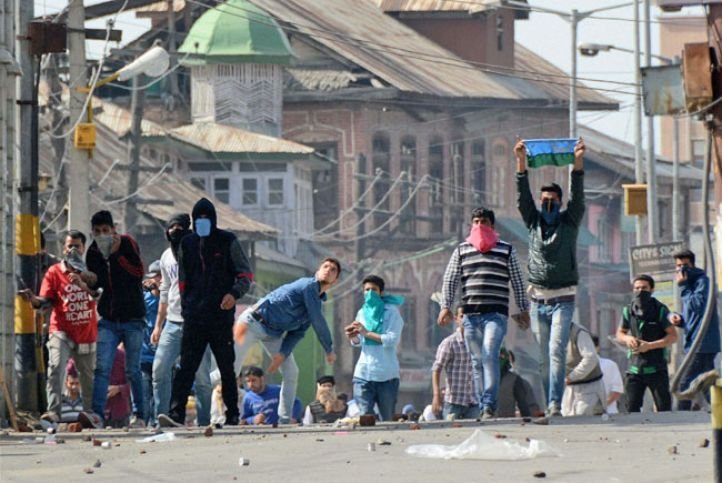 The incident marks the second consecutive day of fresh wave of clashes between protesters and government forces in the disputed region of Jammu and Kashmir where a BJP-PDP coalition government is ruling the state.
Last week, Khalid Muzaffar Wani, brother of a prominent Hizbul Mujahideen commander, and termed as an "Over Ground Worker of HM" was killed by army in an "encounter." The army's claim has been sternly contested by locals and the family of slain youth, who say the boy was "killed in a fake encounter."
Meanwhile, a strict crackdown by authorities continued on the pro-freedom camp for the second day, with most of them under house arrest. While house detention of senior Hurriyat chairman Syed Ali Shah Geelani continues since Thursday, authorities also placed the chairman of moderate Hurriyat faction Mirwaiz Umar Farooq under confinement in his residence on Saturday.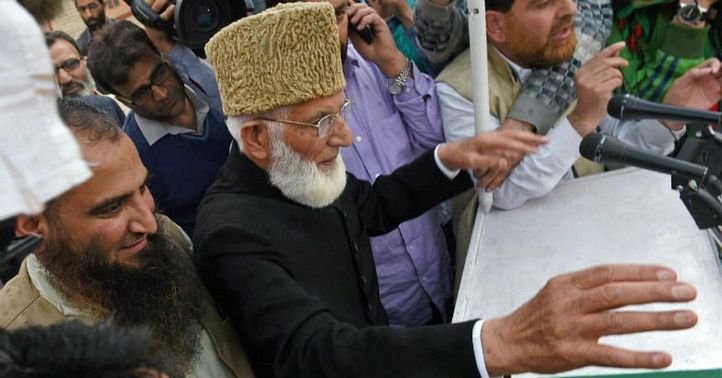 Police also arrested Jammu Kashmir Liberation Front (JKLF) chairman Yasin Malik on Saturday afternoon, when he left for Narbal area where the boy was killed in police firing on Saturday morning.
A local court on Friday evening sent the Muslim League chairman Masarat Alam to seven days police custody till April 23. Alam was arrested by police on Friday for "waving the Pakistani flags and raising anti-India slogans" during a rally in Srinagar on Monday.
"I want to assure the people of this nation that those involved in treason will not be spared," India's home minister Rajnath Singh told reporters on Friday when asked about the arrests .
Read more: